In this BONUS episode of The STRONG Life Podcast, I get interviewed by fellow Underground Strength Coach, David DeLeon.
David runs Of The Lion Fitness in Tx and The Garage Gym Start Up Podcast. This was a great, GREAT episode filled with LOTS of stories along with crucial training AND business tips for ANY Strength Coach.
David and I met when he was part of The CrossFit Central Team of Coaches which was the first group / team of coaches to travel for a private Underground Strength Coach Certification.  From there, I took several trips to Austin for my USC Cert Course and I always say, Austin had some of the most passionate coaches I ever met.
It's been great to see how many of those coaches have continued to coach as part of a team, managing other gyms and / or starting their own warehouse / garage gym location. Jeremy Thiel and I created The Spectrum, a business product for Coaches who want to start their own facility HERE.
Whether you're a Strength Coach / Gym owner or not, pay attention to this podcast. Why? Because as I always say, Success Leaves Clues!
David did a GREAT job with this podcast, asking great questions and really digging into how I overcame so many obstacles and imperfections to build The Underground Strength Gym from my parents backyard to a world renown facility with multiple locations in NJ.
Enjoy the show and TAKE ACTION!


If you're a Strength Coach looking to grow your business, make sure you're subscribed to my free business journal at https://zacheven-esh.com/business/
And of course, you can't have a GREAT gym unless you're a GREAT Coach. You NEED the training knowledge so get your FREE Training Courses at http://ZachStrength.com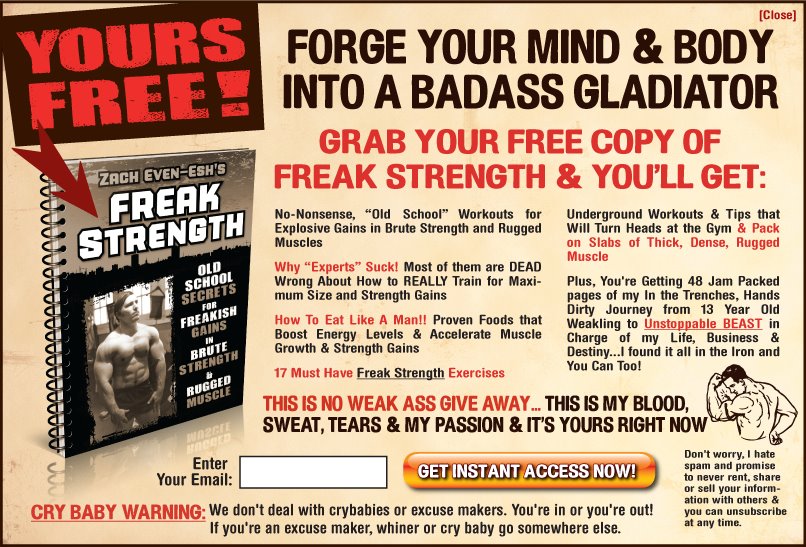 (Visited 166 times, 1 visits today)