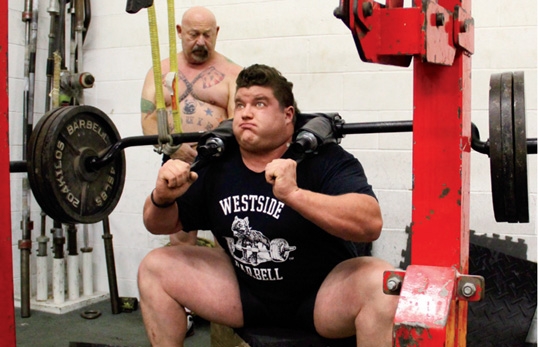 The argument of box squats vs free squats is endless.
With the box squat you must sit back and then you literally pull yourself up using primarily hamstring work.
At the bottom of the box squat your shins are parallel, while at the bottom of a free squat or weightlifting squat, your knees will often be angled forward and you are going to parallel or lower.
The free squat hits more quads and more overall leg work.
Here are my thoughts on box squats vs free squats.....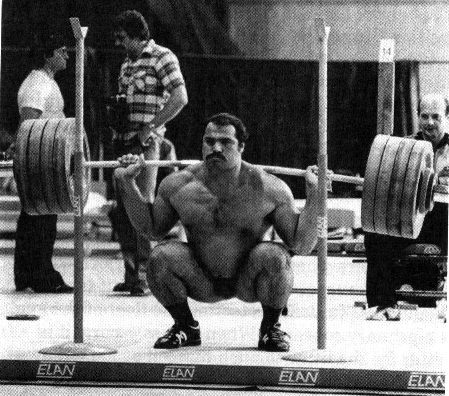 I use them both.
I don't discriminate against either style of squats because I respect ALL things that make me and others stronger. I use them both for the athletes I train as well. The free squat requires greater ankle mobility and we can see how low they can go without a box while maintaining an upright posture. I can also see if they can pause and explode with heavy weights in the deep bottom and still come out alive! ha ha
The box squat allows me to work with someone who needs greater posterior strength, teaches them to be athletic by learning BOTH squat variations, teaches them to explode from a dead stop position, to maintain knees out and more.
I love both style of squats. If you're hating on squats you're likely a complainer in life and can't think for yourself. I love Louie Simmons' methods but I can think for myself and see a great benefit to using both forms of squats.
You do NOT have to be a slave to only one style of squats.
[youtube width="640" height="360"]http://www.youtube.com/watch?v=EQhnbAoEaa0[/youtube]
In an effort to be more explosive and to build up my posterior to boost my deadlift I'll be using banded box squats more frequently.
If you are a CrossFitter you must get good at ALL styles of squats. There are MANY mistakes being made when people box squat. Check out this video to ensure your box squat AND free squat help build one another UP but MOST importantly, you want to use these squats to up your performance.
For example; I found that when I box squat it doesn't have a BIG carry over to my free squat, BUT, when I up my box squat, I am able to have BIG improvements on my strongman events, my jumps and my speed.
You MUST identify how an exercise helps you and in which ways.
The first step, of course, is to do the box squat correctly, otherwise, it will NOT work.
[youtube width="640" height="360"]http://www.youtube.com/watch?v=sCBRfrt2iQE[/youtube]
[youtube width="640" height="360"]http://www.youtube.com/watch?v=LZgwB5IF-hM[/youtube]
Here's the take away I am hoping you roll with after reading / watching Underground Strength TV and being a subscriber to our newsletter:
Think for yourself.
Don't take everything everyone says blindly. Instead, put it to the test and see what works for you and what doesn't. Don't be a slave to one of your internet heroes. Instead, become your own person and don't allow everyone else to do the thinking for you.
The best way to learn is under the bar.
Live The Code,
--Z--

(Visited 714 times, 14 visits today)