"The difference between interest and commitment is this.... When you're interested in something you do it only when circumstances permit. When you're committed to something you accept NO excuses, Just Results."
- Unknown -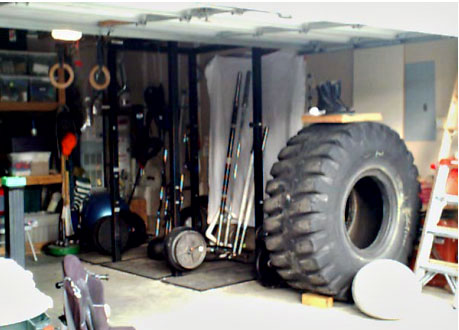 I've been a CrossFit affiliate since my gym transitioned into a Warehouse Location, back in the fall of 2007, over 5 years ago.

Before I became a CrossFit affiliate, I would check the CrossFit forum and connected with all the guys converting their gyms and backyards into their own torture chambers. I would ask them questions and share ideas on training, operating a business form my garage and making homemade gym equipment.
These garage gyms were straight up, no-nonsense places where serious and self motivated people trained. The set up was primitive amongst these CrossFitters and the equipment was right up my alley.
Lots of sandbags, heavy dumbbells, free weights, rings, large tractor tires and homemade equipment. Training was given no boundaries... indoor or outdoor workouts, type of equipment, etc didn't matter. It was all about results through kick ass workouts.

I'm considered "old school" amongst CrossFit affiliates. I miss the days of my CrossFit Journal arriving via PDF once a month with photos and stories of garage gyms.
I relate to the smaller style CrossFit Gym. But that's me, I've always been an old school, throwback kinda guy. When I think CrossFit I don't think 10,000 sq ft with primarily barbells, bumpers and rings. I think about NO Rules Workouts, Soul Lifting and overall hard training.
When I saw this video it hit home for me....
Teenager in training through his own motivation, a Dad who loves his son more than life itself, backyard gym, hard freakin' training, homemade equipment and commitment.
To me, this is a big part of The Underground Strength movement....This is what drew me to CrossFit in the first place.

This is such an inspirational video, check it out and let me know your thoughts in the comments section.

Till the next time,
Live The Code
--Z--
Wanna Train With Me? I ONLY Work with Committed, Hard Working People Who Wanna Kick Ass & Take Names. Details HERE
The Underground Strength Coach Experience. Live Your Passion, Inspire Others & Change Lives! - Details HERE