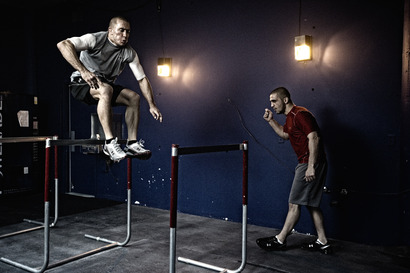 With our upcoming seminar, 'Training for GOLD!' (Details HERE), Jason C. Brown and I will be covering a myriad of a training methods, principles, tools and program design methods.
Before I get into the details and reveal these 3 videos below with GSP in action, a NJ MMA Fighter & Martin Rooney, I will tell you a shortened version of a story I revealed during this past weekend's USC Cert.
I spoke about when I trained Football players & Wrestlers from my garage using odd objects, backyard training, training with sleds, sprints, playground workouts, truck pushing, etc down on a field.... NONE of our athletes EVER got hurt, either in lifting OR during competition.
Then, when I opened The Underground Strength Gym in a warehouse, I no longer had access to training on the field, performing hill sprints, jumping and climbing on, over and around playground equipment.... the workouts became VERY strength focused. It was then I realized we were building strong, slow and useless athletes.... as well as seeing the bigger guys getting injured.
I remember the moment as if it was yesterday, I said to myself, "That's it.... I'm gonna start training ALL our athletes like full blown athletes..... like wrestlers.... NO matter how big or small they are, we're gonna start using a longer warm up, more bodyweight exercises, the pace will be fast and furious and everyone will develop mental toughness...."
As soon as I made the change to train everyone for athleticism, which in essence is an optimal blend of strength, speed / explosive power, conditioning, mental toughness, agility.... the results of our athletes when competing went through the roof and the injuries went waaaaaaay down.
Watch these 3 videos carefully, and you will see that training for overall athleticism is THE ticket. You will also get a deeper understanding as to why I use cross training for ALL my athletes as well as why our Football players get trained like our wrestlers.
[youtube width="640" height="380"]http://www.youtube.com/watch?v=dpUzD4y9Nb0&feature=colike[/youtube]
[youtube width="640" height="380"]http://www.youtube.com/watch?v=xVkV_NirFYM[/youtube]
[youtube width="640" height="380"]http://www.youtube.com/watch?v=TUIFYufMXP4[/youtube]
Many may argue this point, but as you heard Martin Rooney, his NFL players, MMA Fighters, etc ALL do the same warm up which in and of itself is a workout!
Whether you compete in combat sports or not, do NOT miss THIS seminar.
Details HERE, space is extremely limited
(Visited 184 times, 2 visits today)