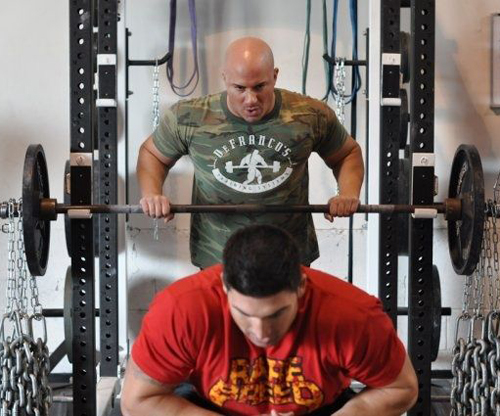 Yesterday I made the one hour trek up north to my homeboy Joe D's gym, and damn, what a gym it is, I'm in heaven there. The atmosphere is always high octane and steel is always clanging together or being dropped on the floor.
It was our 2nd year competing in Joe D's strongman contest, and this year we brought 1 high school athlete and 5 college athletes. Unfortunately, 2 were unable to attend due to injury and family vacation.
I had a wedding to attend yesterday and I was big time pressed for time, so, I also missed out on chowing down on more than a few burgers at The Goffle Grill, which I was really looking forward to doing while talking training with Joe D and his trainers, Johnny Imp and Jeff Carr.
Now, as you know, my passion is strength and success - they go hand in hand.
Being at Joe's place is VERY motivating, and I am glad my athletes went up there with their A game. I don't teach my athletes or any for that matter to compete for a silver medal. You must be ALL in, ALL the time. Mindset is key.
You can't help but be motivated when you see NFL athletes, top notch D 1 athletes and hungry high school kids gunning for the top spot.
Our top gun from The Underground was our boy "Curls" - now, as I have mentioned before, Curls is NOT some genetic freak as most would assume. The kid had not one inkling of athletic talent when he was younger. He was slow, weak and fatigued quickly. He was tagged first in all tag games back when I was his teacher in elementary school.
But, when he began working out in middle school with lots of calisthenics, he found his passion, and, he never strayed from following the recipe of success 100%. Early in high school he began training at the Underground when it was my garage.
Circa 2006 Underground Strength Gym Garage Days
[youtube width="640" height="360"]https://www.youtube.com/watch?v=7o73nYPshe8[/youtube]
Curls always worked hard and smart, he always ate big and clean. I did say ALWAYS, how many other athletes are out there crying about lack of progress yet they eat like a bird, lift like a bird, and skip workouts regularly. If you want success then you must get with the program, half assin' it won't cut it.
ALL in, ALL the time. There is no other way.
Curls went out there and killed every event, and I do mean KILLED! He even had the best tire flip time, and that was when he flipped the tire UP hill, which really stacks the cards against you. Curls didn't care, he was ready to rock the house and trained extra hard to do so.
Check out Curls, below, KILLING the log press event...
My training program and philosophy is outlined in The Encyclopedia of Underground Strength & Conditioning

HERE.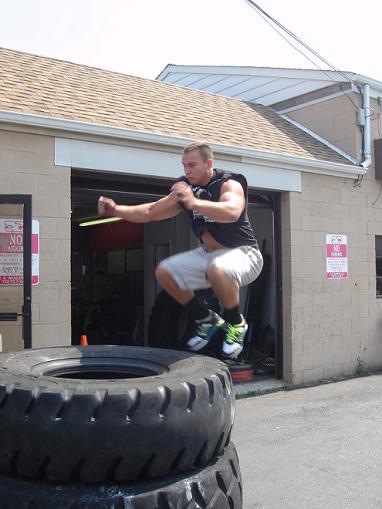 Now that Curls won the highly coveted DeFranco's Strongman Contest I think he'll be able to sleep better at night 🙂 He was focused like a madman on taking the GOLD and he lived the lifestyle to make it happen.
The rest of Team Underground kicked some serious ass as well. Although none of them placed top 3, they put up some very impressive numbers in the sled sprint, the tire flip, farmer walk and the log clean and press.
The place I always want to get to is when I FEAR my own athletes, ha ha, but then again, that is a good thing and it pushes me to keep getting stronger myself. I want them to have an edge that can be seen a mile away, not just in the gym, but in life as well.
I gotta make sure that I represent as well. It's all part of Living The Code. Gotta walk the talk and lead from the front.
Because if I don't lead from the front, who the heck is gonna listen to me!?!
Live The Code 365
--Z--
The Encyclopedia of Underground Strength & Conditioning

HERE
(Visited 196 times, 2 visits today)