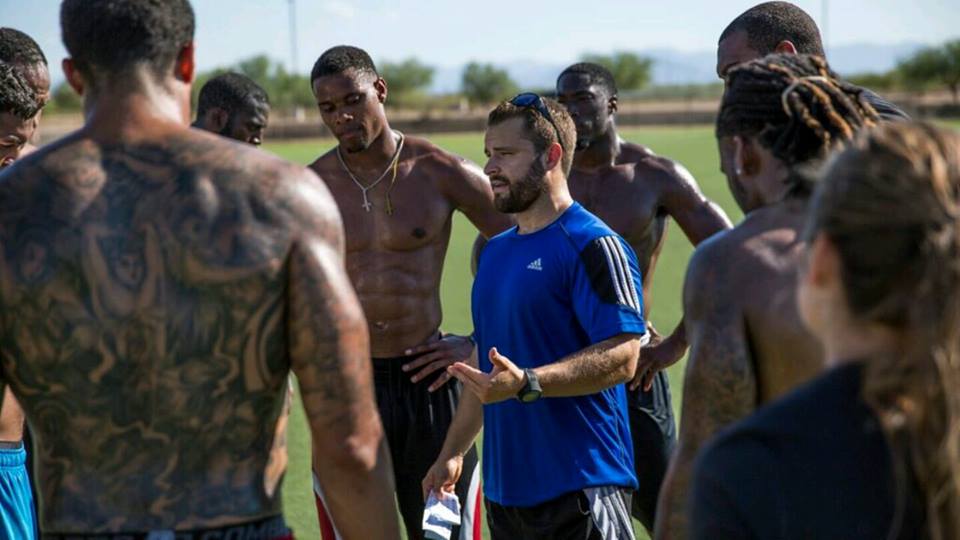 STRONG Life Podcast Ep. 103!
Let's crush this episode with Strength & Conditioning Coach, Brett Bartholomew.
Brett has been on an intense journey during his time as a Strength Coach since Day 1.
From volunteering and interning at colleges to working with pro athletes and celebrities, Brett's training methods and philosophies are refreshing to say the least.
This conversation heats up the further we dive into the conversation so dig in and get your learn ON!
In this episode of The STRONG Life Podcast we discuss the following topics:
- How does Brett begin his training journey with an athlete, what does this assessment look like?
- The misconception that when you train pro athletes and celebrities you need to get away from the big, basic lifts. Here's what Brett does.....

- How does Brett track the programming and training of his athletes? Software or paper?
- How does Brett work with the youth athletes ages 8 - 11

- Thoughts on comparing his first year as a volunteer strength coach at Nebraska compared to what Brett sees today in training.
- How has the human body changed as training has changed with more specialty bars, special equipment & lack of unorganized play?
- How to train the older, more experienced athletes who have injuries and movement issues from sports and life?
- Thoughts on Strongman & Odd Object Training for Athletes.
- Paying attention to the details in an effort to become a better Strength Coach (Culture, Personality, Sport, etc)
- The ever evolving art of coaching & how to motivate yourself as a Strength Coach to keep on the path of The Relentless Pursuit of Excellence.
What lessons has Brett learned from his time in training celebrities
- What lessons has Brett learned from other countries and how they train their athletes?
This conversation with Brett gets better and better.
We dig into the intricacies of coaching that go far beyond program design and how to get an athletes stronger and faster.
Dig into this podcast and let us know what you think!
If you love The STRONG Life Podcast you can support us by:
- Inviting 1 friend to listen / share this post
- Drop a 5 star review and a short written review as well on iTunes
More From Brett:
What Books does Brett recommend for Strength Coaches:
Mastery: Robert Greene
The War of Art: Steven Pressfield
Ego is the Enemy: Ryan Holiday
The Upside to Your Dark Side: Robert Biswas-Diener
Website Reads
"When Virtue Becomes Vice"
https://www.psychologytoday.com/articles/201309/when-virtue-becomes-vice
One Sentence Financial Rules
https://www.google.com/amp/www.fool.com/amp/investing/general/2014/03/26/one-sentence-financial-rules.aspx
To connect with Brett, see the links below:
Bartholomew Strength Official Web Site
Support our Sponsor, Intek Strength HERE
Use Code zach100 for 10% off
Thank you and keep crushing it in the gym & in life, until the next time!
Live The Code 365.
--Zach--
The Underground Strength Academy
EST. 2005

(Visited 301 times, 5 visits today)