Since beginning training 21 years ago I have gone from somewhere around 110 lbs to 220 and at times I've hovered around 228 lbs.
My best weight is somewhere in the 204-208 lb range.
Back when I started, I was 13 years old, it was 2 weeks before 8th grade was over and I would train in my big bro's room which housed a spin lock barbell and some spin lock dumbbells. Most of our weights were sand filled and I still recall the days of dumbbell benching with sand dropping in my mouth and eyes.
I educated myself mainly through the world of Joe Weider, back in 1989, he ruled it all and finding information outside of his hands was tough.
But.... what REALLY moved me and fired me up was Arnold's Books, especially the black & white pics of him and his training partners in action.
There was something Very Raw & REAL about these photos, especially the guys who were Built like Brick Shit Houses, dense, thick, rugged muscles and moving BIG weights.
They were definitely part of the Anti Pussification Movement, perhaps they saw the future coming.
But, if I KNEW BETTER, it all would have revolved around the fundamentals and the basics. Back in the day, reading all those magazines, I was brainwashed into thinking I had to do isolation movements like side raises for the shoulders, leg extensions, leg curls, etc.
I trained at the local YMCA, a boat load of gyms throughout NJ, some of which were hardcore, others which were not.
Some of those gyms shut down, they put themselves out of business by trying to be something they were not.
I transitioned to training in the garage of my parents, a super tight space with equipment purchased from classified ads in the local newspaper.
No worries, as some of the strongest athletes in the world, especially outside the USA, train under horrible conditions yet have risen to the top and dominated their respective sports. Atmosphere and basics my friends, these will WIN.
With a low budget I was psyched to see CostCo had a 300 lb barbell set for only $99 Bones.....
Haven't seen that same barbell set come around again, but, with a 300 lb barbell, a pair of 50 & 100 lb Hex Dumbbells, a utility bench, squat uprights and a flat bench my workouts took on a whole new world, as did my body.
Those dumbbells were great, coming straight outta Newark, NJ where I met some dude at a storage facility who had shut down a small gym.
There ya go, another one bites the dust. You can't build a kick ass business if you have NO business knowledge or business systems in place.
Heck, running my gym part time, from 4 - 8 PM on Monday - Thursday and Friday we go from 4 - 7 PM, 19 hrs per week, the Gym brings in 6 figures. There is no reason why someone can't take their business and earn at least a solid part time income doing what they love.
But, then again, training IS the business. You can't kick ass unless you have the skills in training AND business. So, I ditched all the bodybuilding magazines and my old bodybuilding videos. It was a tough time for me, almost like I was dumping some chick I was in love with, ha ha
Although I was limited with information from what the strongest, biggest dudes did from back in the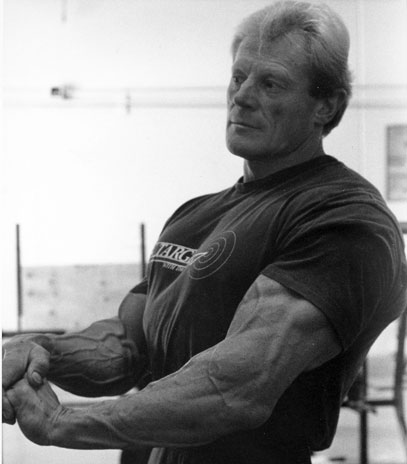 Golden Era, I copied whatever I could from them and brought it back to life. Those black and white pics of bodybuilders such as Dave Draper, Casey Viator, Bertil Fox, Arnold, Franco & Zane.... They were always rowing, benching, squatting, deadlifting, chins, dips....
That was The REAL shit!
It made sense to follow suit in my garage when I began rebelling against the Bull Shit information swamping the magazines and the internet.
The garage had low ceilings, so standing overhead work was out of the picture. But, heavy cleans worked those shoulders just fine.
Stones lined up my backyard, so I copied what I remember seeing in those OLD World's Strongest Man competitions as well as using them for functional movements such as squats, presses, carries, rows and power cleans.
My days of bodybuilding and transitioning to power bodybuilding and now a mix of strongman training, gymnastics / bodyweight workouts, kettlebell training, powerlifting, olympic lifting and more....
I keep my mind open. Open to new ways for getting stronger, bigger, faster, leaner and meaner.
You need to keep your mind open as well. Those who know it all know Nothing. After 21 years I am learning more than ever and also hungrier than ever to learn more and evolve my training system. Our athletes are kicking ass and I'm feelin' agile, mobile and hostile.
At age 34, I am not slowing down. I will continue to kick ass and will always be hungry. I remember the "older" guys in the gym always telling me one day I would slow down. They told me how they used to be like me. Well, news flash.... I NEVER SLOWED down and only got stronger and hungrier.
I am NOT like they are or were, nor am I like anyone else out there. Don't let naysayers bring you down. Blaze your own trail and Lead from the Front.
Be Strong.
--Z--
PS: Drop a comment with your thoughts, looking forward!
Recommended Resources:
Underground Strength Coach Inner Circle
1 Day Underground Strength Coach Mentorship
2 Day Underground Strength Coach Mentorship
(Visited 108 times, 1 visits today)