I remember I was 25 or so, and decided to stop training at the local gym. I was finishing Graduate school which was an hour drive each way. Graduate school was wiping me out in addition to working full time, studying my ass off and trying to train in a hard core gym.
Hard core gyms were dead.....
Somehow, someway, people in the mid 90s began thinking that being Strong & Jacked was not a cool thing. I swear to you this is NO lie. Magazines came out for this specific look and many gym owners tried becoming something they were not.
In turn, they self destructed their gyms. Their business went under because they allowed the wrong people to influence their direction.
Lesson Learned: Be YOU. Do YOU (Great book by the way). 
So, with the stress of not having a gym that played loud music and encouraged the jacked & strong lifestyle, I began scouring the newspaper ads for used gym equipment. Yes, back then craigs list and e bay didn't exist so people posted their used gym for sale in newspaper classifieds.
I found some gems:
- Pair of 50 & 100 lb Dumbbells
- Flat Utility Bench
- Dip Bar
I bought myself a gun rack for barely over $100 so I could squat. If you don't squat, then you're NOT training. To quote 1 of my wrestling coaches when he saw me at the gym at age 14, "If you wanna be as big as a house, ya gotta build the foundation!"
My Coach would do 5 - 8 sets of back and front squats EACH, in the same workout. He weighed about 145 lbs and I remember seeing him front squatting 315 for sets of 5.
"Strong is Strong and Weak is Weak." - Louie Simmons

You can't fake STRONG.
I also purchased a flat bench so I could hit some heavy benching. That's it. NO more room in Mom and Dad's Garage!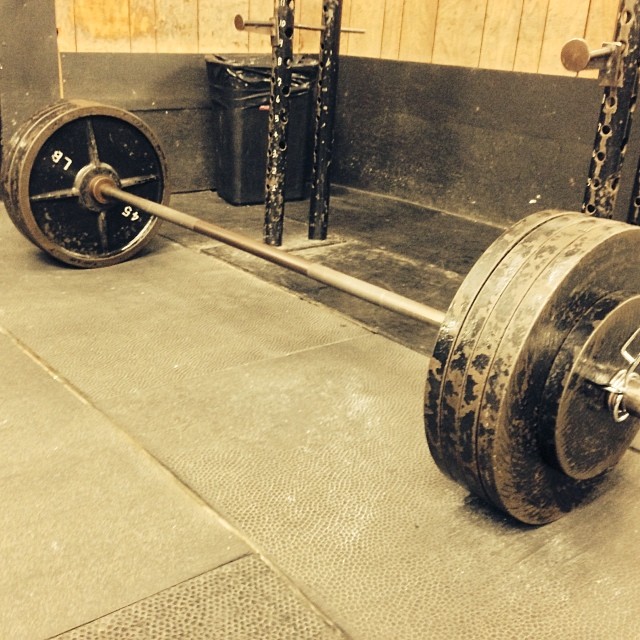 I saw a 300 lb barbell set for sale at CostCo so I went for it.
It was all the cash I had but finally, my very own hard core gym was created in my parents garage.
The timing could not have been worst, as Winter was fast approaching and our garage was colder than it was outside!
I bought a space heater from Home Depot and it didn't help much, even while wearing hat, gloves, 2 pairs of sweat pants and 3 sweat shirts.
So, I bought a second space heater, problem was, every time I turned on that second heater the entire house shorted! I remember the first time the power went out my Dad screaming my name because he knew exactly what I was doing in the garage.
My Dad knew I was a meathead. He had driven me all over since the summer before high school with me either training at gyms or, letting me scope out the gym and talking shop with the front desk manager as I began speaking about being a "gym owner" as my career.
Little did I know the future of The Underground Strength Gym but things have worked out great, I will say!
Back to the freezing cold garage.....
The entire house having a power shortage did NOT make my Dad happy, so I said "F**k it", and I trained through the cold. I had watched Rocky III & IV enough times to know that comfort was the enemy. I embraced the challenge of cold weather training.
My workouts were more effective than anything else I ever did at the gym. I was left without the leg press, smith machine and pull down machine. This was a blessing, not a punishment. Machines are great for bodybuilding but nothing beats free weights and what they do for your strength & size.
This simple garage gym set up meant I would follow steady diet of squats, RDLs, Benching, Dumbbell Pressing, Heavy Barbell Rows and high rep 1 arm DB Rows.
The Gun Show was attacked with heavy BB cheat curls, DB Hammer Curls, Dips and Close Grip Benching.
My Back exploded with serious muscle & strength gains as I hit tons of hang cleans, power cleans and deadlift variations.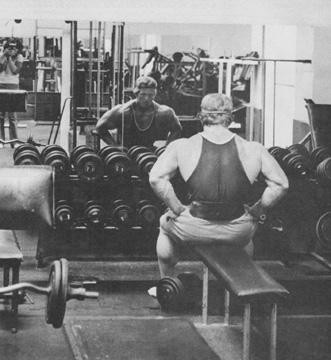 After 10 + years of being "educated" with magazines on the book shelf it was time to educate myself, without the fabricated outside influence of most magazines. My knowledge would now only come by the sounds of heavy metal music and the feel of cold iron in my hands.
Here's a Sample Upper Body Workout from The Garage Gym
Warm Up w/ Calisthenics & Light Weight With Barbell + Abs
2A. Bench Press 2 - 3 warm ups. 2 - 3 working sets x 3 - 6 reps
2B. 1 Arm Row x 10 - 20 reps ea. set
3A. Muscle Cleans 3 x 3 - 6 reps
3B. Incline DB Bench 3 x 6 - 8, Drop Set x 15-20 reps
4A. BB Shrugs 3 x 10-15 reps
4B. 1 Arm Side Raises Heavy 3 x 10
5A. BB Power Curl 3 x 8 - 12
5B. Dips 3 x MAX
6A. DB Curl Variation 3 x 5 - 15 reps
6B. Push Ups 3 X Max
7. Forearms + Abs
The above workout was more power-bodybuilding style.
I still hadn't begun my journey as a Strength Coach but I was never into the isolate and pump style of lifting. I was more connected to The Golden Era Bodybuilders because they were STRONG. They looked strong and actually WERE strong.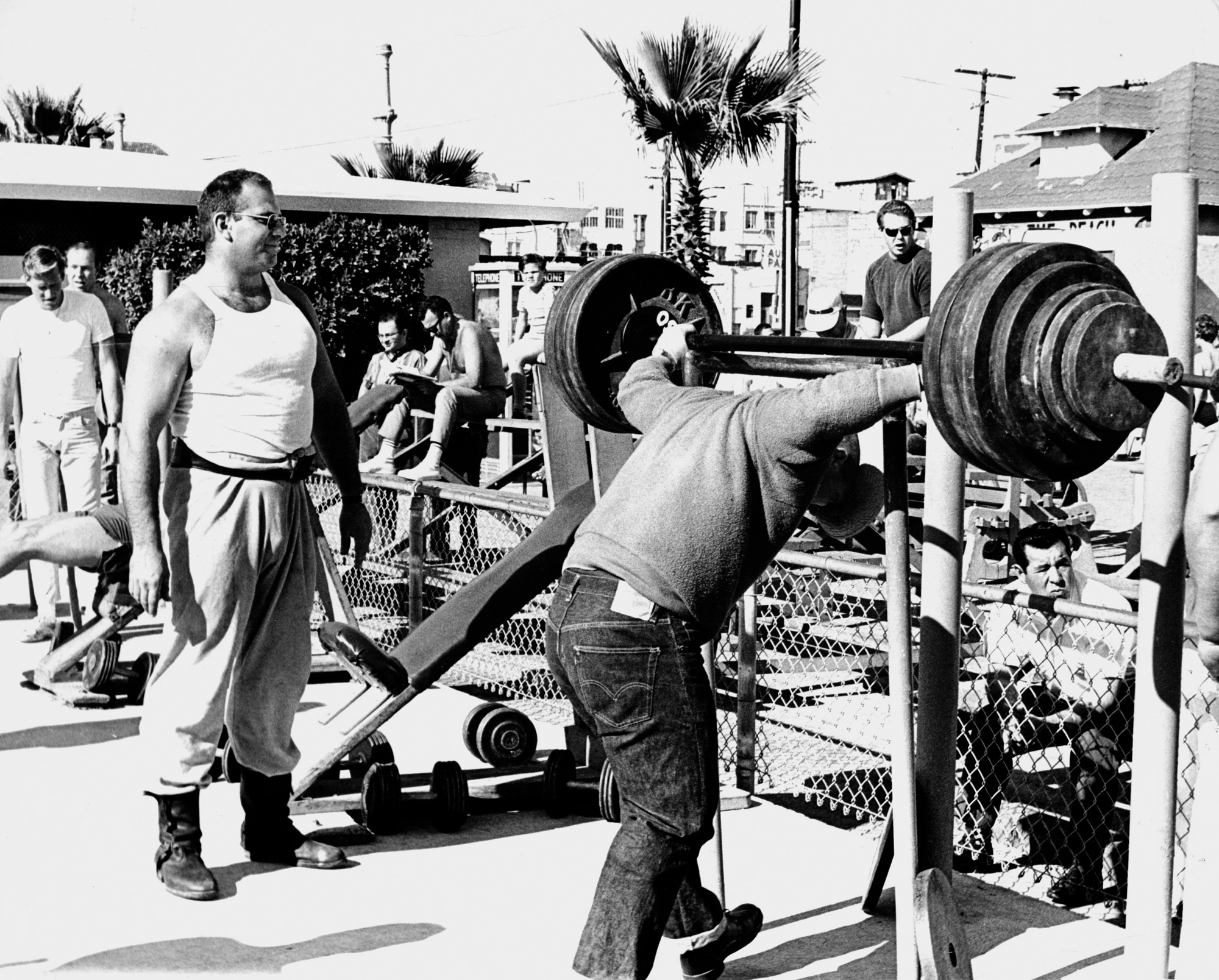 On the weekends I would travel to a different gym just to get into a warm place and have a slight change of pace. I would often travel to a Gold's Gym, and I still recall the shock and awe from the kid working the front desk as he could NOT believe me when I told him I trained in my garage.
He didn't think someone could get as big and strong as I was from a garage.... he thought we all needed the glitz and glamour of the modern day gym.
He couldn't have been further from the truth.
Primitive training rules. Always has, always will.....
When my high school athletes ask about which supplement works, I remind them that the BEST supplement is HARD F**ING WORK. Period.
[youtube width="640" height="360"]http://www.youtube.com/watch?v=TbIFzCYwFNE[/youtube]
So, if you're asking yourself about "the best workout program", "the secret sets and reps" for building muscle, how to get stronger with some pre workout supplement.... YOU are asking the WRONG questions.
The answer will always be the same.
It will ALWAYS be about the basics and hard gut busting work coupled with commitment to nutrition and lifestyle.
Live The Code 365
Life is about Kicking Ass & Taking Names, BOTH in The Gym AND in Life.
Nothing Less Will Suffice.

Live The Code 365,
--Z--
PS: Drop a comment, add your own thoughts & experiences.
The Best of the Best in Primitive Training for Gaining Strength and Size can be Found HERE.
(Visited 894 times, 6 visits today)