It was The Fall of 2002, and I had drawn the line......
I was up to my neck in work as a grad student plus working full time as a teacher. I was also coaching Wrestling and the season was a few short weeks away. My time was pressed to say the least.
Sunday mornings I would wake up and work on research papers from 10 AM until 10 PM.
It was the first time in 7 or 8 years that I was unable to make the trek to my favorite hardcore gym, Diamond Gym. I was too busy to drive 30 minutes each way, and, with the risk of hitting traffic on week day, you never know how long the commute will take.
I had to find a way to train without depressing myself inside the strange culture of globo gyms that blasted depressing music through the airwaves and management complained anytime you dared to drop a weight or grunt.
I recalled how Dave Draper trained in "The Dungeon" which was a hardcore gym in the basement of a bar which had free weights, a few light bulbs, dumbbells up to 150 and some of the strongest men around. I knew that fancy was the enemy when it came to getting stronger and jacked.
I started checking classified ads like a Hawk and I got lucky. A few gems were found, as a few men (lucky for me, NOT for them) had some gym equipment to sell after their gym business went under.
I snagged a 300 lb barbell from CostCo. It was a piece of crap but what the heck, it was all I needed and it was only $99, perfect for a young guy piled high in debt.
I bought a flat utility bench, a pair of 50 & 100 lb dumbbells and a gun rack so I could squat. I got these from a classified ad in Newark and I remember stashing money on my socks, underwear and pocket in case my first deal in a not so nice area went south!
If I wanted to do incline dumbbell benching, I placed a heavy duty tool box underneath the flat bench. Worked like a charm. NO excuses.
I trained 2 - 3 x week in the freezing garage of my parents home.
My typical Garage Gym routine was this:
Tuesday + Thursday in the Garage
Saturday morning at a Commercial Gym
Tuesday would be lower body in the garage.
Since I only had 300 lbs of weights, I was often squatting for sets of 10-20 reps.
After squats I did deadlifts, then RDLs and then some form of lunges or step ups using my 50 lb dumbbells.
Those basic leg workouts thrashed me! The high reps were NO joke.
Upper Body Day was Thursday in The Garage.
I had a set of 50 & 100 lb dumbbells, a dip bar, a bench and the utility bench.
After warming up with calisthenics, I would dumbbell bench the flat and incline supersetted with barbell rows, dumbbell rows and shrugs.
No training partner or spotter. Just me VS the weights.
The shoulder work was heavy side raises using a controlled "cheat" on the way up for side raises.
I also did barbell muscle cleans as I was not at all versed in weightlifting. Those muscle cleans added muscle, strength and size to my back and shoulders like nothing else.
I had read about Arnold doing them when he trained in a simple gym which required him to power clean the weight before laying back on a high incline bench.
To say the garage space in my parents house was crammed would be an understatement.
These garage gym workouts were a blend of powerlifting and bodybuilding. I was most influenced by the stories of guys like Dave Draper, Arnold, Franco and Mike Mentzer as they trained heavy and attacked the basics with supersets.
A steady diet of benching, rowing, squatting and heavy accessory work is what worked in the 50's, 60's and 70's and those guys looked better and actually WERE strong compared to the bodybuilders of today who mostly look strong and not much else.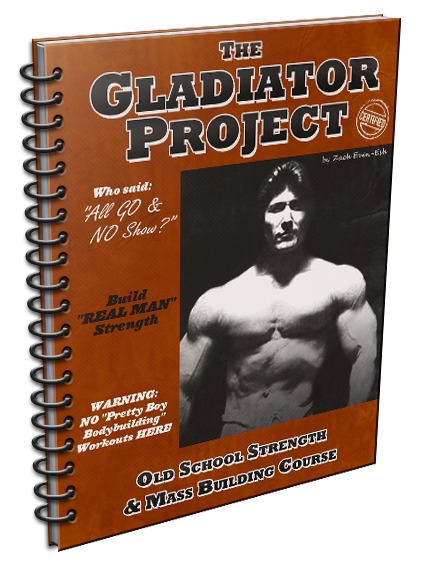 The Gladiator Project - Details

HERE
On the weekend I would go to a different commercial gym as my garage had NO heat.
I locked on my headphones and went to town. The headphones were the precursor to the iPod for you youngsters out there. I would attach my Sony Walkman (cassette tape) to my weight belt. The headphones serves as a barrier keeping the talkers away from me as I did my training.
The Commercial Gym Workout was often full body training and I had the simple goal of destroying every machine in that gym.
If it had a weight stack, I wanted to load it to the max.
Here was a list of some of those exercises:
Leg Press
Seated Cable Rows
Hammer Strength Rowing / Pulldowns
I also did high rep arm work with cables like curls and pushdowns of various types.
I would load up the trap bar that was always stuck in a corner somewhere and work up to some heavy triples. Back then, people stared at me like a man from mars when they saw the trap bar getting utilized.
My workouts were always supersets and circuits. Heavy weights & high intensity. I LOVED pushing heavy weight while my heart was racing due to the fast paced training. The challenge to train harder than everyone else in the gym inspired me!
Now that I no longer train at commercial gyms, my high rep work will come from using:
Kettlebell training
CMBs / Center Mass Bells
Band Work (replacing cables / nachines)
I still push my truck and sprint. I use rings for pull ups and ab work.
Training in my garage 2 x week and once a week at a commercial gym, I was getting stronger than ever before and also developed a muscle thickness and maturity that I had never developed before.
Not having access to machines, cables and all the other "pump up" bull shit was GREAT.
Every day I ran at night a hard 1 mile with my Dog, Arnold. It was a balls to the wall run as he would sprint and pull me until I could no longer maintain his pace and then I would get him to show mercy and walk for 15 seconds.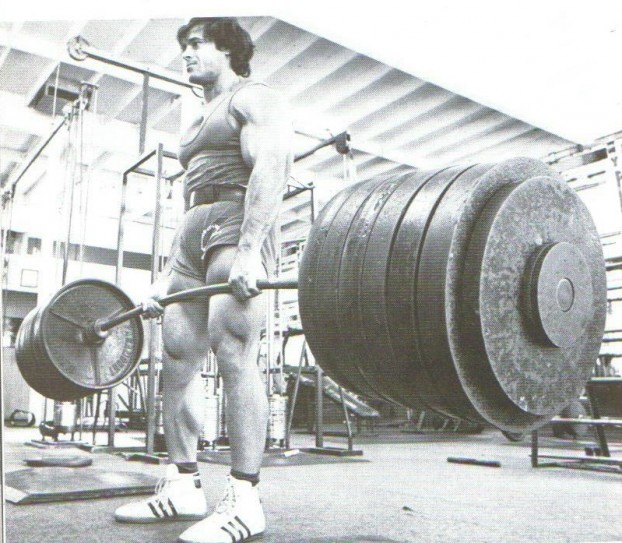 The hard running was great and ramped up my overall work capacity. Running short distances at aggressive speed is something I highly recommend to all of you as long as you don't have any injuries or conditions stopping you. ALL sprints are good sprints. Do them.
Those garage days marked the beginning of an era for me, a new life actually, as I NEVER went back to a regular gym since those days. I drew a line in the sand and never looked back.
I fell in love with training without all the fancy equipment that was never necessary. I cherished having awesome music being played loud as hell and I sure as heck didn't miss seeing guys on their cell phones right before a set of squats, or checking their hair in the mirror, or reading the paper in between sets!
Life was good as it was the first time I began to go against the grain of "normal workouts" back when everyone was pumping light weights at the commercial gyms. I hated that scene and craved the intensity and challenge of a tough, garage gym workout.
The gains I made in such a short time with the minimal equipment was shocking to myself and others. People kept telling me how big I looked and they were right. I gained big time when I started my garage gym workouts.
I felt like a Gladiator. I felt like I was one of the crew from The Golden Era.
Not only did I make tremendous physical gains, but mentally, I developed a new edge of mental toughness. Training basic and simple.
Garage Gyms are Golden. Those who know.... KNOW!

In Strength,
--Z--
Join My Online Team

HERE
Garage Gym Gladiators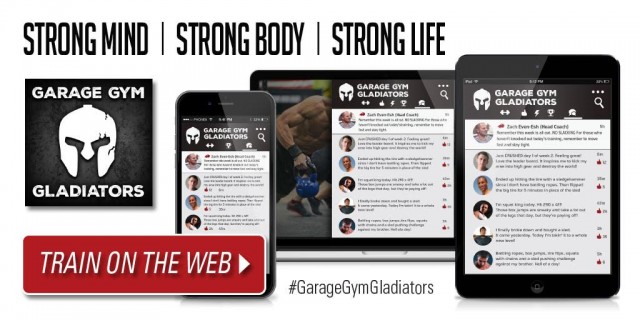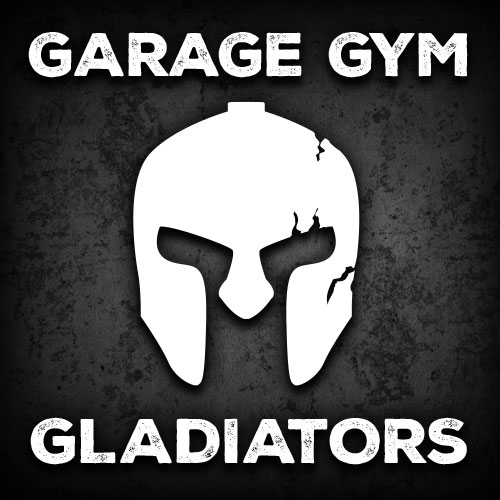 (Visited 1,553 times, 11 visits today)