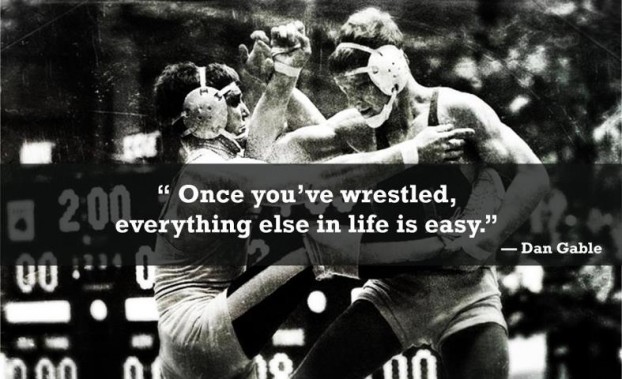 Here's a lil motivational story. One that really hits home for me, touches my heart.
I will leave the name anonymous but I will say a few things before I share this story with you.
When I was in high school, I would follow this wrestler's success through the newspaper.
He was a very humble, quiet and unassuming wrestler.
But, when he stepped on the mat he knew how to "flip the switch."
He won a state title in high school. In college he was an All American at The JUCO level and at the D3 Level. When I was in high school he would train at the same gym I trained out of.
Him and his training partner attacked their workouts like mad men possessed. I would watch them through the corner of my eye and it motivated me to train harder, to get stronger and to earn their respect.
What's odd is that those memories are fresh in my mind and they are from the early and mid 90s. Even more odd, this wrestler still has "it." He still has the Gladiator mindset. He still has that edge that so many men lose as they get older.
Heck, even former Olympic Champion Rulon Gardner lost his edge and found his way to the TV show, The Biggest Loser. Rulon lost his edge. There are many reason why men lose their edge. They lose that eye of the tiger.
[youtube width="640" height="360"]http://www.youtube.com/watch?v=_5s9Rau0XN4[/youtube]
The wrestler who shared this with me understands something I speak about so often, something that drives me to never stop training athletes.
The pain of discipline and the pain of regret.
If you've been following me for a while, you have read and watched my videos where I honestly and openly talk about my pain of regret. It haunts me to this day and at the same time drives me to give my all to the athletes I train.
I understand the pain and it will never be gone. There are some who don't care about winning. They are the robots of the world, the lawn mowers. They do as their told and don't care to stand out. They prefer to blend in and not be pushed, living in comfort.
Then there are The Gladiators. They only want to succeed and they are always pushing themselves to keep that edge. They might only be competing against themselves often times but they are always pushing the envelope so they can sleep at night, proud of who they are and what they did that day.
The Gladiators of the world will understand this story.
The excuse makers, the clock punchers, the robots.... they won't understand this story......
Some will play the man vs woman card after reading this story. Again, those same people are the ones who don't "get it". They are going to make some sort of excuse rather than learning from one of the toughest guys I have ever known.
Enjoy.....
__________
A stranger helped me out this morning without realizing it, but in reality I helped myself out because that's what I've always done.
I came to the beach early and went for a long run on the boards.
I wasn't warmed up & I just get to the boardwalk from my house and this young girl is running.
I enter the boardwalk about 100 ft in front of her.
Within 5 mins she passes me so I have a choice to make.
Do I use the excuse that I'm not loose yet and let her blow me away or do I just push myself to keep up with her and it is a her, not a guy.
Of course, I did what most competitive people do and I stayed right behind her.
I didn't want to pass her and make it look like I was competing even though I was.
At the end of boardwalk I keep going.
She stops to tie her shoe or stretch. Not sure what she was doing.
So now I passed her and made sure I kept a good pace so she wouldn't catch me.
Then I let up and slow down, figuring shes not around. After about 1.5 miles, she passes me again, so I know I can just let her persistence beat me, but I didn't.
I followed her closely and tried to torment her by staying right behind her.
She eventually turned off the boardwalk, either cause she was going home or couldn't keep up the pace anymore.
Now, I could have chalked it up to this girl being half my age but I didn't.
Moral of the story is that this is how a wrestling match goes.
This is how life goes and you will have to deal with your decision of weather to quit or not.
I chose not to quit and it was a struggle for me, but the discomfort only lasted for the hour that I was running.
Knowing you quit will last forever, just keep pushing even if the other guy scores and he will break.
If he doesn't break and flat out beats you, You tip your hat to that guy or girl in this case or you shake their hand but you don't accept it.
You go to work the next day and let that defeat motivate you.
Your coaches should notice a distinct difference in your demeanor the day after you lose.
You think you were working hard before but there is always another gear.
Play these mental games with yourself and you will be a success on and off the mat. and when you are older you will be even more successful if you can get a kid or numerous kids to believe in the power of our minds.
Keep putting money in the bank.
You may never need it until March, however, you have to keep training and when you need to dig deep, You will have something left.
This is kind of mindset a wrestler needs.
___________
When I received this story from my friend I was fired up beyond words. Wrestlers understand this mindset. We were taught to apply this mindset and work ethic towards life.
Not every wrestler "gets it". Some get tired of the challenge.
Some get tired of the constant push.
Others, thrive with the challenges and love it and actually LIVE for it.
Get comfortable being UNcomfortable.
Please drop a comment with your thoughts.
I would love to hear what you've learned from this, whether you're a wrestler or not.
Live The Code,
--Z--
Workouts That WIN - Click HERE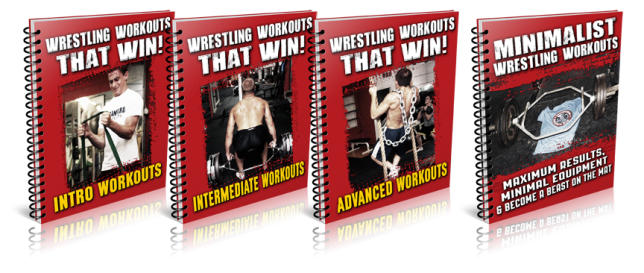 (Visited 809 times, 5 visits today)