It's good to get away from your same ol' environment more often than you think you should.Kinda like Arnold's early days when he and a training partner would haul 250 lbs and a barbell to the woods, perform 50 sets of squats until they couldn't stand let alone walk. Away from the gym, the distractions of rules, the perfect set - rep combo, the water fountain and of course, "normal people".
Yesterday I took a ride up into the quiet northern NJ hills to train The Blair Academy Wrestling Team. I love heading up there, even though it's just shy of a 2 hr drive for me each way, I get fired up days before I even make the trip. The wrestlers are beyond highly motivated and the Coaches have always been open minded to learning, NO drama. That is refreshing and MORE Coaches could help their athletes to much greater heights if they dropped their ego and opened up their mind to learning.
As I always say, The Kids are # 1, NOT your ego.
It's QUIET up in the hills of Blairstown.
When I pull into Blairstown I can sense that it's time to for us to do WORK. I put the windows down as I drive through the quiet back roads so I can smell it in the air. And trust me, I DO smell "it" in the air. The cool fall air always gives a hint of wrestling season around the corner. That means intense, aggressive workouts.
I drive through the woodsy hills and  my focus multiplies. I run the workout through my head again and again, visualizing exactly what I'm going to lead this crew of Gladiators through. I pull into campus and make my way to the wrestling room at the top of the hill, where 40 or so wrestlers await to go through a workout. The "new guys" who have never met me don't really know what they are in for. The experienced wrestlers who have gone through my workouts before know that we're about to get after it and I can see it in their eyes.
In addition to the Wrestling team, about 10 girls from Crew team was invited as well. It's a different breed of kids up there. Have you ever heard of girls (or ANY athletes for that matter) willing to go through a wrestling workout??!!
Our workout lasted just shy of 2 hours, and it was freaking intense. The bodyweight training was aggressive. I've had Football players quit within 5 minutes of our warm up while at The Underground Strength Gym, yet not one person quit here, EVER. In fact, they ALL got tougher and stronger as the workout went on. ALL of them.

Around mid way through our workout I gave them the 20 X speech. I saw the wrestlers AND the girls resonate BIG time with 20 X along with my sharing stories & lessons learned from Saturday's Navy SEAL Challenge.
Their eyes got BIG and they actually began  crowding me, moving closer as I spoke. Their posture quickly fixed, no slouching of the shoulders, no hands on hips, NO showing fatigue or signs of struggle. Postures became straight up and strong, breathing was now controlled, facial expressions were "fixed".
It only took me 2 or 3 minutes to explain the lessons I learned from Navy SEALs and they began applying those lessons ON the spot. They did NOT wait for tomorrow to learn and apply, they took action ON the second.
We got back to work, going through more aggressive bodyweight training. We progressed to sandbag training which is where things got interesting.
I had the bigger wrestlers and the upper classmen use the heavy wrestling dummies for an added challenge.Every rep of every sandbag exercises was to be ripped from the floor, working the entire body. The use of sandbags has been one of the best ways for our athletes to develop mental toughness and a very "unique" type of strength that just doesn't come from basic free weights.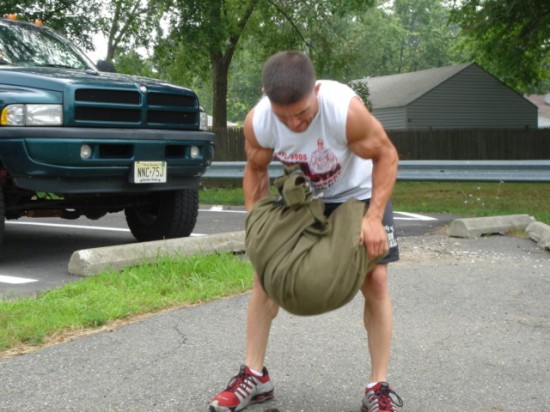 SPECIAL NOTE: Click HERE for a Tour of The Underground Inner Circle, See how we train Wrestlers & ALL Athletes of The Underground as well as the Numerous Training Coursess You Will Get That Are NEVER Released To The Public - Click HERE for A FREE Tour
As we were about to finish our workout (unknown to the athletes when we would truly end) one of the wrestlers asked me, "Is this the last part of the workout?".
I asked if he was tired and if he had enough training. In an instant, he fired back, "I can go all day if you want me to." My question to him was to prove the point our Navy SEAL instructors taught me, you CAN do more, you CAN keep going, you simply need to make up your mind as to what is possible.
It was time to go over the details of the next workout. They didn't know if it was the last workout or not, but what they did KNOW is that THIS time they were to push for 20 X.
I told them how it's ridiculous that through the past 7 - 8 years or so, every time I go to an athletic club, Coaches are giving speeches on what should NOT need to be spoken about:
- do your homework
- work harder
- go running
I don't lecture and try to motivate. I personally have a problem with motivating others, because motivation MUST come from within or it will not last. With all these lame lectures, it sounds like we're trying to lead a field of weak minded losers by telling them to do the things they KNOW they should do.
If an athlete needs a lecture on doing his / her homework, eating a strong breakfast, training hard, etc then he / she will NEVER become a champion. The champion WANTS to do all the right things and of course, the champion DOES all the things needed to create success.
Instead of lecturing, I quickly shared what I learned through my own experiences with my Navy SEAL friends and mentors and how they must apply these lessons to achieve success. I didn't spend 10 - 20 minutes blabbering. 2 - 3 minutes and then on to the training. Less talk, LOTS more action. We did WORK.
The end of our workout included a 6 minute high intensity workout. Constant sprinting between bodyweight training and rope climbs. The pace was furious.
Close to 2 hours of training and here they were, stronger, faster, more intense and more in charge of everything they did. As you can see, there are those who take action with what they are taught, while others make excuses and delay using what they've learned. To me, that is the ultimate in unmotivated people.
[youtube width="640" height="360"]http://www.youtube.com/watch?v=-ZjIPaLHNBE[/youtube]
Live The Code? Yes.... they DID.
1. Honesty
2. Integrity
3. Commitment
4. Work Ethic
I can't wait for my OWN workout today. I can't wait to work HARD on all my projects today, to train Undergrounders and to Attack Life.
I am learning AND applying.
To OWN your life, you must do the same.
Step UP, train hard and LIVE hard!!
Live The Code
--Z--
Click HERE for The Underground Inner Circle Tour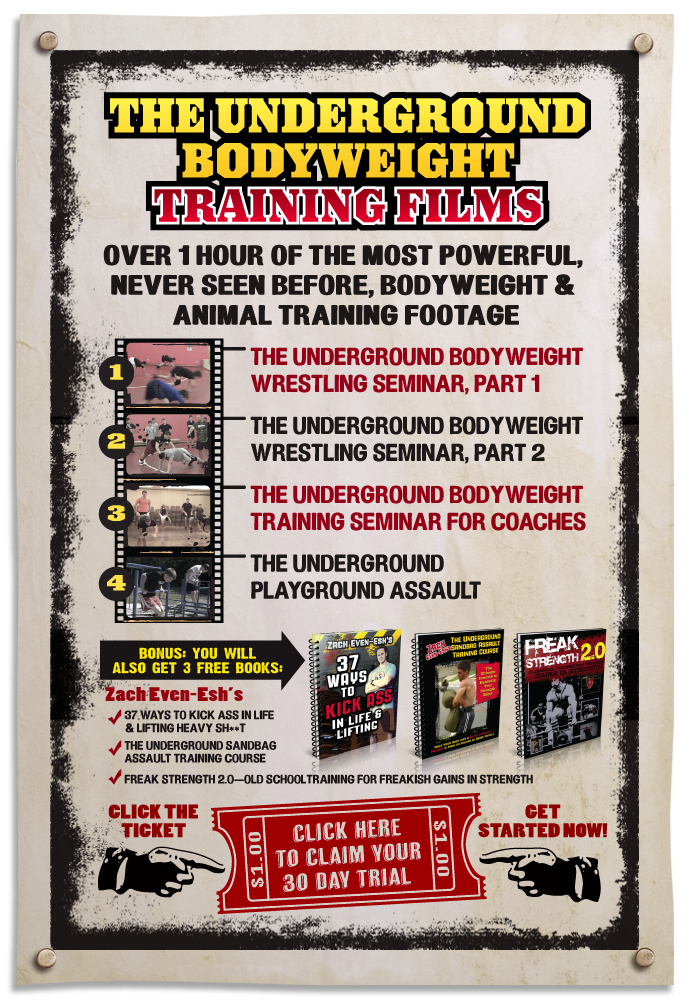 (Visited 61 times, 1 visits today)