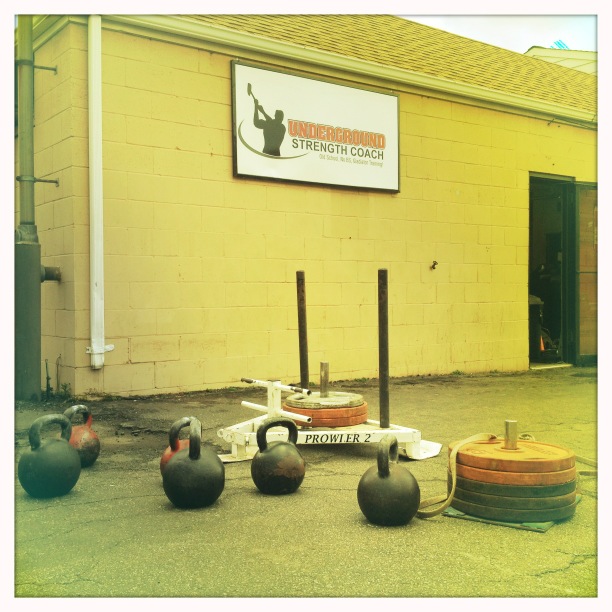 Above, Weapons of Mass Construction at The Underground Strength Gym. The "original" days began from my parents backyard, their garage, local playgrounds & ANY Wrestling Club that would let me through their doors....
QUESTION: I really want to open a warehouse gym as soon as I possibly can. Right now i've got some minimalist equipment: rope, olympic rings (just got em' 2 weeks ago...they are awesome), some dumbbells, a sled, keg, kettlebell & tire.
Just slowly building it up. I'm still working on getting my 1st client.
Working a full time job & family leaves me a little short on time.
I just wanted to ask though, I don't have a warehouse gym, will some of the plans & details outlined in Operation Thunder still apply...garage training/outdoors, etc?
Thanks Z & cheers for the daily inspiration.
- Ricky -
ANSWER:

Ricky, Operation Thunder details exactly HOW I began my training business from my parents backyard and garage, transitioned to my first home and built up The Underground inside my garage..... Back then we would split time between training in my garage, my backyard and down the street at the school when no one was there.
You can see some of that video footage below from 6 years ago 🙂
[youtube width="640" height="360"]http://www.youtube.com/watch?v=7o73nYPshe8[/youtube]
[youtube width="640" height="360"]http://www.youtube.com/watch?v=cx1-eehKHrQ[/youtube]
I detail exactly how I started getting clients while in your position: A husband, father, full time teacher..... I busted my ass, woke up early, stayed up late, did what other up and coming coaches did NOT want to do. It required mental toughness and a passion like no other but I KNEW I would succeed.
I wanted to help athletes dominate and become strong as hell, both physically and mentally. I didn't let my hectic schedule stand in my way. I knew the only thing that could stand in my way and stop me was ME. I refused to let it happen, my mind was locked on where I wanted to go and I never let up.
Was it easy? Hells NO! It was brutally hard! But, if it was easy then we'd have lots of successful Coaches.
In my home garage gym I had just over 20 athletes training with me till I was essentially forced to move out of my garage and finally sign the lease for my warehouse. The athletes were flooding the street and their cars were lined up the road. It was a GREAT time and I remember seeing my wife looking out the bay window at all the cars and athletes.
I saw the look in her eyes as if she was saying to me, "It's time, you did it, it's time to get your warehouse gym. You busted your butt and created a monster, now go take it to the next level!" I literally read her mind.... and I f**ing DID it!
It was tough to do with all my commitments but that is how success comes, from TOUGH minded, ready to take action Coaches.
I strategically used everything to build my business from internet, to public speaking, to referral systems and more, ALL of which are detailed in Operation Thunder.
So.... can YOU do it?
YES..... if you're willing to do the work, crush the excuses and take smart business action.
Most people are lazy, don't wanna invest in business courses and if they do, they take NO action.
That's the cold, hard truth.
I see this in athletes And Coaches.... it takes work and a NO excuses attitude.
If you really wanna make it happen, Yes, it Can be done!
Get after it....
NO procrastinating.
Make it happen. Here's my final thoughts on what it takes to become a Strength Coach....
[youtube width="640" height="360"]http://www.youtube.com/watch?v=jKfgX39zb-k[/youtube]
Peace
--Z--
The Underground Biz Journal - Business Tips for Strength Coaches
Operation Thunder: The Warehouse Gym Project
(Visited 98 times, 2 visits today)