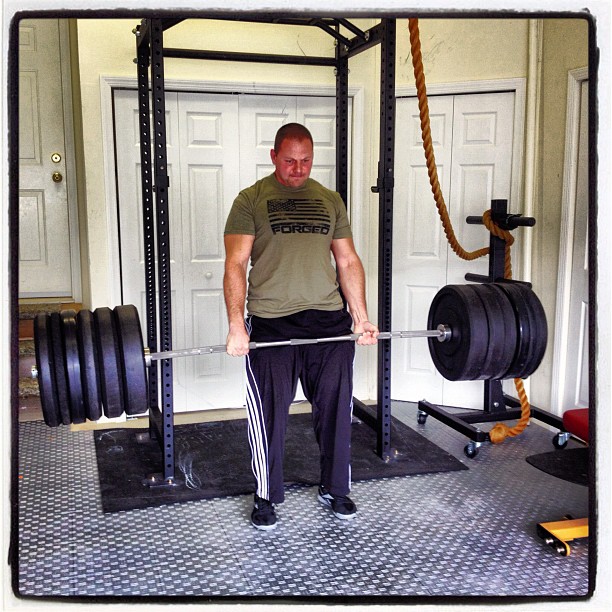 There is something PURE about training in your very own home gym - be it the garage, basement, backyard or spare bedroom.... Heck. I've heard of some home gym set ups in people's kitchen's! No matter where, there is magic that happens in a kick ass home gym.
I recall reading from Dr. Ken, that even though he owned a large gym (I believe it was Iron Island Gym?) he still did his own workouts in a custom made home gym, where he also trained NFL players and other BEASTS. I've got video footage and man, it's some SIC training, brutal, NO Rules kinda stuff!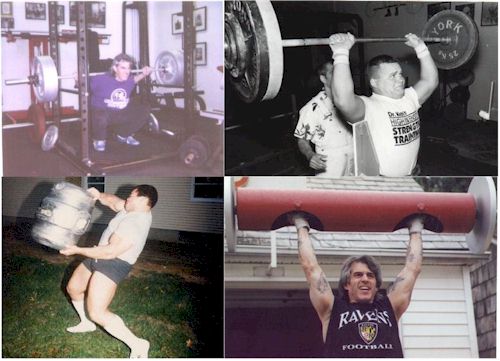 The majority of my personal workouts take place in my garage or the surrounding outdoor areas as well as at my Underground Strength Gym or Rutgers University after training the wrestling team.
To me, training is training - it ALL counts and I LOVE the change of scenery and equipment.
MAYBE 1-2 x week do I train at The Underground Strength Gym HQ.
Sounds crazy but I LOVE the solitude of training alone, in a crammed section of my garage, barely squeezing my barbell past the kids' bicycles and toys.... It brings you back to the days of when you first began training, you feel like a kid again, compared to nowadays, being confused by the countless blogs, youtube videos, books and more crazy information that keep flooding your eyes and ears.
More & more people are training at home compared to days of the past because today, more than ever before, we have countless gyms that are AGAINST hard work, loud music, chalk, lifting heavy, dropping weights and sweating.
You get tired of the rules and regulations and instead yearn for a gym that resembles more of the Wild West rather than some pretty boy gym that frowns upon hard work.
I can remember as if it was yesterday, when I used to train at a hardcore gym and the day they began changing the rules and moving to what they thought was "mainstream" they LOST business.... LOTS of business.
What was once a packed house of hardcore lifters become a ghost town of a few people just "trying to get in shape".... The hardcore guys disappeared and the BIG gym became a ghost town that freaked me out for a lifetime.
I wasn't sure if the hardcore guys left and began to train at home or I wondered if they did as I did, traveling the state of NJ weekend after weekend trying to find a hardcore gym that played loud music and didn't breathe down your neck with rules and regulations. Every gym I visited disappointed me.....
I was afraid I would have nowhere to go.... nowhere to lose myself and find myself....
When I would visit these gyms, Questions kept running through my head such as...

Where is the intensity?
Where is the loud music?
Why are all these people always training like a bunch of P**ies?
Why do these front desk workers seem like they don't give a shit about us?
I was afraid that I was too much of a loner and that I would NEVER find a hardcore gym to meet my needs.
A TRUE lover of physical culture and hard training sees working out as a form of art. Not everyone can relate or understand to what this means. This is the essence of being a SOUL Lifter. I don't have to explain myself, you KNOW what I'm sayin' and what I'm feelin'.
A bare bones minimum home gym can simply start with a set of rings, that's all, nothing else. If you're an Undergrounder, you'll find a way to train. You'll use those rings for ALL their worth, then, you'll push your car in empty parking lots, find stones to lift and carry.....

Want loud music, chalk, heat, fresh air? .... it's YOUR rules, NO BODY tells you what to do. It becomes a beautiful thing as you experience the freedom of training in a 'No Rules' environment.
From there, depending on your style of training, you can add a Kettlebell or a barbell. Others may opt for a sandbag or stone, again, it ALL depends on your style of training. My first ever garage gym began with a 300 lb barbell set from CostCo and those workouts were amazing, delivering some of the most powerful results I ever experienced.
That garage style workout evolved into THIS training program.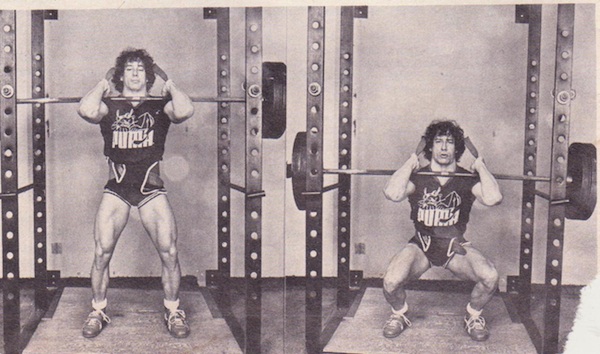 My current Underground Home Gym began with rings and a climbing rope, a rope that has history. The climbing ropes comes from the original wrestling training room of The Blair Academy, which is now the school library. Blair Academy Wrestling has one of the most powerful wrestling teams in the country for years on end, under the helm of Coach Jeff Buxton, one heck of an amazing man & big supporter of what we do at The Underground.
Next up for my current home gym, I purchased a barbell and about 300 lbs of Hi-Temp bumpers which I LOVE. I now have over 500 lbs of these bumper plates in my garage as well at Underground Strength HQ.
Next, I snagged just 2 Kettlebells, a 53 and a 70 lb Kettlebell. Next up, a power rack for squats, floor presses and various pull up bar attachments.... once I had the power rack I added some goodies such as specialty pull up bars, a dip bar, weight vest, etc.
I already had a sled, power wheel and suspension trainer that I used regularly for my playground bodyweight workouts and I STILL use these tools as they are versatile and I can train on the go any time.
It might sound like I have a LOT of equipment but remember, it has been accumulated over time, slowly, slowly. The bare bones minimum can be as simple as a set of rings, or just a barbell.
MANY people, I have realized, whine, cry and complain about using equipment for bodyweight workouts such as a power wheel or rings / suspension trainers. I look at these tools as ways to increase the results of a bodyweight training program, nothing used is a waste of time and money.

Remember, everything you invest in is an investment in your health. NEVER view these tools as an "expense", it's a negative attitude and mindset that you should NEVER carry.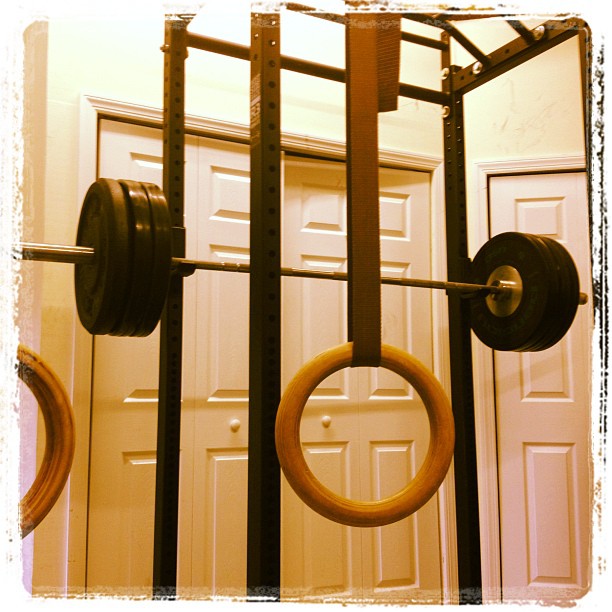 Here's a run down of everything in my home gym:
- Power Rack
- Olympic Bar
- Bumper Plates if Olympic Weightlifting, if not, Iron is fine!
- Plate Tree for Storage
- Flat Utility Bench
- Various Kettlebells
- Draper Top Squat
- Power Wheel
- Captains of Crush Hand Grippers
- Sled
- Wooden Rings
- Climbing Rope
- Bands
- Dip Bar Attachment for Rack
- Dip Belt
- 40 lb Weight Vest
If you're fed up with training at your local gym, do yourself a HUGE favor.
Get yourself a barbell set.... no rack, no squat stands.... NO excuses.
If you're a purist of Bodyweight training, then pick up some gymnastic rings.
Your gym, your world, your rules....
______________
Please Drop a comment if you've got any feedback regarding the beauty of training / setting up your home gym.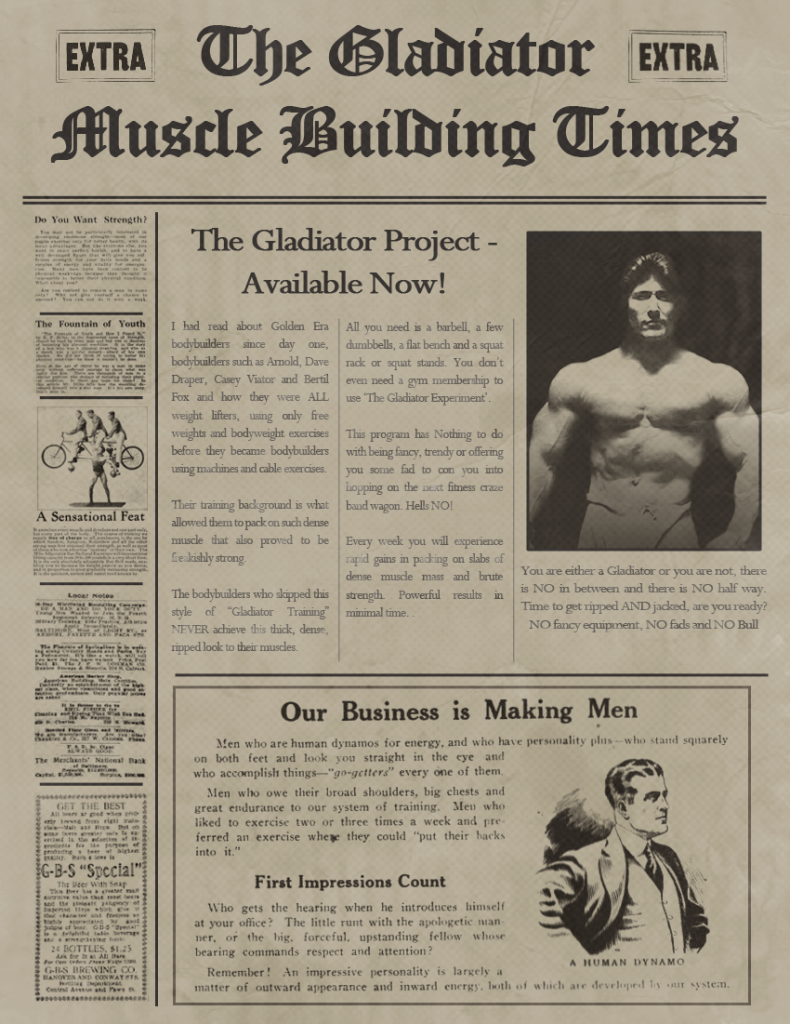 (Visited 1,568 times, 7 visits today)