Above, Dennis Tinnerino.... old school bodybuilding, olympic lifting and bodyweight workouts. Put em' all together and you've got yourself a BEAST
Well, I think that Hurricane Irene has passed through Manasquan, NJ now.
Yesterday I cranked a bodyweight workout IN my garage and it was awesome. I use simple equipment in my garage: Barbell, Squat Rack, Wooden Rings, Climbing Rope and some Kettlebells (I have them at The Underground Strength Gym AND my garage at home) and that's ALL I needed for this workout, I LOVED it!
After lifting heavy for well over 20 years I have built a foundation of strength and muscle, one that simply doesn't leave me. Why? Because I never stop training. Whether it's heavy lifting or odd objects and calisthenics, I keep attacking my training.
Nowadays, I am using bodyweight training with a new system I am applying and it is NOT causing me to lose strength or muscle as many would assume bodyweight workouts would do.
Instead, it's IMPROVING my strength, conditioning, power and MOST of all, GREATLY reducing pains and aches that I was battling with.
I now have bodyweight workouts which have focused days of strength, bodybuilding / hypertrophy, conditioning and hybrid days where they ALL get mixed together.
This was influenced by the conjugate method that Louie Simmons speaks about, except I wanted to apply the conjugate method to a bodyweight only training protocol.
These bodyweight workouts are based off of how Louie Simmons has Max Effort and Dynamic Effort Workouts. Each workout has a focus and then always followed by repetition work for adding muscle, developing joint integrity and more.

Now.... See the Video below to open up your mind.....

If these world class Olympic lifters are using bodyweight workouts as a supplement to their training, can WE use these movements as workouts since 99.9999% of us are NOT world class Olympic lifters?
YES! Watch AND Learn!

Now that you've seen world class Olympic weightlifters using bodyweight training, Check out this home gym bodyweight workout I cranked yesterday during Hurricane Irene....
Warmed up with a quick ladder, inspired by Pavel who is a BIG proponent of using ladder reps for the development of strength and muscle building without burning yourself out.

Warm Up:
1A) Ring Dips x 2, 4, 6 reps
1B) Ring Pull Ups x 2, 4, 6 reps
Now, ready to GO....
1) Ring Dips Ladder (One Set): 3, 4, 5, 6, 7, 8, 9, 10 reps (30 seconds rest between sets)
2) Ring Rows x 25, 20, 15, 10, 5 reps
I've been reading LOTS about bodyweight training and training in general, I NEVER stop learning, experimenting and testing. My methods are evolving as always, but for myself, they are evolving now more than ever.
I'm experiencing a HUGE reduction in aches, pains and mental fatigue / stress that comes from heavy lifting.
As a husband, father and a man who runs multiples businesses, my health is # 1.

It's rare to touch a free weight for the past 2 or 3 months now, and, learning BIG time that the workouts that used to crush me, although I LOVE that feeling, are doing little to NO good for my progress and success as a family man and a business man.
Food for thought....
QOD (Question of the Day): Drop a comment below and let me know how you do by trying the bodyweight workout above...and, let me ask you, how have YOU been evolving in your training?
I am psyched to see what's new with you and how you did with the workout!
Peace!
--Z--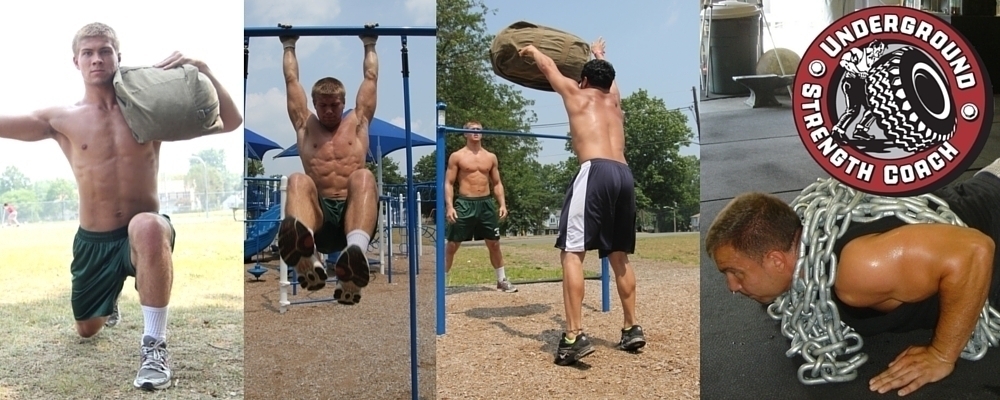 Are you a Strength Coach or an aspiring Strength Coach?
Want to learn the system I use to train athletes and transforms boys into BEASTS?
This is a life changing Strength Coach Certification, and, The USC Cert is about to take a BIG turn, a BIG change, a movement you want to be part of. We're looking for Coaches who want to be part of something and who truly LIVE the Code of The Underground.
This means you train hard and follow the lifestyle. It means you are honest, genuine, hard working and ethical.
Become part of the movement and learn how you can follow your passion and do what you love!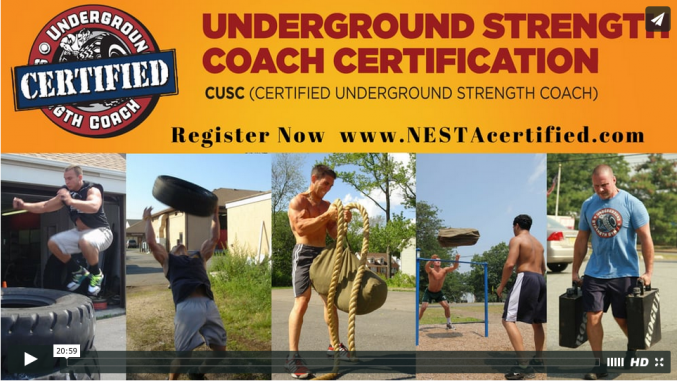 (Visited 738 times, 8 visits today)