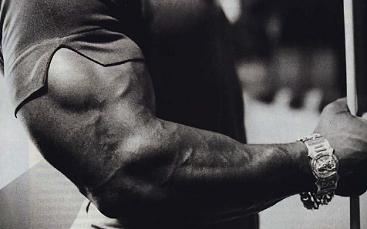 I was 13 years old, my Dad was getting the big set of stairs in front of our house rebuilt.
I used to run up and down those 32 stairs back in high school after they were built, after I ran my 4 or 5 mile wrestling run.
The guy who built the stairs was named Americo. He was a shorter guy, maybe 5'6", but I still remember the day he was
showing my Dad the different bricks and stones which could be used for the stairs.
Americo's hands looked like big meat hooks, his forearms were massive and muscular with veins running up and down them, and his biceps were rock solid.
I had been working out for only 2 or 3 months at this time, and seeing Americo's arms, hands and forearms really sent a message home. It was that day I knew how impressive and intimidating it was to sport a pair of rugged, muscular hands, forearms and biceps.
That was 19 years ago, and I still remember it like yesterday.
Those hands, forearms and biceps didn't get big doing a whole lot pencil pushing and in today's speak, this means that sitting behind the key board and lifting small weights won't cut it either.
There are many paths one can take when developing the hands and forearms, and the best thing is that when you strengthen your hands and grip you strengthen the rest of your body. I've seen this happen every single time, without fail.
You will NEVER find a man with a powerful grip to have a weak body.
You can also see the story of how I met a guy with freakishly strong hands and forearms who put my buddy and I to shame over at http://GripExperts.com
This guys name is Tony, and he doesn't work out at a gym, ever, instead, he works at a tire yard.
Tires, barbells, kettlebells - they're all weights. But when you put together the correct recipe,
it spells serious success for you in the strength game.
Check the story out plus a  photo of "Tony" over at http://GripExperts.com
In Strength,
Zach
(Visited 72 times, 1 visits today)