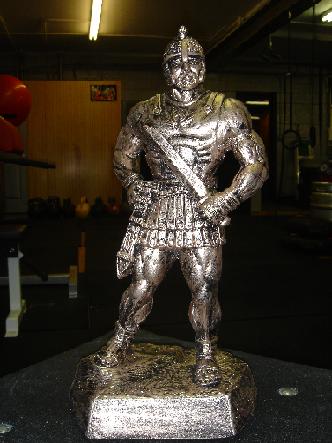 Every Friday our 'Gladiator Crew' shows up to battle it out with some intense training.
A powerful mixture of powerlifting, strongman, old school bodybuilding and calisthenics are incorporated. They never know what might come next. Will it be a powerlifting focused workout, possibly tons of old school bodybuilding, or maybe an entire day of body mastery where we use nothnig but their own bodyweight?
Ironically, many people would think they could never train like these guys if they walked in and watched them train.
But, there's a truth behind this as well as a bottom line....EVERYONE can train like this or at least make this type of progress in such a short time period.
Late last summer, many of these guys had only just begun their training. I'm talking about training anything. They had no experience in training, period. Those who did have the experience were lost and confused in the world of muscle and fiction.
It's too bad the good ol' magazine, 'Strength & Health' isn't around anymore! That was where some seriously powerful information was being let loose.
Instead of the typical lat pulldown, tricep push down, smith machine training, there is a different tune to their training. They have become Gladiators.... 
Now, we see 600 lb tire flips, 40 lb dumbbell hex holds, 88 lb Kettlebell snatches and more of the stuff you can learn from The Underground. Some of these guys play Football, others work for a moving company, while others work on cars or have the typical 9 - 5 gig.
The training is what they wished we all had back in the day. I know I wish I knew about this stuff and put it to use.
Aside from the physical benefits, the mental edge one gains from this style of training is the biggest benefit. Get your hands dirty and get under the bar for yourself.
We'll be waiting for you at http://UndergroundStrengthCoach.com!
In Strength,
Zach Even - Esh
P.S. - We have been updating the http://UndergroundStrengthCoach.com every week. Tons of videos are being added and powerful articles are piling up. It's time you stepped up your training to the next level and start training like a Gladiator!
P.P.S. - The Gladiator sculpture above is what 20 something Underground trained athletes will be vying for on Saturday, May 10th. Who will take The Gladiator Sculpture home?
(Visited 394 times, 5 visits today)