When Life Gets Uncomfortable, Will You Rise Above...
Or, Lay Down & Surrender?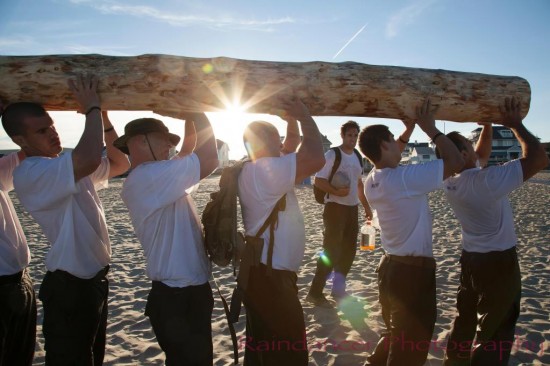 Above, 12 + hours in to our SEALFit Challenge, we NEVER Gave Less Than Our Best
NO Quitting... EVER!!
This blog post is gonna PISS off a LOT of people, mainly the quitters. It's a straight up RANT!
I am prefacing this post stating that if you move forward from here on, you MUST read every single word and watch ALL the videos. Don't be a chicken shit skimmer who half asses your way through this post.
If you question why I am so aggressive and WHY I push people so hard it is because this is what I do.... I PUSH people to be their f**ing BEST, and I expect NOTHING less of you, regardless of you being a member of Team Underground or someone who reads my blog. I PUSH people to achieve their BEST and Beyond. Period.
If you can't handle my intensity then that is your cue to check out, go to another web site.  I will NOT change and conform to the norms to fit in with all other Coaches in this world, on the internet, etc.
But, as my buddy always says, "ALL progress starts with the truth". I agree.
This is a TOUGH time in NJ right now. Hurricane Sandy f**ed us up. Period. The stress is high and gas stations have lines up to 2 miles long, lasting over 3 hours, REGARDLESS of the time, even at midnight, the lines for gas are LONG.
I have a PROBLEM with independent gas station owners price gauging and jacking up the prices. What happened to taking care of one another? Reminds me of my neighbor at The Underground Strength Club. I THOUGHT neighbors are supposed to take care of one another?
I've been told a MILLION times I'm Too Nice.
Well, right now is NOT one of those times!
My neighbor at the gym treats us like shit. He parks his car to block us from dragging sleds yet there are 20 empty parking spaces and his business is hanging by a thread, there are barely ever ANY cars at his garage. He complains to the landlord about Team Underground yet NEVER has the balls to speak like a man and say what he has to say to my face. That is PURE mother f**ing WEAKNESS. Being weak is pathetic.... I have NO tolerance for it.
"Being Strong or Weak Is A Personal Choice"
Right now, it's QUITTING TIME for many. At The Underground Strength Gym we train a lot of wrestlers but we also have Football players, swimmers, LAX players, Baseball players, Soccer players as well as adults.
Many will become "too busy" to train for less than an hour once a week as soon as their sports season begins. I GUARANTEE we can tally up the time they spend on a computer or text messaging to go OVER 1 hour a day, forget about 1 hr a week.
Priorities people.... PRIORITIES.
Is Winning In LIFE A Priority Anymore?
As much as I made countless mistakes as a high school wrestler in the early 90s, I ran every other day a solid 3 - 4 miles. It might have been 5 miles, I'll need to take a drive and track the distance. I went out in the freezing cold weather from December through March in my layered clothes and Sony Cassette Tape Walkman (YES, it was THAT long ago!!!) and I f**ing RAN.
After running, I would jump rope in my garage.... yes, literally, it was a ROPE! I had to tie a few washers in the middle of the rope to make it turn with speed. My garage was colder than the outside, which always confused the hell outta me, regardless, I JUMPED that f**ing rope after every run!
I never missed homework during the season. NEVER. Not sure why everyone else is so busy nowadays. But hey, those who want to be successful find the time to do the little things that amount to BIG successes. This holds true for ALL sports, business owners and life in general.
ALL week I've been moving my heavy ass generator around, in and out of the garage, lifting our double garage door manually as NO power is available. Every time I lift it, carry it, I am reminded of WHY it is so critical to have strength in mind AND body to withstand "training" like this in imperfect circumstances that we call "LIFE".
NOT once has the lifting, waking up several times in the middle of the cold night bothered me physically or emotionally. I wake up 3 times a night to fill the Generator with gas or move it from front of the house, to the side of the house, then into the garage as thieves and looters are stealing generators. I DO this work WILLINGLY. I take PRIDE in being STRONG. Not just physical strength, but mental strength.
YOU too should take pride in being strong.
This week, during the tough times post Hurricane Sandy, we opened the Underground on Wednesday and Thursday. We e mailed our newsletter subscribers, and, we have been telling parents / athletes to subscribe through ALL our media channels: physical newsletter, blog, facebook, twitter, flyers at the gym, etc.
Yet STILL, MANY were calling if we're open. They did NOT take action with something we have given directions to do countless times through countless forms of media. Attention to detail is critical to succeed in life.
When we trained this week, I took a line from Muhammad Ali, NOT to count reps until they started to HURT. I must have squatted 20 sets on Wednesday.
There are MANY people in my hometown who LOST their homes! EVERYTHING... gone! We will rebuild!!
But here, I see athletes who quit.... they lay down when times get tough. They get busy beyond a normal schedule and they break down and go into excuse mode.
If you're a parent, you should NOT allow this. I remember a business coach telling me I should NOT take so much pride in working hard because the "way of the universe" will make life tougher for me, as if I should pray to be some chicken shit who only hopes for EASY times. NO.
I cherish hard work and I see that hard work and a STRONG Mind coupled with a STRONG body creates good for yourself and for others.
I am making BIG changes to The Underground Strength Gym starting NOW.
The workouts are gonna get harder, the requirements more stringent and tougher. If you quit, you're DONE. It's called SELF motivation. I am NOT running a gym to motivate others, hells NO, YOU bring the motivation yourself.
For those who think that squatting, curling and deadlifting at your school, your home or some other gym is the same, you.... are.... WRONG. ANY idiot can do the exercises, yet 99.9% STILL do them wrong. On top of that, NO science is applied.
Training requires science..... at The Underground, we blend it with some HELL, as too many people are just straight up WEAK in mind, body and spirit. This is a stressful time for NJ people, and, many have decided it's QUITTING time.... Time to use this Hurricane and power outage as a vacation from life, training and getting after it. That is inexcusable.
I can hear the excuses now.... "I don't have power, there are no lights in my house, I can't train."
WRONG, you simply do NOT want to WIN.... in sports, life or anywhere else. I can NOT teach this Go-Getter attitude. You need to dig for it, deep within and I HOPE there is a "Fire in the Gut". If you're an adult, FIND it yourself. If you're a parent, your expectations and actions will reflect on your children.
I am a parent, I know this. I am going through the hurricane as well. I have learned to stay calm under stress and to rise above the obstacles, refusing to cave in. If my arm was cut off I would STILL go to the gym. I see the excuses every time someone gets a little booboo, aka "injury". You broke your arm? Show up! You have 2 legs and another arm we can work with.
People of the world, we MUST rise UP and get stronger. Athletes of The Underground..... Parents of The Underground.... if this is too hard, requires too much of a commitment 1 hour a week, then by all means, this is NOT the gym for you.... NOT the web site for you.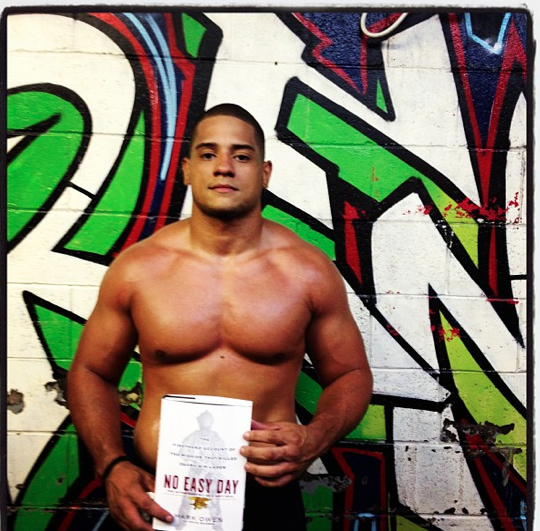 SEAL Team Six Operator Impressed With Underground Strength Gym Athletes....
I am VERY honored...... VERY HONORED.... as we received a phone call and e mails from The Navy SEAL who authored the book NO Easy Day, who was part of SEAL Team Six that took out Osama Bin Laden. He has told me how impressed he is with the hard working, highly motivated athletes of The Underground Strength Gym.
It tells me we ARE doing the right thing, pushing everyone to be better, stronger, more intense and raising our standards HIGHER than everyone else.
Some might see me as being an asshole with my hard hitting words, but, maybe you need to see this as a Coach who TRULY Cares, this is my way of showing Tough Love, and I expect the same from my own kids. Team Underground IS my family. I LOVE everyone at The Underground, BUT, I am NO longer convincing athletes or parents to do the right thing with us.
It is now like BUD/s, if you want to quit then go ahead and RING THE Bell.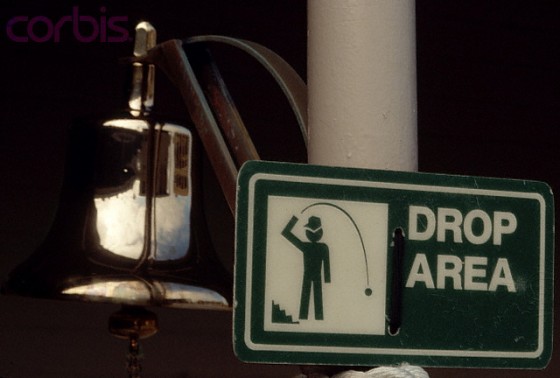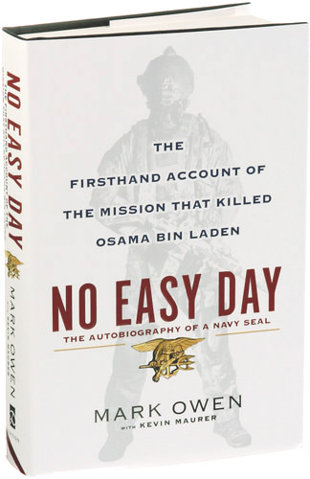 The Underground Strength Academy is about making people STRONG for life. The training is organized in a way to develop dominant athleticism as well as strength for Life. The two go hand in hand. You're either IN, or you're IN the way. Period. End of story. Excuses don't fly around here.
When I was a teacher, I remember ALL the excuses parents made for the kids who misbehaved, who were lazy, who didn't even try..... the teacher was the enemy, administration laid down and let excuse makers walk all over them.
Well, this ain't school. This is the REAL world. Around these here neck of the woods, if you don't get after it, kick ass and take names, then you ain't gonna cut it, Charlie.
It MIGHT be quitting time for you, but, it will NEVER be quitting time for me. EVER! HOOYAH!
______________________________________

Check out our LIST of Underground Strength Courses, HERE,

ALL of them blending science and success. Why? Because Strength, is MUCH more than a big deadlift, it's an attitude that NEVER SAYS QUIT!
Click HERE

to Learn From Navy SEALs, The Underground Strength Method & One Of The Strongest Men Of His Era.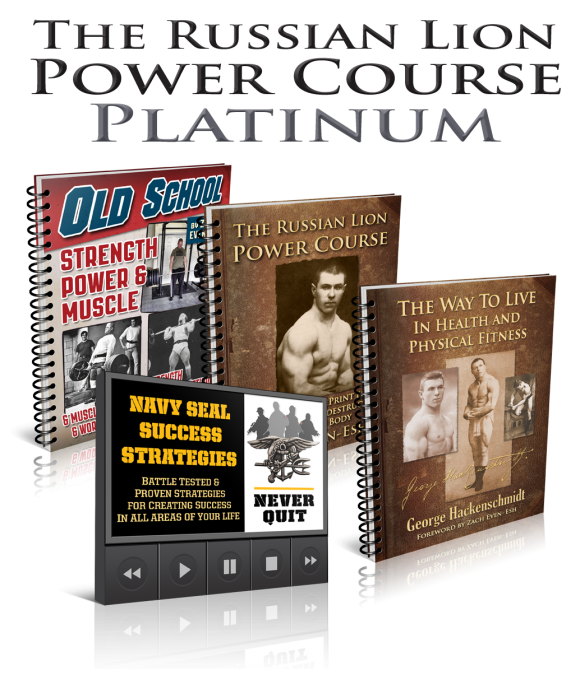 (Visited 192 times, 4 visits today)