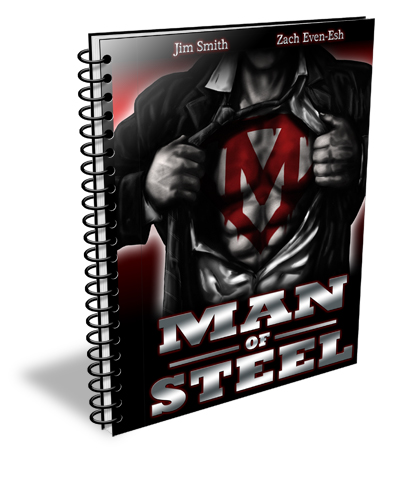 OK. It's ON!
Read the Entire message below, CAREFULLY. Don't be a Lazy Looker, read EVERY word below.

The Man of Steel Challenge is SOON to be released but before we open this Bad Boy up to the public, Smitty and I wanna give you guys a chance to "Earn" The entire MOS system... for FREE.
You don't need sandbags, stones or any strongman equipment. The MOS workouts are tailor made for the typical commercial gym or home gym.
On the Flip Side, The MOS Challenge is anything BUT typical and is certainly not created for the Typical Man.
We are warning you now, we want Hardcore MoFos applying for this program! Weak minded Men are NOT encouraged to partake in this program.
But.....
If you wanna pack on more muscle, get leaner and meaner in the next 12 weeks then you have in the last 12 months, Smitty and I have created the Ultimate 12 Week training system for YOU.
You'll get instructional videos for download, workout manuals for every week as well as ALL the videos on a physical DVD. Follow the program A - Z and you WILL pack on steel forged muscle.
You're gonna have to EARN your MOS program, so read on....
If you're down for this 12 week challenge and you 100% KNOW that you will go balls to the wall for the next 12 weeks, here is how you can WIN The MOS Challenge, on The House!
** The MOS Challenge Contest Rules. READ Carefully AND Entirely **
1) Be 100% Serious & Dedicated to the program. We don't want you applying, commenting or crying about why you can't do something. We want those who DO, not those who Don't. If this means only 3 people will apply, so be it, we don't care! Smitty and I have been doing this for a loooooong time and don't bother working with half assers.
2) Create a Video as to why you want The MOS 12 week program and why you believe you have Earned it. That's right, if you want IN, we want a video. It's too easy to write a few half hearted sentences or paragraphs as a comment, it takes time, commitment and thought to create a GENUINE video giving us insight into who you are and why you feel you have Earned The MOS program.
3) Once Your Video has been created and posted on youtube or any other video hosting web site, drop a comment below and link it to your video so we can see your video. Be creative and genuine when making your video. We can see who REALLY wants IN and who put together a half ass video.
4) The Deadline to submit your Video is Wed., March 31st. We suggest you get busy this weekend and make it happen ASAP. Procrastinators are NOT who we want in this program. No exceptions.
5) Smitty & I will announce the winners on Friday, April 2nd. There will be 1 winner picked from each Blog.
Bring Your A Game, because we sure as hell put together our Most Ass Kickin' Training system, EVER!
I can't wait to see what you bring to the table.
Remember, only ONE winner will be picked from My blog and ONE winner from Smitty's Blog.
Let the Videos Begin!
Lead from the Front!
--Z--
(Visited 69 times, 3 visits today)