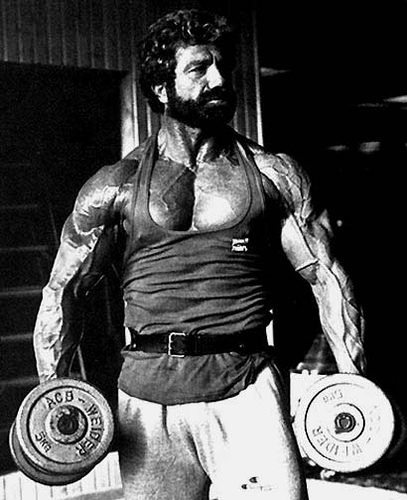 When I first began setting up shop in my new home, in my 2 car garage, I was starting fresh. A brand new life of weight lifting. No more lame gyms, crappy music, depressing environments and finally, NO more rules!
The energy was awesome, whether I trained alone or with a friend, it was like being in Heaven, I can only imagine 🙂
This got me feeling like I was starting my training all over again, age 13, back at the OLD Metuchen YMCA. It was a hardcore place, lots of rusty York olympic plates and barbells, pull up and dip bars, an OLD York Isometric Rack, round head and globe dumbbells from York, and a bunch of guys who loved to train.
I was rereading many of Arnold's books till the late hours of the night and often times the morning, 2, 3 and 4 AM..... Books such as his 'Education of a Bodybuilder' and I had my subscription to FLEX magazine which I would tear through over and over the second I got it in the mail! I was practically stalking the mail man awaiting my trustworthy FLEX magazine.
Back then, I had no clue, but it didn't matter, I copied everything those guys did anyway 🙂
The one thing which remained constant was that I trained VERY f**ing hard, no two ways about it.
I would fall into a trance as I thumbed through Arnold's HUGE book, 'The Encyclopedia of Modern Day Bodybuilding' - the countless black and white photos of rugged and brutally strong bodybuilders sent my enthusiasm into a frenzy.
Now that I own my own gym, things are back to the way they should be, like the gyms Dave Draper and Arnold wanted back in the 50's through the 70's. No chrome, pretty, shiny equipment, just the hardcore requisites.
My reccomendation for all of you is to away from the chrome, the pretty gyms and all the rules. Get into the basement or garage or as Arnold would sometimes do, take a 250 lb. barbell out to the woods and would squat until he could no longer walk.
It's time to bring back the good ol' days, when training was rugged and hard through and through.
If you need to get started, this would be the place to go.
In Strength,
Zach
PS - This requires nothing more than a barbell and some dumbbells, yet the results will be the way they should always be....POWERFUL!
(Visited 42 times, 1 visits today)