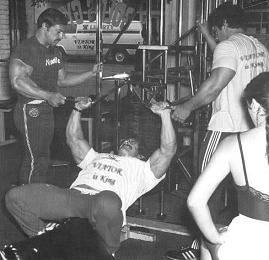 I think it's much easier than people make it when it comes to getting stronger, adding muscle and getting faster....and I mean getting these results FAST!
Make no mistake regarding "easy" and "simple". Easy is walking in the park...simple is hitting one arm rows with 150's for 10 reps per hand without wrist straps. Even simpler is a set of squats for 15 - 20 reps....but damn are the results amazing!
We have our athletes on a system of training that just keeps on dishing out results, and man do I wish I had this info when I was younger. I'm glad I have it now 🙂
My Dad should have told me about what he did back when he grew up in Romania as a kid. Gymnastics, sprints, jumping over hurdles and boxes, swimming, wrestling and boxing...the well roundedness of such a style of training develops an impressive foundation for the athlete.
I should have been forced to run with the sled as he had to run with my brother and I every winter.
Back when I was younger it snowed a heck of a lot more than it does nowadays. This year NJ only got one snow fall. Helloooo global warming!
Whether it's getting jacked, improving performance or getting it "all", I am still confused with how many people train and eat so ineffectively.
I am watching pro fighters train on machines such as the leg press, the smith machine, the peck deck and other movements that will not benefit them.
I watch skinny guys doing side laterals and dumbbell curls up the wazoo hoping to gain endless muscle while training 5 days a week. Good luck!!
I ask the guys not getting results how they're eating and they tell me breakfast is skipped, lunch is a bagel and then they don't eat till' dinner. Ask a lumberjack how he eats all day and then we'll stop your skinny, weak dilemma.
In business, the same holds true. There are those who are blazing a trail of success and leaving a blue print to follow. Some choose to painfully create their own path rather than be mentored by someone who has "been there, done that."
When I began training my mentors were guys like Dave Draper, Mike Mentzer, Casey Viator, Ken Leistner, Arnold, the Barbarian Brothers...
Nowadays, it is critical to learn from the doers who have been in the trenches for countless years.
Ditch the magazines on the bookshelves, the confusing, fancy workouts that are prescribed, and find someone you can relate to...someone who has a style similar to what you are feeling connected to that you know delivers results.
Fine tune the program for yourself and take massive action. Eat clean and train mean.
What else does one need?
In Strength,
Zach Even - Esh
P.S. - Check this out. We have people coming all the way from the UK already...space is filling up! Get in and learn from the doers!
(Visited 104 times, 1 visits today)