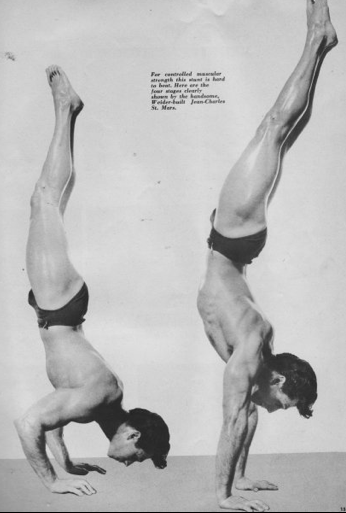 I always tell my athletes, "Eat your push ups & pull ups for breakfast!"
You MUST be GREAT at these 2 exercises, they are the foundation for upper body strength and power and work wonders for muscle building. I recently got a copy of The Convict Conditioning Push Up Series Course and the FIRST thing that struck me was all the coaching techniques, regressions and progressions.
I am AWAYS shocked when I have athletes at my gym who trained elsewhere and they are NOT performing the push up properly, NOT 1 good rep. To me, this is a failure of the Coach and a failure of Physical Education.
How can a high school athlete be unable to perform ONE perfect push up?
Has the high school PE Teacher been that UNcaring?
The kids who come to The Underground from elsewhere, did their previous "Coach" not care or simply not KNOW how to properly build up an athlete to perform the push up with proper regressions and progressions?
LOTS of food for thought...... I am concerned.... actually, I am VERY worried. It's time to commit to push ups and bodyweight training as a whole....
Here is the video I promised you of our wrestler who is now a college freshman and playing Rugby in a Men's league. His workouts are strictly bodyweight training plus ONE Kettlebell!
GREAT Handstand Push Up Tip Video
Time to give bodyweight training the respect it deserves. Plain and Simple.... NOT easy.
Click HERE for The Convict Conditioning Push Up Series
Remember, Strength is a choice you make, and around here, you don't have an option.
STRONG Mind, STRONG Body, STRONG LIFE.
Get strong or get out of the way.
Live The Code 365.
--Z--
PS: For those who complain endlessly about "who is Coach Paul Wade" and is he real or not..... glorifying prisoners, etc, etc, etc.
STOP crying. I don't give a crap who is real or not, nor am I glorifying prison. Only a MORON would think that. I am a supporter of quality information, period, end of story. I don't care WHO wrote the book or if Coach Paul Wade is real or not. The information is excellent and I can NOT say that about the majority of stuff "out there" nowadays.
Get The Convict Conditioning Prison Push Up Course HERE