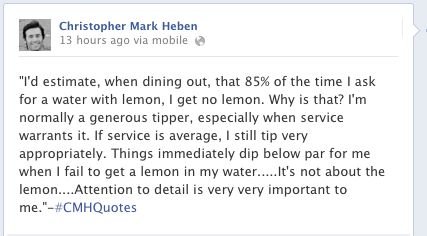 Sometimes we wrestle with who we are and what we're about. I know it happens to me sometimes, and I begin to wonder if I am too intense, expect too much....
But the universe has a funny way of teaching us lessons and bringing things into our lives. Check out all these lessons I've learned about my personality traits.
Note: Video is NOT Work / Family Safe
[youtube width="640" height="360"]http://www.youtube.com/watch?v=-LH9Z8EA14M[/youtube]
[youtube width="640" height="360"]http://www.youtube.com/watch?v=9OZo0KLQy9A[/youtube]
Do NOT get carried away with Coach Glassman's video on a clean bathroom and if he is dismissing technique. That is NOT the point.
The point is this: When you care about a clean bathroom you will care about EVERYTHING. You will Care about the details. You will pay attention to detail.
Years before I saw Coach Glassman say this on stage, I read Dave Tate talking about how he knows if the owner of the company is lazy or not is whether or not there is a bag lining the garbage can.
Successful people pay attention to the details. Successful people care.... Successful people are shunned by others because we raise the bar too high and push people out of their comfort zones.
I find that to be a shame. The new success is "good enough".
I sure as heck don't agree with that. I am on par with the pursuit of excellence and nothing less. If you're watching this video, reading this blog and following me it's likely you've subscribed to The Underground Strength Insider.
Being part of The Underground Strength Insider means you are a cut above, because my e mails push you and challenge you to rise above the "norms" of society.
Those who are pissed at me for cursing or are missing the point of kicking ass & taking names are likely the same people who pursue "good enough" rather than excellence.
I am done apologizing for raising the bar.
Live The Code: Honesty, Integrity, Commitment, Work Ethic
--Z--
(Visited 82 times, 1 visits today)