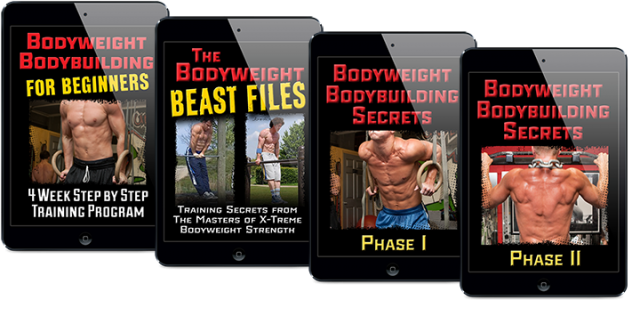 This Video inspired me and educated me. It changed the way I look at bodyweight training on many levels. Take a few minutes and watch this Video I linked up below.
The power behind bodyweight training is endless and I have done countless videos and blog posts detailing my experiences in Bodyweight exercise. Although this was a "Top 3" post, the top points of bodyweight training is tough to pin point.
It helped inspire me to get away from joint pain and move towards a bodyweight only training protocol that lasted about 6 months. I never thought I could go so long without touching free weights but I did it.
You're about to watch video footage of an early 1970's Polish Olympic Weighlifting Team - and some of these guys are World Champions, not just the average gym rat, yet note how much emphasis their Coach places on their ability to master their body to improve their Olympic Lifts.
Note how bodyweight training and jump training are used to develop more power, prep the mind, improve mobility and more.
Many years ago when I first saw this movie (2007) I took note and began implementing these methods into the warm ups of the athletes I trained, regardless of their sport.
Check this short video out and see the power behind bodyweight training....
[youtube width="640" height="360"]https://www.youtube.com/watch?v=BqxlGJKfCTo[/youtube]
3 Reason Why Bodyweight Training Kicks Serious Ass:
1) Pull Ups Are Powerful! I have ALWAYS placed great emphasis on pull ups - and I used every single variation I could possibly think of. Pull ups jack up your back, biceps, shoulders and forearms.
Having a strong back improves your bench, improves your 40 yd dash time PLUS, a rugged, thickly muscled back looks downright awesome.

Always perform a full range of motion of pull ups.
To kip or not to kip? I am fan of strict pull ups but if CrossFit is your sport, you must gain skill in all styles.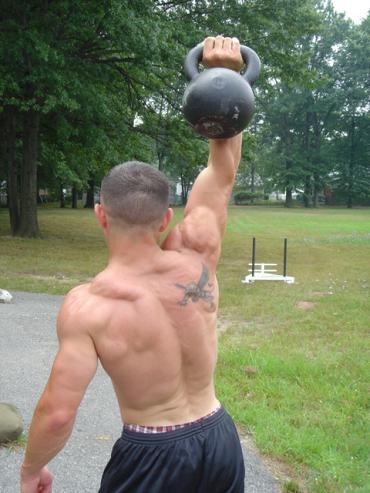 Nowadays, I encounter varsity athletes, bodybuilders and fitness enthusiasts, many of them can not perform 5 strict pull ups and some, not even 1 pull up.
This is pathetic.
A program of strength and muscle building requires a foundation to be built and pull ups, push ups and squats with bodyweight are a MUST have.
Don't merely be good at these bodyweight exercises, be GREAT at them. As a Coach, don't let athletes think it's OK to be "Strong & Useless", something I address in The Encyclopedia of Underground Strength HERE.
When I would travel to Israel to visit my family there were no gyms in the area until I was 18. Before then, my workouts consisted of an every other day pull up regime, 15 - 20 sets total and 10-20 reps per set.
I walked to the local playground and began with 10 sets of overhand chins, the last 10 sets had various grips and hand placements. I took pull ups seriously and dedicated myself to getting STRONG at them, as should you.
I still eat pull ups for breakfast, and at 220 lbs bodyweight I can easily do 20 + reps.
2) Handwalking & Plyometrics for Strength, Health & Athleticism.

The Day I Got Embarrassed From Bodyweight Training. Back in my days of undergrad college (Fall 1993 - Fall 1997) it was required for Physical Education students to take a full semester of Gymnastics, 2 x week. Our instructor, Mr. Gonzales was a bad MoFo.
He was a 2 x All American Wrestler and competitive Gymnast. From our first encounter with Mr. Gonzalez, we ALL knew this was going to be NO ordinary class.
Our conditioning workouts lasted 30 minutes, Minimum, sometimes he devoted an entire class to Gymnastics specific conditioning. This was in addition to the Gymnastics skills training.
Hand walking on parallel bars

Dips on parallel bars

pull ups with various grips

ring pull ups

Plyo jumps on crash mats for time

push ups with varied hand positions

partner hand walking

leg raises over the pommel horse

Muscle Ups on Rings and High Bar
I remember arriving early one morning and we found Mr. Gonzales training, he was doing STRICT handstand push ups on the parallel bars - his upper body was ripped and strength exuded from his shoulders and arms.
This dude was strong as hell, jacked AND ripped.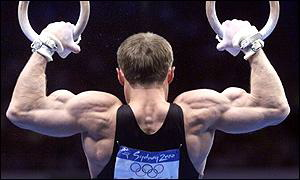 I remember getting my ass handed to me after Mr. Gonzalez showed us how to do full body plyo push ups, and these were to be done from one end of the wrestling mat and back - I thought I was gonna crush this challenge being that I was a big, bad bodybuilder....and I still remember the emotional pain I felt when I couldn't make it down and back the wrestling mat.
I was embarrassed. My arms locked up on me half way back up the wrestling mat and I couldn't get my chest off the floor. I tried pushing and I was stuck. Mr. Gonzalez watched me as I tried.
I was pissed! I vowed to dominate these traveling plyo push ups so I would NEVER be embarrassed like that again.
[youtube width="640" height="360"]https://www.youtube.com/watch?v=yI8_-lrrpj0[/youtube]
Not only did I NEVER wanted to embarrass myself again but I also felt that I was letting myself down and even more so, letting Mr. Gonzales down.
I had THAT much respect for him. Mr. Gonzalez was a wrestler and wrestling had impacted me so much in life that when I was around Mr. Gonzalez I pushed myself to the next level. No messing around and treating this like "another class".
I got an A in that class and  I still remember the day Mr. Gonzalez called me into his office and told me I earned my grade.
Below, Tom Brands of University of Iowa Talks About EARNING IT!
[youtube width="640" height="360"]https://www.youtube.com/watch?v=FBUSmF4ywyE[/youtube]
I was proud of myself for Earning that A because that class was tough!
It was a tough 14 weeks of training that inspired me for a lifetime to respect the power of bodyweight training.
3) Anywhere, Anytime - You don't need a gym, you don't need equipment and you don't need money to crank the bodyweight training at a local gym. I've many times traveled to playgrounds on the weekends or in the evenings and used the monkey bars and my natural surroundings to get in great training sessions.
Bodyweight training offers you longevity. The pounding of the joints through heavy lifting takes its toll. I LOVE lifting heavy but that stuff beats you up, unfortunately. Bodyweight Training is always there for you and much more friendly on the joints.

I know a lot of people who focus more on bodyweight & kettlebells and little else and they are tough, resilient and strong as hell.
Drop your comments / questions below.
Live The Code 365
--Z--
Build A Stronger, Healthier, Leaner & More Athletic Physique With Bodyweight Only Workouts
(Visited 356 times, 2 visits today)