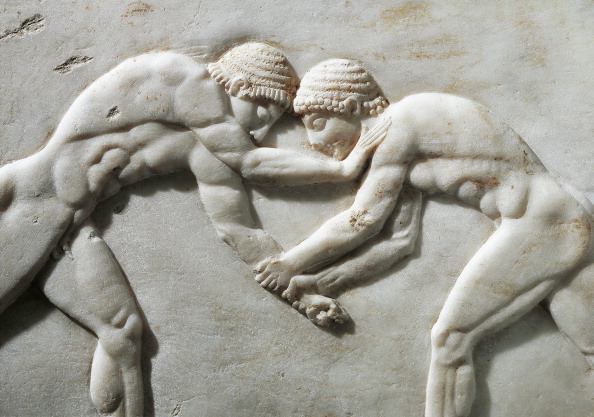 Even the nicest guy / gal has an inner Warrior spirit. And even if you live in a town as nice and safe as where The Brady Bunch lived, you must train the mind, body and spirit to not only handle tough times, but to THRIVE in those times.
Tough times are coming. They are always right around the corner in some shape or form.
Training in a manner that connects you to your Inner Warrior is not going to be your typical workout. There has to be a sense of discomfort. Furthermore, you must LOVE the discomfort.
At least once a week I post up a Spartan Workout on my white board at The Underground Strength Gym.
Here is a sample Spartan WOD from my instagram page, which was done on a Saturday evening with my family training as well.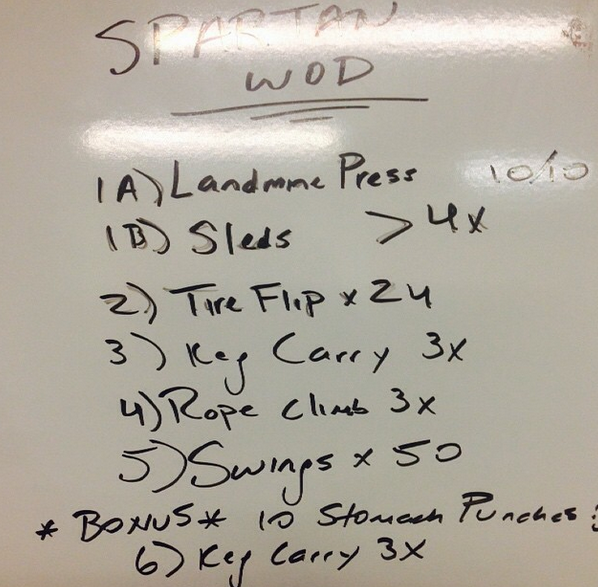 The goal is to push through your comfort zone during these workouts and to avoid adhering to the "perfect" workout.
- The volume will often be high. Right when you think it's time to stop your workout, go ahead and add a few more sets to push your mind through the next level.
- The pain tolerance will need to be ratcheted up a few notches. Don't give yourself complete recovery. Get Comfortable being UNcomfortable.
- A blend of physical traits will be attacked: strength, endurance, bodyweight / animal movements, etc.
Your Inner Warrior will cultivate as you push beyond "norms". Your friends and the interwebs will tell you to avoid "CNS burnout" and other crazy talk that the author likely never experienced himself.
Don't listen to the weak, pay attention to those who have strayed the path of "normal", that is the worst path to travel, it's a dead end no matter how you look at it.
[youtube width="640" height="360"]https://www.youtube.com/watch?v=gKq9M9ZdkyM[/youtube]
And, as of the new year, I've been laying low on squats and deadlifts with a barbell (especially after my squat every day program that lasted approx. 6 weeks).
My body felt like shit and training with Kettlebells, odd objects and bodyweight always makes me strong, athletic and healthy.
Utilizing lots of Kettlebells and the new CMBs (Center Mass Bells) I am feeling better every day. In between sets I am incorporating various forms of Mobility, Stretching, Deep Belly breathing (Box Breathing) and the body and mind feel better every day.
[youtube width="640" height="360"]https://www.youtube.com/watch?v=d_p169bcHAE[/youtube]
Whether You Know It or Not.... There IS a Warrior Inside of YOU.
Cultivate that Warrior by doing something every day that brings you back to your primal roots.
- Lifting odd objects or performing manual labor
- Wrestling
- Training in Cold / Hot weather (Avoid perfect temps or a Perfect environment at least 1 x week)
QOD (Question of the Day):
What did you learn from this article and videos and how are YOU going to take action TODAY?
______________________
Reclaim Your Inner Warrior
The Encyclopedia of Underground Strength Will Show You How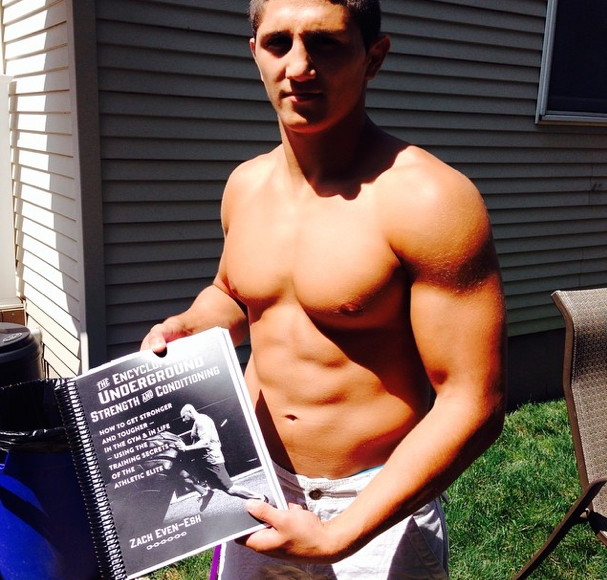 (Visited 304 times, 1 visits today)