Guest Blog From Dr. Spencer Nadolsky
If you've been following my almost daily e mails I have spoken about my changes in nutrition, my blood work, my health and my supplementation. My lifestyle is changing a bit as well and so are my goals regarding life, business and overall how they relate to me living a better quality life and doing greater things for my family and people in general.
I've gotten a shyt ton of questions regarding the supplements I am on as I used to be BIG time against supplements of ALL types. The typical questions are those asking me if the supplements they are using are legit, if I use them myself, etc
I can give my experiences with my own nutrition changes and supplementation but with the countless brands out there I have NO clue what is legit and what isn't legit anymore. It's serious a shame. When I was a regular supplement user I used EAS which was then owned by Bill Phillips and my buddy Shawn Phillips. It was ALL top notch.
Today, it seems like the 16 year old from down the street can throw some powder in a bottle, slap a sticky note on it and it gets put on the shelves of GNC.
With that being said, rather than try to research all this myself, I called upon a trusted source to deliver the truth behind the most popular question I keep getting: "Are testosterone boosters legit and do they work?"
This article is from Dr. Spencer Nadolsky at Examine, creators of The Supplement Goals Reference Guide
The Truth About Testosterone Supplements
Testosterone is, and always will be, a hot topic for men and athletes around the globe. Beyond its myriad of benefits related to cognition and development, testosterone is known to promote muscle protein synthesis and muscle growth. It is concentration-dependent, meaning more of the molecule will result in more of the effect. For these reasons, testosterone is a vital component of any steroid cycle.
Its popularity has created an entire supplement category of testosterone boosters, which aim to increase testosterone levels in the blood in order to promote lean mass gain and fat loss.
There are two ways that supplements can increase testosterone. Some affect testosterone levels directly while others can prevent unnecessary reductions. This is called 'boosting' and 'attenuating deficiencies'. Both cause a relative increase in testosterone levels, but their efficacy is very different.
Testosterone Boosting
Testosterone boosting supplements tend to be a variety of herbs or amino acids. This category includes tribulus terrestris, fenugreek, anacyclus pyrethrum and D-aspartic acid.
These supplements are either outright ineffective, as is the case with tribulus terrestris, or they may cause a temporary increase in testosterone levels, which eventually normalize. Even then, the increase is marginal and of no actual use.
Testosterone boosting herbs tend to be traditional medicines for male enhancement and vitality. Though they do act as general mood or libido enhancers, testosterone levels are unaffected. Since an effect is still felt after supplementation, testosterone boosting herbs continue to be sold in supplement stores.
D-aspartic acid, on the other hand, does increase testosterone, but only for about two weeks. At that point, testosterone levels return to normal. This temporary increase doesn't last long enough to have appreciable effects on muscle mass.
All over-the-counter testosterone boosters are lackluster in their effects.
Testosterone deficiencies
There is a grey area in testosterone levels known as a subclinical testosterone deficiency. This means testosterone levels are not low enough to impair daily function, but they are not at the optimal level.
An optimal level of testosterone in the body is 230-1000ng/dL, while a subclinical deficiency is in the 230-300ng/dL range. An actual deficiency, which qualifies for testosterone replacement therapy, occurs at levels of 230ng/dL and below.
A subclinical deficiency can often be eliminated through diet changes. Once diet fixes are made, testosterone can rise by up to 40%.
While a lack of dietary fats and proteins will theoretically result in reduced testosterone, this is not a practical concern.
A diet lacking zinc or magnesium, on the other hand, will result in a measurable drop in testosterone levels. Supplementing these micronutrients will restore your testosterone to normal levels, but additional supplementation will not continue to elevate testosterone. Vitamin D may also play a role in supporting testosterone levels.
These supplements are effective at raising testosterone levels, but only to a minor degree and only in people lacking a specific dietary component.
______________________
For More Info On Which Supplements Work / Don't Work, Which Ingredients Are Legit / Dangerous / Safe / Effective....  The Supplement Goals Reference Guide Is An Unbiased Reference Guide to Save You Time, Money, Energy & Most of All, It's About Your Health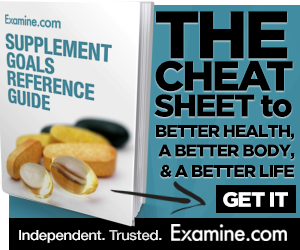 (Visited 150 times, 1 visits today)