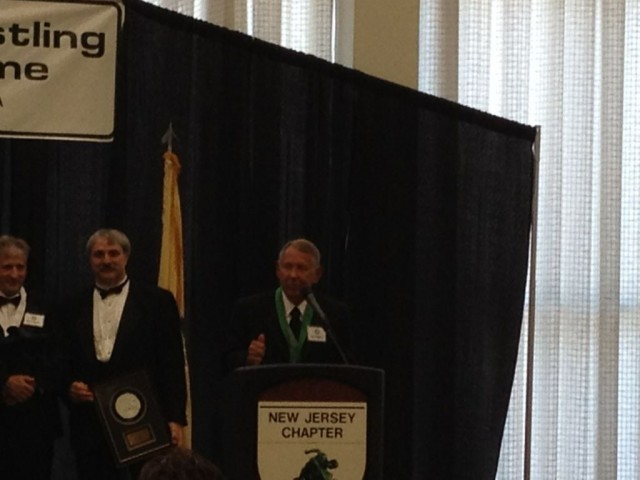 Above, my high school wrestling coach, Coach Pagach, getting inducted into The National Wrestling Hall of Fame
Yesterday was a very cool day.
I attended The NJ Wrestling Hall of Fame to see my high school wrestling coach get inducted into the National Wrestling Hall of Fame. It was GREAT to see my Coach again. The last time I saw Coach Pagach I was 22 years old and was in my 3rd month of teaching, the start of my teaching career.
At age 22, at that time, I had MANY mixed emotions with wrestling and the intense emotional times I had gone through as a wrestler. I was STILL angry with myself for not achieving my goals, for not realizing my potential and now that I understand life a bit better, I was empty in spirit as I had NOT continued my Vision Quest.
I was pissed, to be honest. I committed 4 years of my life towards wrestling. I was a LATE starter, starting wrestling as a freshman in high school. I was pissed that I didn't mature or develop as a wrestler. Rather than being pissed, I am DOING something about it.

Well, here I am..... 20 something years LATE, and now, on a VISION QUEST. Hey, BETTER LATE THAN NEVER!

Trust me, I have LOTS of people questioning me, 'What the HELL are you doing? You're 36?!"
Only a small few understand what I'm going through right now.

What is a Vision Quest? See this video and then below the video, for a deep er explanation:
[youtube width="640" height="360"]http://www.youtube.com/watch?v=Hh28-_bF9n4[/youtube]

Vision Quest
From Wikipedia, the free encyclopedia
A vision quest is a rite of passage in some Native American cultures.
In many Native American groups, the vision quest is a turning point in life taken before to find oneself and the intended spiritual and life direction. When an older child is ready, he or she will go on a personal, spiritual quest alone in the wilderness, often in conjunction with a period of fasting.[1] This usually lasts for a number of days while the child is attuned to the spirit world.[1] Usually, a Guardian animal or force of nature will come in a vision or dream, and give guidance for the child's life.[1] The child returns to the tribe, and once the child has grown, will pursue that direction in life. After a vision quest, the child may become an apprentice of an adult in the tribe of the shown direction (Medicine Man, boat-maker and so on).
The vision quest is the learning and initiation process of the apprentice under the guidance of an elders.[1]
The vision quest may be said to make the initiated establish contact with a spirit or force. Psychologically, it may have effected hallucinations.[citation needed] When talking to Yellow Wolf, Lucullus Virgil McWhorter came to believe that the person fasts, and stays awake and concentrates on their quest until their mind becomes "comatose."[1] It was then that their Weyekin (Nez Perce word) revealed itself.[1]
Not just found among American Indians, Inuit peoples also participated in this tradition.[2] For them the technique may be similar to sensory deprivation methods. It may include long periods of walking in uninhabited, mountainous areas (tundra, inland, mountain); fasting; sleep deprivation; or being closed in a small room (e.g. igloo).
[youtube width="640" height="360"]http://www.youtube.com/watch?v=nJtNsehdT5o[/youtube]
To be honest, it's hard to put into words on a screen everything that I'm going through. I KNOW that you can find this deeper meaning and find yourself along the way though.
Step 1: Ask yourself, "Why?"
Step 2: Repeat Step one, 5 - 10 more times.
As you keep asking yourself, "Why", the REAL truth will come about.

My goals can't be your goals. BUT, I BET you have something to prove to yourself. It shouldn't have anything to do with proving something to others. These are your goals, not their goals. YOU must face your own demons, allowing other people's thoughts about who and what you are will distort your Vision Quest.
Once you begin coming up with the answer(s) you will realize that your training will take on a whole new breed of animal. You'll want to run or ride your bike everywhere. You'll end up doing squats in the shower. Push ups in the bathroom before the shower.
To others, you won't be normal, but, remember this, no one has EVER achieved anything great by being "normal", so don't expect normal actions to get you to where you want to be or who you want to become.
Time to hit a RUN.
__________________

Drop a comment with your thoughts & feel free to share with friends on facebook and twitter.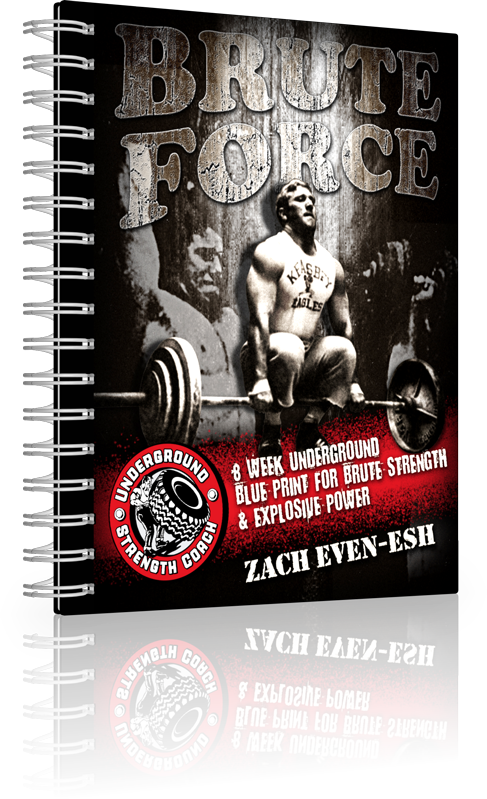 (Visited 209 times, 6 visits today)