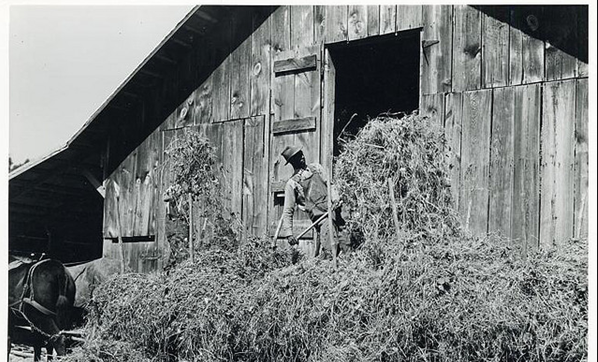 "The Hay Is In The Barn!"
Lots of lifting and Lots of learning going on the past week.
Keep up if you can. This is the Human Food Chain.
If you're willing to do work, stay focused and get shyt done, you can achieve a LOT of success in any endeavor.
The choice is yours.
Let's get after it.
1) I just finished reading this book: The Trident: The Forging and Reforging of a Navy SEAL Leader.
I read every night, even if it's only 2 pages. This book was tough to put down and the BIG reason behind my affinity for reading Military books is that it gives you a clear picture of just how easy life is compared to what these Warriors do.
"I'm too busy" and "I'm too tired" takes on new meaning when you see what these men endure AND conquer.
The SEAL in this book had a portion of his face shot off, was ousted by his brothers and endured about 40 surgeries to regain his "normalcy". The commitment and sacrifices he made to regain trust from his brothers was amazing to say the least.
Highly recommended.
2) After recording a STRONGCast with John Welbourn, a 9 year NFL veteran & Founder of CrossFit Football, I learned a ton and got even more inspired in training and life. Here are some training AND life lessons to wet your appetite before we load this episode to I Tunes and YouTube.
[youtube width="640" height="360"]http://www.youtube.com/watch?v=DJVqY6GRakI[/youtube]
3) How Often Should You Squat For Maximum Results?
I have said many times before that sometimes I personally get "too smart" for my own good.
I've seen it happen WAY too often for others out there as well. Listen to these stories on breaking the rules and breaking PRs.
[youtube width="640" height="360"]http://www.youtube.com/watch?v=W13IcJwxaQM[/youtube]
4) The Paleo Manifesto
It's been a while since I dug in and read a nutrition book. Most of the time I read online or connect with Brian MacKenzie and my Guru Nutritionist, Tom Bilella.
BMack suggested I read this book as every time I go to my Doctor they freak out over my cholesterol BUT when I listen to guys on Bullet Proof Exec they always talk about eating plenty of whole eggs, organic butter, etc and they are proud of cholesterol levels twice mine.
So, I am learning that NOT everyone responds the same to the same nutrition. I'll be digging into this book and will start listening more to Robb Wolf's PodCast. BTW, Robb's original book was GREAT.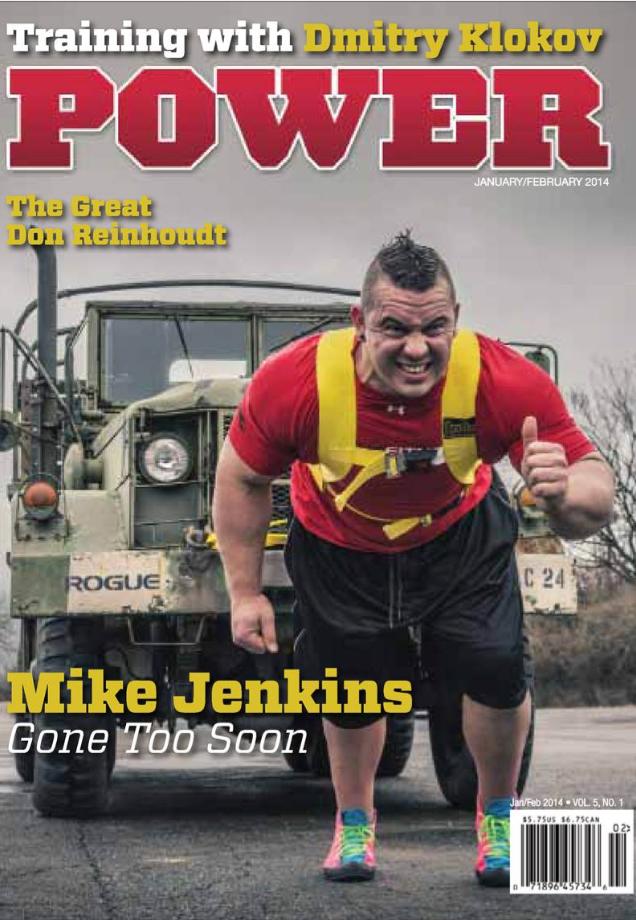 5) Learning From The Best
In the recent Power Magazine, there was the 2nd part of an interview with Dimitry Klokov. I have been watching all of Klokov's videos on youtube and instagram and learning a TON. This interview was GREAT and you can get Power Magazine on the newsstands or get a digital subscription HERE
I snapped a pic for my Instagram page as I read an inspirational portion in the Klokov interview. Check it out.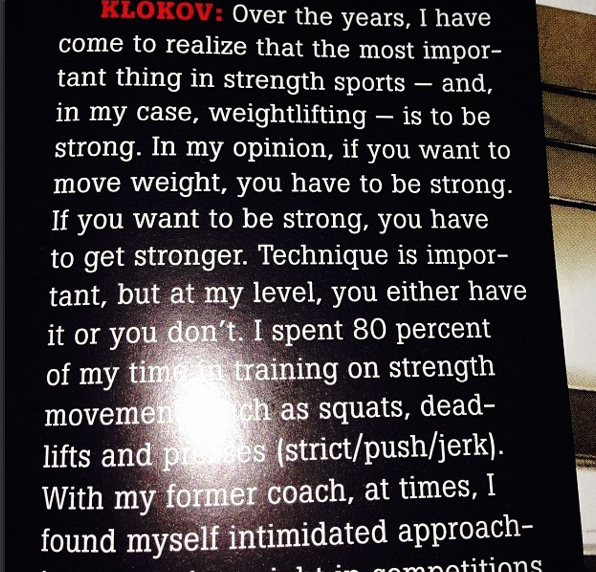 6) Jim Wendler Needs My Help
Jim sent me a text message and without all the details, he asked for some suggestions on old school books to read.
Although NOT old school, it has awesome tales of "old school" and I recommended Dan John's book, Never Let Go
I also have the original Dino Files from Brooks Kubik that I wanted to send him along with many others. An important lesson to be learned here is that just Wendler, you should also be sifting through the bull shyt out there, refusing to allow yourself to get caught up in the fads, the gimmicks, the hype.
The iron will never lie to you.
Drop a comment with your questions / comments and please share with your friends.
Live The Code
--Z--
Florida and San Diego USC Certs Are Filling Up FAST.
More Details HERE
(Visited 93 times, 1 visits today)