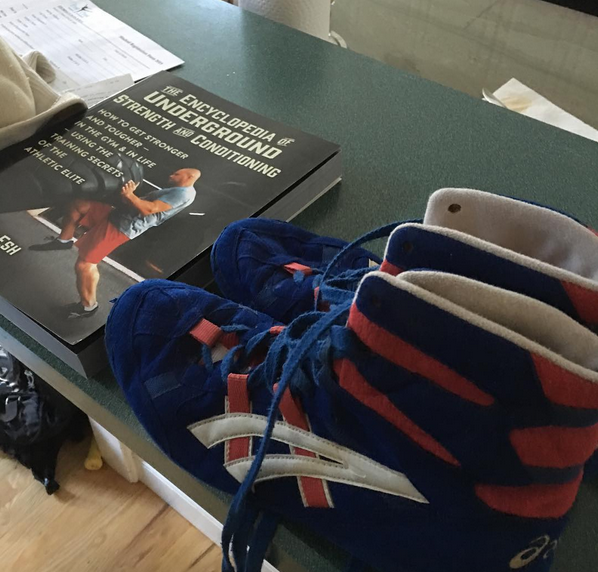 This blog post will evolve as I evolve but for now, I am standing my ground on something I have picked up on tremendously over the past few years.
I've learned this when it comes to understanding why some athletes are tough and competitive while others couldn't care less if they lost / lose over and over again.
After working with over 1,000 athletes at The Underground Strength Gym, I've come across kids who simply do NOT care.

They will cancel workouts 5 minutes before their schedule, they will go through the motions and act like they are doing you a favor for being at your gym all while they have a losing record and even having never won a match / been a varsity athlete.
They show absolutely zero desire to better themselves. It is one of the most shocking and shocking things I have seen, to be able to have zero intensity and passion coming from a history of losing over and over again.
As a parent, it is teaching me some valuable lessons.....
If you did NOT teach a kid to be tough, to work hard, to face and overcome challenges / obstacles, then by their high school years, they do NOT care if they win or lose.
So as a parent.....
As a Coach....
It's OK to be at least a little tough in those younger years.... Not crazy, but not easy all the time either.
So in the elementary school years, it's OK for you to challenge your kids at least some of the time.
Give them small chores around the house. Do 5 push ups or 10 push ups every day with your kid. If they complain about not wanting to do something, sometimes, you have to STILL get them to do the thing.
Afterwards, they will feel a sense of accomplishment. They overcame an obstacle.
Then, Get A little tougher in middle school years....
Then gradually turn it up and come high school, you've BUILT and molded a hard working, tough athlete who WANTS TO WIN.
[youtube width="666" height="366"]https://www.youtube.com/watch?v=DlV7vAd71xc[/youtube]
I have met a lot of athletes through the years, who were NOT pushed in younger years, so come high school, they don't care if they lose....
They don't wanna work.
They'd rather sleep late then train at 9 AM on a Saturday.....
I had one athlete forget his cell phone at the gym Friday, he showed up at 9 AM Saturday JUST to get his phone, he didn't stay and train. I'm STILL in shock and this is coming from a kid who never won a wrestling match. You'd imagine he was there to smash the gym with intensity but NO, NOT the case.
His early and formative years did NOT mold him to be Tough.
Kids like this resist hard work.
They'd rather be "normal" then to be out there competing, winning and challenging themselves. They want to hang out with their friends and play video games or just hang around and be lazy.
I can see it in your eyes...... If you want to win or not.
And, by the way.....
You didn't "get ripped off" by the Coach or the Ref. I NEVER heard any athlete when I was in high school or college say such a thing but I hear this BS line all the time nowadays:
"The ref ripped me off"
"The coach screwed me"
BULL SHIT.
Everything is EARNED.
You screwed yourself and you ripped yourself off.
You either worked for it or didn't do the work.
The WINNER is 99% of the time clear, cut and dry. We can see who has done the work required to win and succeed.
I didn't develop the mental toughness and competitive edge until AFTER high school. It takes TIME to build this edge. I didn't start competing and getting challenged until high school wrestling.
I wish I wrestled earlier but my parents didn't know about wrestling.
The moral of the story:
WORK HARD EVERY DAY.
Be an Ass Kicker!
Losing Sucks. PERIOD.
Live The Code 365,
--Z--
My First DVD, 'Ancient Training Methods', Was Filmed Around 2004.
It Was RAW and Brutal Training But It Helped Build Dominant Athletes In Multiple Sports.
That DVD Is Now Part Of The Underground Strength Inner Circle HERE.
[youtube width="666" height="366"]https://www.youtube.com/watch?v=13mteCTzYi0[/youtube]
(Visited 112 times, 1 visits today)