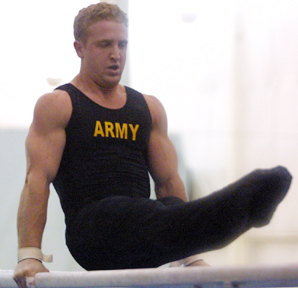 I have been a big believer in hand walking ever since my undergrad class in Gymnastics.
My instructor was Mr. Gozales, he was an All American Wrestler and the owner of a Gymnastics school. He was ripped and rugged, built like a rock solid statue.
One of the students in my class was wrestling for the University as a freshman when Mr. Gonzales was a Senior. He told me how Mr. Gonzales would do back flips to escape from take downs and was faster than a bolt of lightning.
The class was 90 minutes in length, 2 x week. At least 30 minutes was spent on gymnastics conditioning, using countless hand walking on drills on the floor and on various apparati, along with jump training for lower and upper body.
These drills challenged me, especially the hand walking drills. The guys who did not have a wrestling background were hurting big time, I almost felt bad for them! Ironically, MANY of us were former wrestlers, so it was common ground for us to train hard, but the drills we did were unlike anything we ever experienced!
The cool thing is that you don't need to use gymnastics equipment to derive the benefits of hand walking or any type of training on the hands, all of which is incredibly intense!
And because I don't have gymnastics equipment, I simply rely on the power wheel for my hand walking and hand training drills. These drills are super intense for the upper body and the abs. I actually began using the power wheel in the living room at my parents home doing hand walks forwards and backwards.
I don't know of any movement that matches hand walking for upper body strength and abdominal training. You need to try it yourself, plain and simple.
In Strength,
–Z–
PS – You can use this in a gym, your bedroom, a hotel hallway or bedroom or your own living room. Check out the ass kicking power wheel HERE. Trust me, you won't be disapppointed!
PPS – I'll be showing all my hand walking movements during The upcoming Gladiator Fitness Seminar with Steve Maxwell on July 12th. Click HERE for details on this rare seminar.
Share this:
Category: Articles, Calendar, Zach's Workouts Tags: calisthenics, gymnastics training, hand balancing, hand walking, jump training, plyometrics, Wrestling.