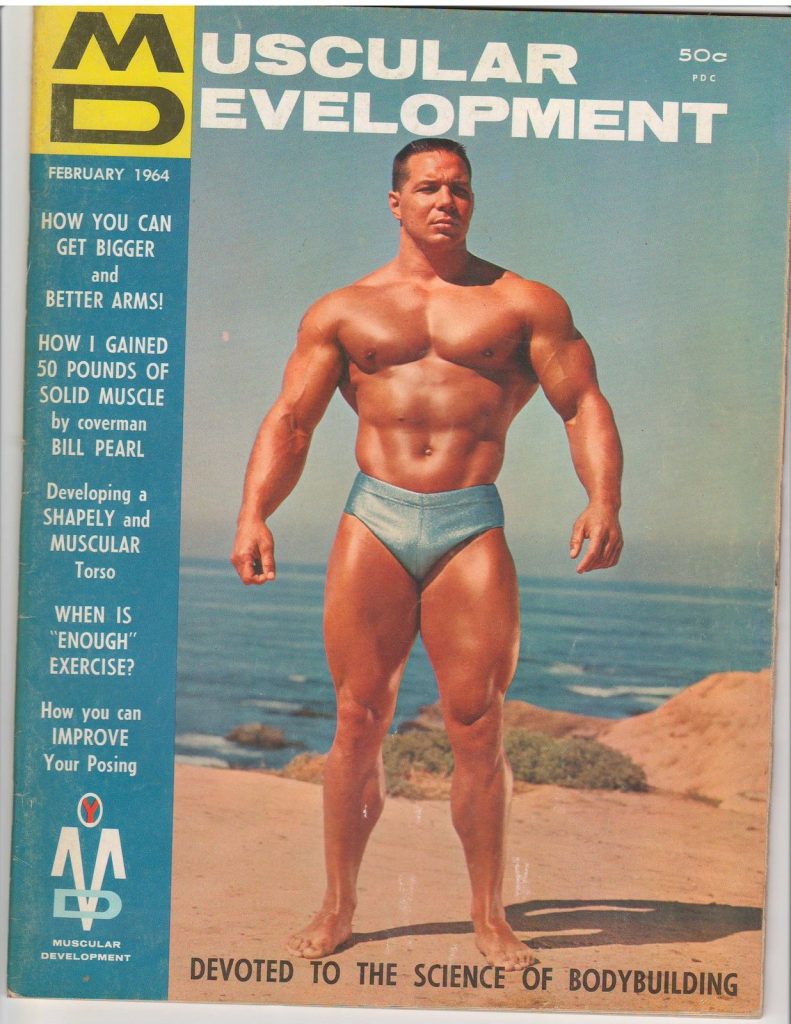 Tomorrow I turn 38. By the time you read this, who knows how old I'll be.....
It got me thinking about time, training, life and a slew of other things.
This whole life thing goes way too fast. Every year I get older I quickly do the math and have a memory from age 6 of what seemed like yesterday.
You must make it ALL count. Life is too short to walk around weak and with a laundry list of excuses.
Bill Starr has a GREAT book call The Strongest Shall Survive. The title alone hits home, it can be updated to The Strongest Shall THRIVE!
I thought about the age old adage of "Fail to plan and you plan to fail". So simple yet so true.
I thought about the athletes I train and seriously thought about the weak state of men today (that's an entirely separate article). I know this will offend many but it's an unfortunate truth. I hear men and plenty of young adults telling me ALL of their excuses as to why they can't get stronger or bigger.
Of course, I don't have the time, I'm too tired, I used to be like you, it's too far away, it's too expensive....
Keep the negativity to yourself.
When I planned out my current training I looked at everything I was doing in the gym and with regards to nutrition. ALL BASICS. Nothing fancy. Nothing "futuristic". I'll steer clear of the fads and gimmicks and so should you.
But, even with all the information out there and my constant commitment to putting information out there (Several Thousand YouTube Videos) and countless articles since 2002, etc. I still see people making the SAME mistakes over and over again in their quest to pack on more muscle, size and strength.
Or, maybe they're NOT on a quest? Maybe they're just killing time.....
There is no sense in wasting time if your goals are greater strength and more muscle mass.
If you're going to train, then have a purpose, a goal. You're either getting better or you're getting worse.
Here's a list of 10 Mistakes that you Must avoid if you're goal is to destroy plateaus.....
1) Not Training for Strength - If you're only training for the pump and avoiding lifting heavy then you're not gonna be much bigger than the local fitness model. Men need to lift heavy. Strength is relative but your goal is to keep getting stronger. You can't fake strong so hit those heavy weights in the 1 - 5 range.
2) Not Using Free Weights - I thought this was a no brainer but I've got Coaches telling me they've got smith machines at their gym, parents telling me their son has a bad back so their current trainer has them squatting on a smith machine, etc.
Using free weights forces your body to work smarter AND harder if performed / coached properly. Using smith machines and other machines that balance the weight for you and don't require stabilizers will increase your chances of injury when it's actually time to perform. The majority of your training should be free weights and calisthenics.
Some cables and machines are good for supplemental work but they should NOT take up the majority of your training.
"I've got a Bad back and bad knees" and all the other excuses are just that, excuses for not learning how to move properly on your own. Get off the machines and become a machine yourself.
3) Full Body VS Body Part Split Workouts - They ALL work. I've used them all before and still use them to this day. If you're complicating the fact of full body or split body workouts instead of getting in there and attacking workouts you're wasting time and energy. The ticket is the exercises you implement and how you eat.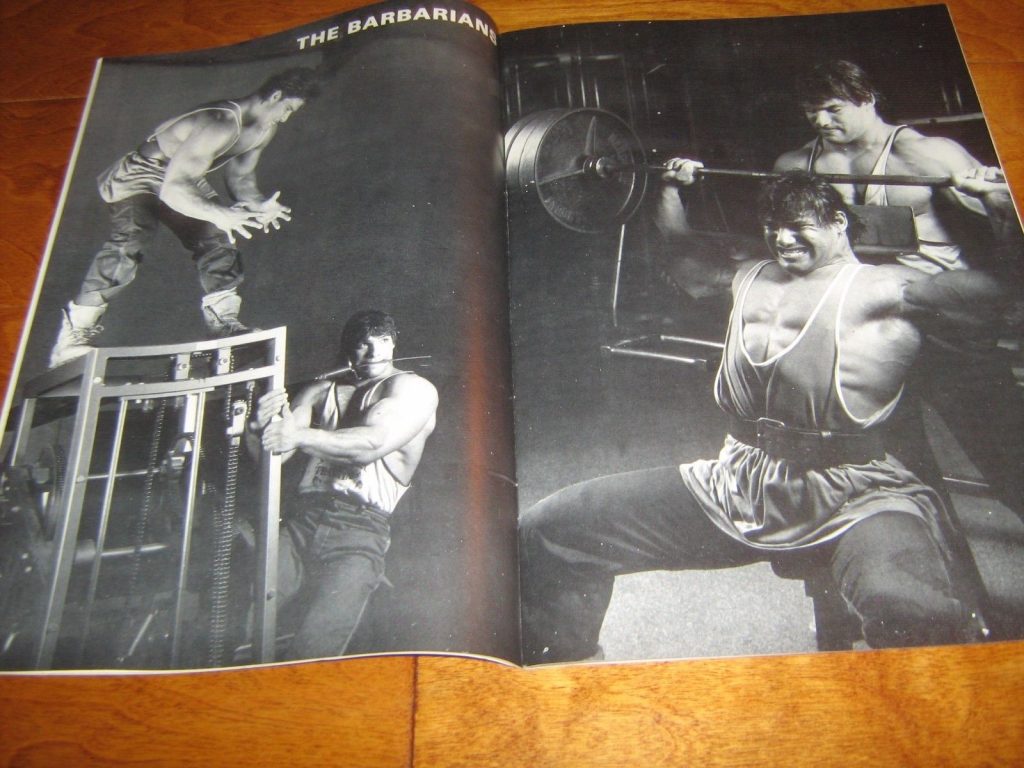 Many of The Golden Era Greats used full body workouts.
They would squat, press, row and performed chins and dips. Nothing fancy but they worked HARD on these basics.
4) Overuse of Isolation Exercises - Following up from mistake # 3, if you are wasting time and effort on endless isolation exercises you are simply NOT going to get jacked. Trust me, I did all this when I was a teenager thanks to being brainwashed by FLEX Magazine as a youngster. Weighing 150 lbs and doing side raises, leg extensions and the pec deck have NO place in being the majority of your training.
5) Focusing on Getting Ripped - I heard a nutritionist telling high school athletes to drink skim milk, take the skin off their chicken, eat ONLY egg whites and throw away the yolk she said and so forth.
REALLY? These skinny high school kids need to be on a low fat diet? Even as I creep in on age 40, I am eating a balance of protein, carbs and healthy fats. Skin stays ON my chicken, I never drink skim milk and neither should you.
I've gotten leaner AND added muscle by eating MORE of what's good for me, NOT less of it. Starve your body, skip meals, remove all fat from your diet and you'll be weak and frail. Eat plenty of healthy foods, lift hard and heavy and you'll lean out.
6) Avoiding Squats - There is something very special that happens to the body when you throw heavy weight on your back and perform deep squats.
Avoiding back squats and thinking the leg press or smith machine are a valid substitute is a myth. They are NOT the same. When you squat, squat deep. I don't care if you squat with or without a box. I use both and so do my athletes.
The excuse about "I have a bad back" is translated like this: Your back is weak and so are your legs and entire "core". Everything needs to get stronger and squats are the ticket.
7) Avoiding Ground Based Lifts - If your program revolves around seated and lying down exercises you're not working your body as a unit. Ground based lifts are the key to strength and size. Farmer walks, clean and press, squats, deadlifts. The basics will never stop working and your excuses for doing them will never be valid, either.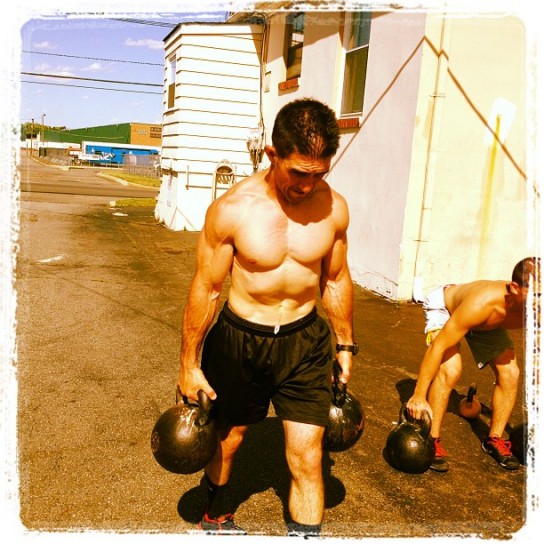 8) Eliminating Conditioning Work - Even if you're thin, it's fine to get out there 1 x or even 2 x week and bang out some hill sprints or to sprint with a sled or prowler. Being in shape is always good for the body.
Crush some sprints after your workout or on  separate day. If you're eating plenty of high quality foods, you will NOT get skinny or weak contrary to the people who say such nonsense yet don't actually train.
9) Being Too Arrogant - You've seen those guys before. They say the only way to train is with Kettlebells or only with sandbags or only with strongman.
They are too arrogant and close minded or perhaps they are too lazy to use various methods and various training tools. Lift hard, lift heavy, use proper technique and the results will come. If you're too arrogant to evolve and stay open minded on your training methods, your gains will come to a halt. I am a firm believer in NOT discriminating in ways to get stronger.
Strength doesn't care where you live, how much money you have in your bank account, the color of your skin or what you achieved "back in the day". Strength is EARNED. We're all equals once we enter the weight room. You Get What You Earn.
10) Excuses, Excuses, Excuses - There are way too many excuse makers out there.
For example, people will complain about what I JUST said. Seriously. They will complain that I called out the excuse makers. How many people are REALLY "too busy" or "too tired". Man UP and get to the gym lift something, even if it's your own bodyweight. You can do this in a garage with a pair of Gymnastics rings.
Get a stone or make a sandbag. Buy 1 used, heavy dumbbell off craigs list. There are people literally GIVING away their old weight sets.
It's so expensive it's free!
I always say this, meaning, hard work is FREE, but people don't want to do it because, well, it takes WORK!
I run 2 gyms, an online business, travel for speaking engagements, have 2 kids, a crazy dog, plus more and I STILL find time to train hard 3 - 5 x week. Sometimes it's at 5 AM but it is what it is, I want to make it happen while others make excuses.
"If it's important you will find the time,
If not, you will find an excuse."
Now is the time to make it happen. You need to rise above and Crush these 10 steps in your training.
If you know someone who is making ANY of the mistakes listed above, do your friend a solid and send them this article.
Live The Code 365,
--Z--
Subscribe to Zach's STRONG Life Insider

HERE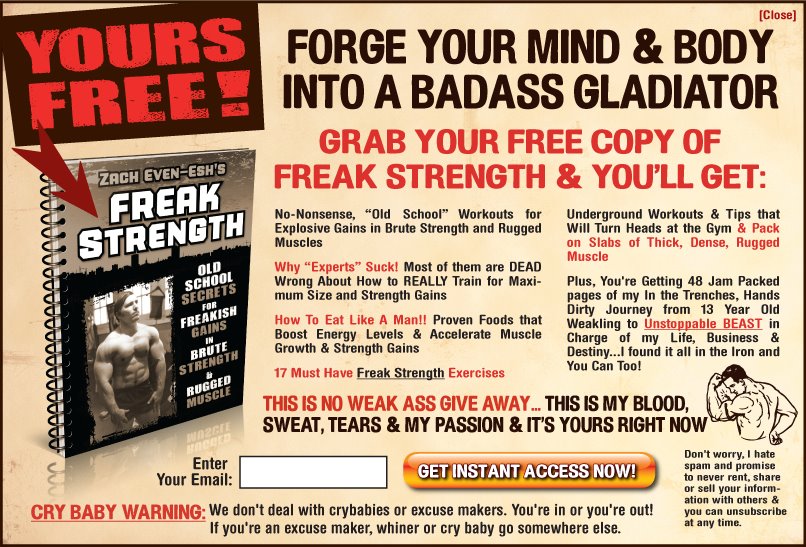 (Visited 4,175 times, 9 visits today)