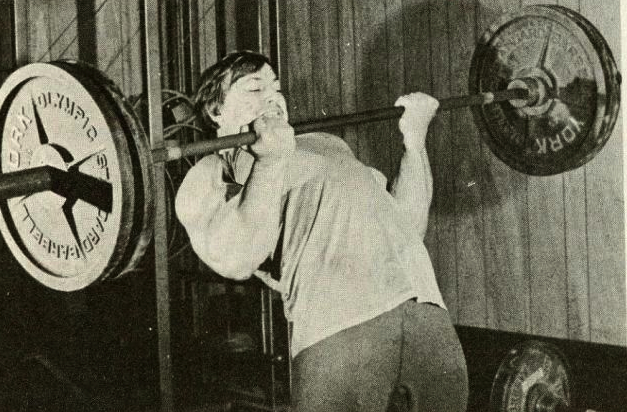 Don't think you need to train your arms? HA! Guess again! You NEED to build powerful arms, and, this means that sometimes you gotta specialize and WORK them directly. All this talk of people saying you don't need direct arm work because all the upper body pushing and pulling will suffice are dead wrong.
Experts claiming that "training arms isn't functional" are WRONG.
Now, don't be an extremist and avoid rope climbs, pull ups, heavy rowing, etc. You STILL gotta rock those movements, but, direct arm work will boost your performance in those lifts as well.
Pay attention, Kids...
1) Heavy Cheat Curls, as shown above by Casey Viator, will develop a powerful upper back, a stronger grip, strong shoulders as well as improve your full body lifting power.
RIP the bar up with some aggressive hip action, lower the bar with control, avoid dropping the bar on the way down. I began using cheat curls many years ago after reading how Dave Draper & Arnold used these often to help add strength and mass to not only their biceps, but the upper back / traps, shoulders and forearms.
Perhaps you've heard of the crazy ex shot put thrower, Ricky Bruch, who would perform cheat curls in the same fashion as a hang clean as it felt better on his wrists. Rumor has it, he would do these with 315 plus pounds.
George DeFranco, the ORIGINAL warehouse gym owner and father of Joe D, would perform cross body DB Hammer curls using 90 lbs dumbbells. It helped him become one of the best AND most feared arm wrestlers in the world.
By the way, did you know George D. turned down a role in Sylvester Stallone's movie, 'Over the Top'? George D has integrity and didn't want to lose on film unless it was the REAL deal. INTEGRITY!
2) Strong biceps will improve your pulling strength in BIG lifts AND Bodyweight Pulling Movements.
I've seen LOTS of people struggle with pull ups. And,
there are only so many pull ups, recline rows and other pulling movements one can do before it becomes too much for them.
If they have weak, skinny arms, you can expect weak bodyweight pulling power/strength. So, we attack the weak areas and make their biceps stronger to aid their pull ups, get their triceps stronger to aid their push ups and dips.
Being weak sucks. It just ain't cool and there are TOO many weak people roaming around these days. If there's a weak muscle, attack it until it becomes strong(er).
3) Strong triceps will improve pressing strength. Can't crank push ups or bench heavy? Triceps fatigue as the reps get high on push ups? Time to jack up the triceps. Dips, close grip benching and skull crushers are amongst my favorites and they deliver the results.
Tate presses and lying extensions withRussian Kettlebells are also pretty darn good! They have always produced the best results time and again. Pushdowns pale in comparison to the results of the basic triceps movements. Don't be scared to go heavy and hit sets of 6 - 8 reps on these BIG lifts.
When I was young I could barely perform 1 pull up or 1 parallel bar dip. I would do 1 or 2 reps at a time until I complete 20 total. The next workout I went for 22 total, then 25, then 30, 40 and 50.
I ate pull ups for breakfast! I remember doing 26 pull ups my sophomore year in high school during wrestling season while weighing 145 lbs. I can do 26 pull ups today, while weighing 215 lbs.But guess what, I'm NOT impressed with myself. 30 reps needs to be done!
Dips were impressed upon me at an early age as well, reading plenty of books by Arnold he always showed powerful looking bodybuilders performing dips, often times with added weight.
Back in my early years at The Metuchen Y, Big George used to crank countless sets of dips with heavy weights strapped around his waist. He did set after set for what seemed to take 20 or 30 minutes! His arms stretched through his shirt sleeves and he also had a POWERFUL upper body and could bench the house.
I'm sure his powerful arms helped him grip the heavy barbells he used for deadlifts, rows and pressing. They'll do the same for you if you attack your guns SERIOUSLY.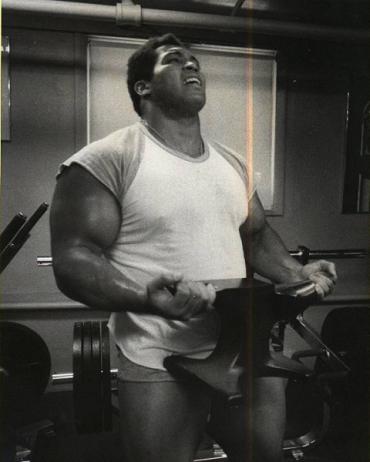 4) Strongman training puts tremendous strain on the biceps.
Before you become a tire flippin' freak, you better make sure your biceps can handle the stress that comes from ripping through 500 + lb tire flips.
Remember, if you want to reduce chances of injury, don't be weak. This is why girls often times tear their ACLs. The lack of stability and strength in the supporting musculature and tissue / ligaments are NOT prepared for sprints, jumps, change of direction, etc. so in turn, we see LOTS of female Basketball players tearing ACLs.
Jack up your guns and better prepare yourself for the rigors of strongman training.
5. A pair or thick, rugged looking arms looks BadAss. Period.
Some closing thoughts on jacking up your GUNS:
- You don't need to perform a million sets or spend incredible amounts of time training your arms. If you're hitting the heavy upper body pushing and pulling with free weights and bodyweight exercises then pick one exercise for biceps and triceps and hit em' hard for 2 - 4 quality sets.
- Mix up the movements for your arms and mix up the reps as well. You can train heavy in the 6 - 8 range or light to moderate for 15-25 reps.
- If you find that certain movements hurt the elbows when performed heavy, be smart, try them with lighter weight and higher reps or eliminate them altogether.
- Don't neglect the gun show just because the internet gurus have touted direct arm work as being "non-functional".
Go ahead, tear into the gun show work and start stretching your shirt sleeves!
Peace.
--Z--
(Visited 339 times, 12 visits today)