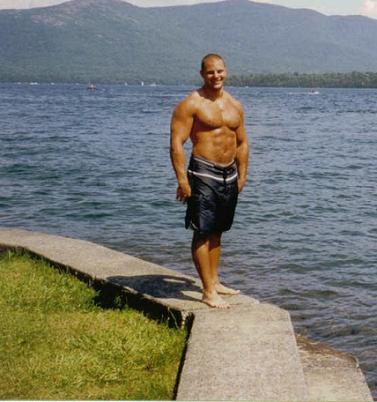 I'm an anti purist when it comes to strength and performance training.

I don't use only one training tool or only one training method.
Why?
Simple: I am a purist when it comes to training for Results.
Results are THE only thing that matters.....

I use what works for me and what works for my athletes.
What works is constantly evolving as the athlete evolves, both physically and mentally. Things change and you must change with those times.
For example, as I get older, my training requires change. I need more mobility, I don't use the straight bar as much for back squats, certain exercise get less intensity while others get more attention.....
Bodybuilding methods are coming back for me as the higher reps make the joints feel better and the isolation movements build up the smaller muscles that tend to get injured when you forget about them.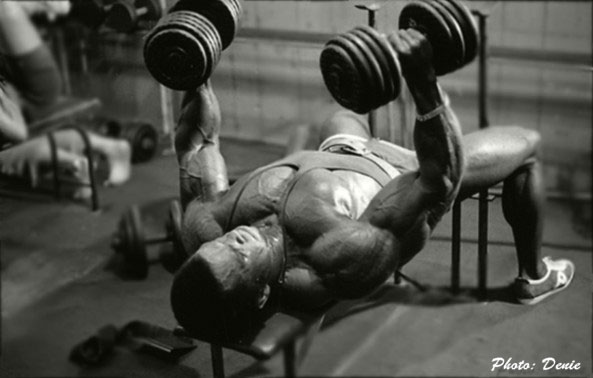 The same thing goes for business. You can't run a business on the strategies of last year and expect to succeed at the highest levels. Evolution is key to achieve success.
I use the Olymic lifts (weightlifting), power lifting, old school bodybuilding, gymnastics movements, kettlebells and more. I am grilling other smart coaches and listening to my own body to stay ahead of the curve in training.
To get better you must also get smarter. Greater knowledge put to action helps you get stronger, bigger, healthier and so on.
You're only as good as yesterday and yesterday is gone.
The key to success both in and out of the gym is to evolve. To be better than yesterday. Stronger than yesterday.....
Today's workout was a battle of will and physical toughness for me. I thrive on that style of training.
Hard Work is Beautiful. When you fall in love with hard work you will be successful.
The style of training I follow changes on a daily basis, but it is always guided by what my body and mind tell me I need.What's very important is that we do what we NEED to do, not just what we WANT to do.
LIFE TIP OF THE DAY
WANT VS NEED
Why do I thrive on hard work and intensity?
I get that "feeling" most likely due to the fact that one of my fears in life is losing my edge.
Without that edge you begin to feel like "everyone else". The guy who allows himself to stop caring.....
To stop pushing himself for physical and mental strength.
The man who stops climbing his persona Mt Everest..... Satisfied with coming home, sitting on the couch, plopping down with a beer and watching TV every day.
To me, that's not living, that is merely existing.
Warrior Man Describes "What Matters" When It Comes To Your Workouts
[youtube width="640" height="360"]https://www.youtube.com/watch?v=RzUEgGqI6C0[/youtube]
You Were Not Put On This Earth To Be Average
My own workouts always have some form of a challenge, both physically and mentally.
This allows me to blend mind, body & spirit during each workout. In turn, you grow beyond the mere physical aspect of training, which is only one part of a total training program.
I explain it all in my book, The Encyclopedia of Underground Strength & Conditioning.  You can see it through our highlight video below, using free weights, stones, bodyweight and more.
If it gets you stronger, don't discriminate against it.
[youtube width="640" height="360"]https://www.youtube.com/watch?v=aX5yimjE63o[/youtube]
Whether you use Kettlebells, odd objects, free weights, bodyweight or all of these combined, it doesn't matter. The end result is the key and all of these training tools (including bodyweight) are powerful.
The key to result is Doing The WORK. It's not about the training tool. It's about the consistency, intensity, dedication and going ALL in, ALL the time when results happen.
I personally need to train hard and tough for my own good - or I am simply not satisfied. If you're satisfied with just getting through the workout, checking your cell phone between sets and merely getting a pump then that needs to change.
Push yourself. Break down barriers and kill the BS excuses.
Work your ass off and the feeling of accomplishment you will get will surpass the feeling of just getting by. In turn, your LIFE will become stronger and more successful.
It Does Matter......
[youtube width="640" height="360"]https://www.youtube.com/watch?v=XPMuBvlS1Qg[/youtube]
I post all my workouts at The Underground Strength Coach Forum, this way you can take ideas from my methods and apply them for yourself or if you train others as a strength coach, you can use them on clients. The content inside The Underground has been adding up since 2005 - from never seen before Videos, Seminars caught on film, special reports, e books, business / life lessons and tons more.
My workout today consisted of a powerlifting movement, an olympic lifting (weightlifting) movement, an old school bodybuilding movement (one I NEVER see in traditional gyms anymore) and then I hit calisthenics and sandbags in a combat circuit.
The pace was aggressive as always, this is the way I gotta train as time is of the essence for me. Instead of resting 2 - 3 minutes between sets I often pair exercises together or cut rest periods down to changing the weights and getting right to the next set.
As The Warrior Man said, "Intensity for Life, Whatever You Do!" - That's how I am and it's something I can't change. You can't hide your passion and intensity BUT you can change if you are NOT pushing yourself to achieve your potential.
Let me guide you through our monthly workouts as part of my Underground Strength Inner Circle, Details HERE.
Until the next time,
Live The Code 365,
--Z--
$1 For 31 Days -

Click HERE

for Details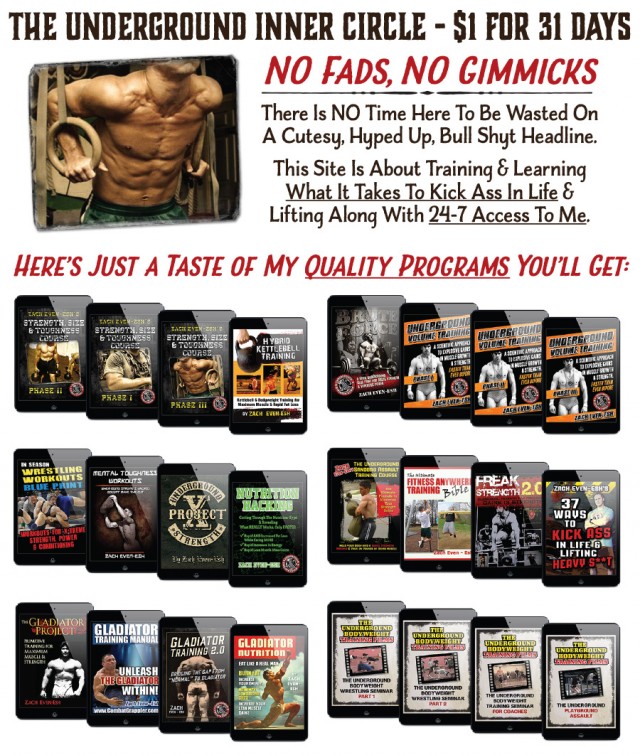 (Visited 440 times, 8 visits today)