[youtube width="640" height="360"]http://www.youtube.com/watch?v=ZaS90MgCpmE[/youtube]
I've mentioned often how powerful and critical it is for you constantly be reading books that inspire, educate and motivate you. If you travel a lot, then mix your books up with audio books and physical books, as I do. As you can see below, I've been listening to AND reading Arnold's latest book, Total Recall.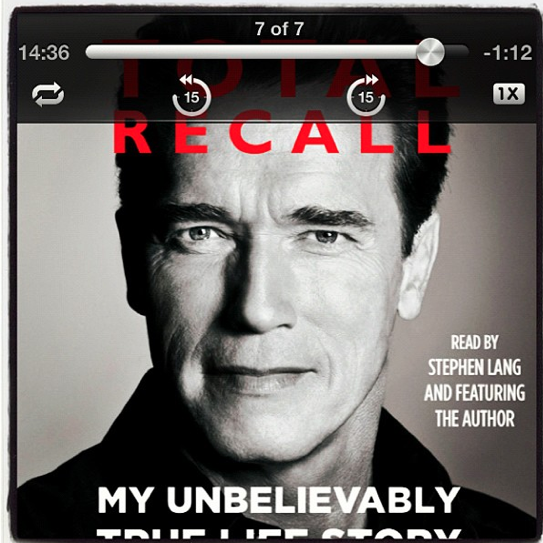 I've been a BIG time Arnold fan since I was 13, and in high school, I read his book, The Education of a Bodybuilder for years in a row, never letting other kids in my school take his book out of the library with fear that they would learn the "secrets", ha ha.
His latest book, Total Recall. is a story to inspire you on many fronts. With stories of his ups and downs, his successes and failures, his mindset for overcoming obstacles and conquering fears, it's a powerful book and a must have in your library.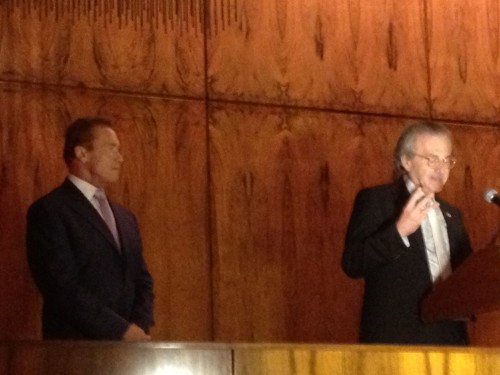 Above, Arnold about to give his speech at The Four Season's Restaurant in NYC
Last Monday, I had the opportunity to get invited to Arnold's book release party in NYC and I was anxiously awaiting to hear his speech. I must say, I was very impressed with his speech. He first gave a big thanks to all who attended as well as the many, many people who helped him reach the top. He said there was NO such thing as a self made man.
He also spoke about the downfalls & his "stupid mistakes" that ruined his family... yes, those are the words he used. He took RESPONSIBILITY for his mistakes.
You see, I've met a few big names & "stars", people who have fame, fortune, etc. in their own niche.
Many of these stars shout from the roof tops on how you should live, act, go about achieving goals, etc but 99% of them stop where the talking ends. They point the finger at everyone else and act high & mighty. They sound convincing.....
In truth, they are acting with their mask on, but when it comes to Living The Code, they are NOT living up to the words they speak and tell others to live by. None of us are perfect. But, if you make a mistake, take responsibility for it and FIX it, find a way to make right after making wrong.
I've made MANY mistakes & hurt many people in my life. The toughest thing has been learning to say sorry and repairing those damaged times and the people I've hurt.
Arnold's latest book, Total Recall, will inspire you to push yourself to greater heights. I think that is critical for all of us, to keep pushing to achieve more in life, and if we make mistakes, don't dwell on them, instead, go back and fix them and then move on as a better person, learning from your mistakes and vowing to not make the same mistakes.
Being on Arnold's Fitness Advisory Board and truly having been influenced to become a bodybuilder, to achieve BIG goals and to think BIG, much of my early life lessons came from Arnold and his books, his inspirational stories and lessons that he openly shared.
It's not easy to call Arnie up on the cell phone and thank him, ha ha, but, I do my best to educate, motivate & help inspire YOU through my own experiences and life lessons. One of my favorite ways is to share the books that have influenced me greatly, this is certainly one of those books.
Here's How To Get Your Underground Strength Gift....
Step 1: When you purchase Arnold's latest book this week, 10/8-10/12/2012 (Sorry, ONLY the book counts, not kindle, audio, etc), Total Recall.,  send your receipt to Deb, The Underground Boss Lady (her email is in Step 2).

Deb will make sure Arnold's team gets your order and that your book edition of Total Recall comes with a special book plate, inserted into the book. This is why only the book counts, not the audio or the kindle version.

Step 2: Forward your receipt to Deb, The Underground Boss Lady, AND as an added gift you can pick ONE of our Underground E Books for taking action with Arnold's Book.
Deb's e mail is: Support @ ZachEven-Esh dot com
Here is a list of our Underground E Books to help you decide which gift is the one you want.
This Special Promo Ends Friday, Midnight EST, October 12th, 2012.
Click HERE To Get Your Special Edition Copy Of Total Recall
(Visited 89 times, 1 visits today)