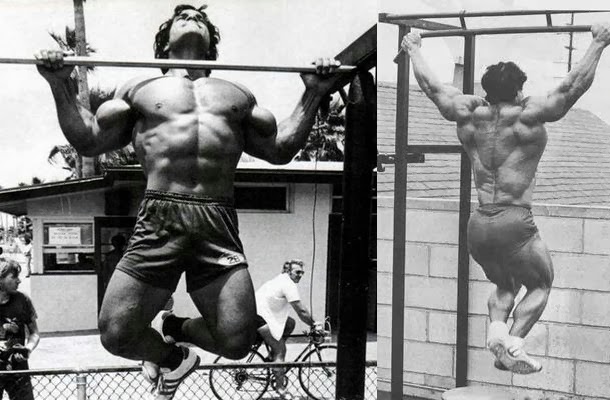 I recall having a phone call with Joe DeFranco and he was telling me how one of his Coaches / former athletes, Mike Guadango, was regularly doing heavy, HEAVY 1 rep sets for pull ups. Mike was also performing heavy recline rows with over 100 lbs on a weight vest for sets of 1 - 3 reps.
It got me thinking differently about my Bodyweight training and I began looking to turn my Bodyweight training into a system, just like Westside Barbell implements the Conjugate System, with days focused on strength, other days focused on speed / power and adding the repetition method for building muscle / tendon strength.
Most of the time, like many of you, I was merely using bodyweight training as a finisher or a warm up, using mostly high reps and focused on getting a pump / burn.
Then, as I began to dig deeper into the world of calisthenics, I began pushing my bodyweight training for strength.
I added resistance with various methods such as bands, chains, weight vests, ruck sacks and Kettlebells.
The greater strength in bodyweight exercises led to greater endurance in the same bodyweight exercises, such as pull ups, push ups and dips.
The bodyweight exercises listed and shown in the video above, I also use with added weight. I add load via chains, bands, weight vests or weight belts with kettlebells attached.

You can get creative with loading your bodyweight exercises. They ALL work if YOU do the work. Nothing complicated and nothing fancy.
The last time I checked, the only way you can get stronger is by putting more weight on the "bar" and improving your technique. With greater technique you develop more efficiency and speed. Strength is measured in more ways than just the weight being moved.

Better Technique demonstrates that you've gained strength.
More speed demonstrates that you've gained strength as well.
With bodyweight training, we often limit ourselves to bodyweight rep / pump up work, as I used to, and so eventually you hit a wall. You get stuck at 5 or 6 pull ups, maybe 10 or 12 pull ups and then you can't seem to break through.
When you don't improve in training,  that is a sign that something must change in your practice of bodyweight training (or any training for that matter).
Try doing heavy bodyweight training with lower reps and utilize these as "practice" vs viewing them as a workout. Do a set and rest as needed. Perform perfect technique, no swinging or kipping. You can and should implement The GTG method, one of the best methods I've ever used to improve bodyweight strength.
Here is a 135 lb athlete performing 88 lb weighted push ups from a weight belt. This will also work trunk stability aka "core strength" so there is upper body and abdominal work happening at the same time.
Sample Bodyweight Bodybuilding Workout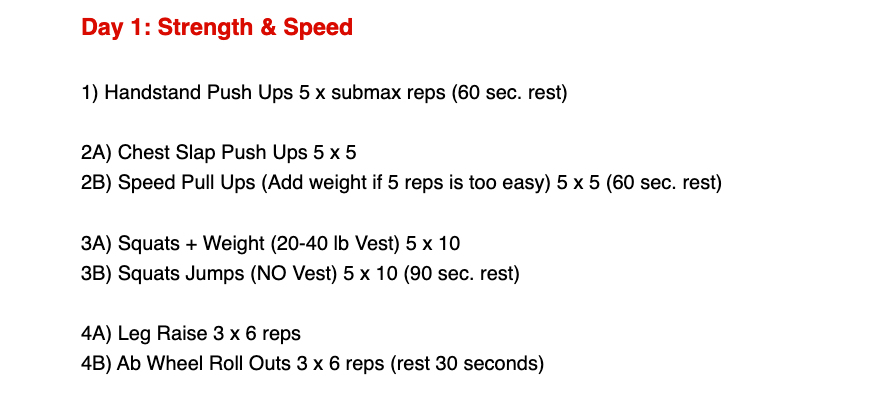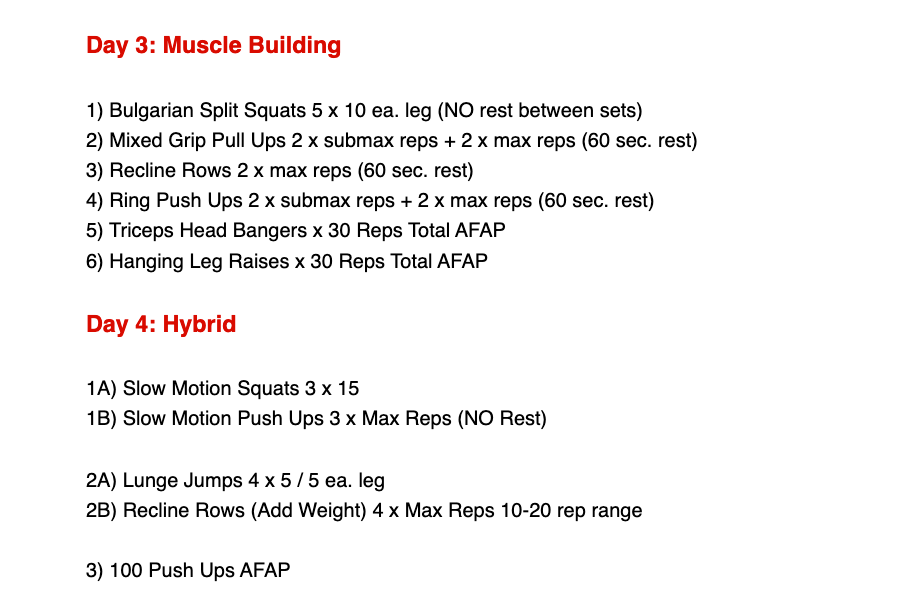 The "triceps headbangers" are the bodyweight triceps extensions.
You can perform these triceps extensions using 2 rings as shown above, 2 hands on 1 ring, hands on a barbell secured on a squat rack, or hands against a glute ham pad.
The first time I actually saw these bodyweight triceps extensions was on a documentary of inmates performing workouts in prison. I saw the guys performing triceps extensions with their hands off the edge of their bunk beds.
Drop a comment below and let me know how you're attacking the bodyweight bodybuilding to develop strength, size and power!
Live The Code 365
--Z--
The Best Bodyweight Training Resources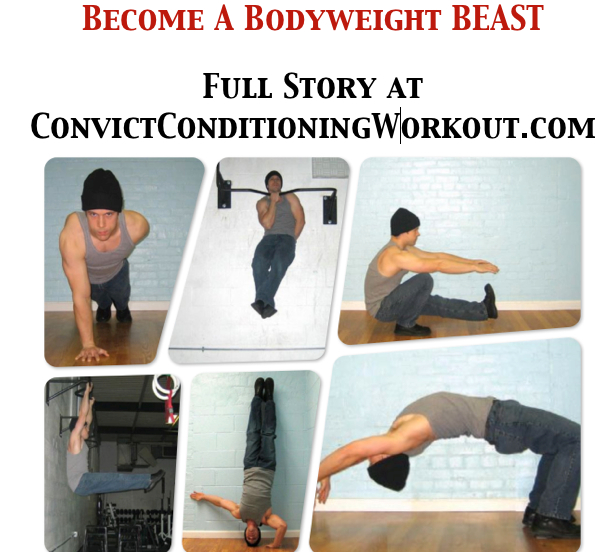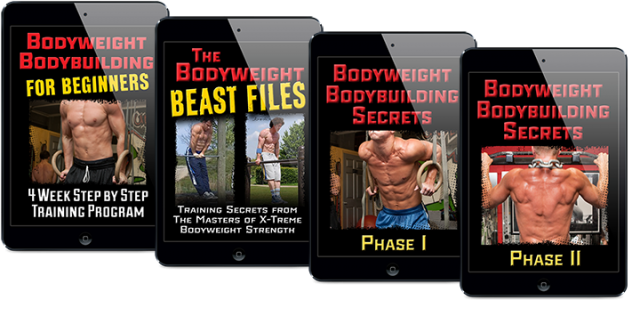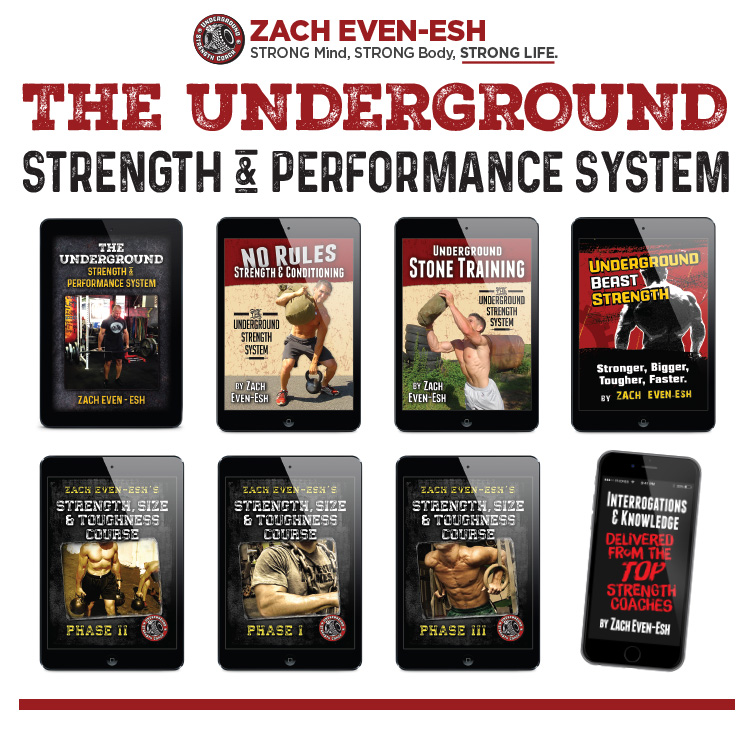 (Visited 2,649 times, 35 visits today)