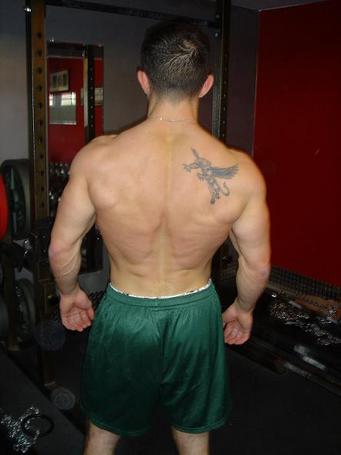 Hey Bruddahs and Ladies... Thanks for stopping by again, I LOVE it when you visit 🙂
Below is a workout I cranked with "General Chow", a D1 collegiate wrestler.
The pace was not as furious as normal, and, please forgive my new movie making skills as I JUST STARTED working the Hollywood skills on my MAC 🙂
Check the Video and then read on....
In a nut shell, here is the run down of our combat conditioning workout:
1) Bench Press - worked up to 2 heavy sets
** Followed the Bench Press with 3 sets of Close Grip Benching x Max Reps
2) Rope Climbing - 5 sets performed in "I Go - You Go" Fashion. Held the L Seat position to strengthen the core and hips... wait, your hips are your core!!!
3) Grappler Pressing - Performed in see saw and push press style for 3 hard sets in the 10-15 rep range.
4) Superset for 2 rounds, NON Stop: Chins & Dips x Max Reps
At the end of the night I finished with grip and ab work.
General Chow used to read my training newsletters back when he was a high school freshman, stealing cinder blocks and cement bags to train as a high school wrestler in the good ol' Dirty Jerzee.
He would also have his younger bro hop on his back and sprint hills with his "Human Weighted Back Pack".
In September of his Senior Year, General Chow began training at The Underground Garage, and that year he only had 2 losses and placed 7th in the NJ State Wrestling Championships. Those 2 losses came in the state tournament.
Pretty damn good 🙂
Now, I fear General Chow, so I wouldn't mess with him, and, this is my goal for all my athletes and for you:
I want YOU to become a Bad Ass and put fear into me and anyone who gets in your way.
Got a comment on the Video or General Chow's story? Drop it below 🙂
Peace!
--Z--
PS: Do you want to be feared? Do you want to be a Bad MoFo? Click HERE and begin your Journey.
PPS: Wanna do what you love? Wanna open your own hardcore gym? Wanna say "F**K it!!" and stop training those boring clients?
Now is your chance by learning the secrets at The Underground Strength Coach Certification and Mentorship.
Check it below...
Nov. 14th in NJ ==> https://zacheven-esh.com/1DayCert.php
Dec 5th in Florida with Elliott Hulse ==> https://zacheven-esh.com/Elliott.php
(Visited 246 times, 4 visits today)