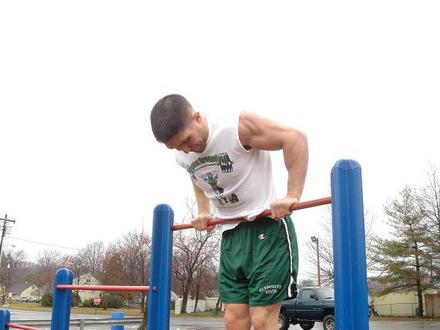 I am getting more and MORE hyped on Bodyweight Training.
I feel GREAT attacking the calisthenics and with warmer weather especially, it is perfect for training outdoors to rejuvenate mind, body & spirit. The cold is not to be feared either, the Russian athletes often trained outdoors for a warm up and fresh air on a regular basis.
You can see it in the Video below as well.
I have been hunting for better playgrounds all around NJ since 2002. Sometimes I bring a kettlebell and mix the bodyweight and kettlebell together for a Hybrid Workout. It brings me back to my roots which I love. Staying grounded to where you started keeps me humble, strong and tough.
Check this video out, this is part 1 of my Bodyweight Bodybuilding Assault on NJ Playgrounds, MORE to come....
If people tell you that you can't pack on muscle with bodyweight training they are DEAD WRONG.
Remember, you can always load exercises like chins, squats and dips via weight vests, chains, weight belts and even bands. Take a weighted vest or ruck sack to the park / playground with you.
At the 1 minute mark of this Video, you can see the Russians training outdoors in the cold weather. I advise you to train in various environments and different temperatures. The outdoors hardens you as a man / woman both mentally and physically. I call it "Get Comfortable Being Uncomfortable" - discussed often in my Encyclopedia of Underground Strength & Conditioning.
When it comes to making a self made weight vest or ruck sack, You can load these with a few 10 lb plates wrapped up in a towel. You can load the weight on your back or in front. You can also pick up the heavy chains I use so often in our Videos.
With a little ingenuity you can make your own weight vest. I've even seen guys use old military vests they picked up from garage sales and loaded them with small standard sized weight plates.
I have a select group of proven bodyweight exercises I use here at The Underground Strength Gym that have proven to build BEAST Athletes. I listed them HERE.
Use these bodyweight exercises yourself to reduce joint aches & pains while also developing serious strength. If you're a Strength Coach, ditch the gym for a day and tell your crew to meet you at a specific playground. I did this back in the day before I owned a warehouse gym and then again did it when I was locked out of a wrestling club when I was supposed to train these guys.
You can see what happened and how I improvised HERE (The Playground Assault Bodyweight Workout).
There is a unique strength that comes with bodyweight training when you become adept at bodyweight exercises.
This is done by varying the effect of bodyweight workouts which is what we do inside Bodyweight Bodybuilding:
- Bodyweight workouts for strength / power
- Bodyweight workouts for conditioning
- Bodyweight workouts for muscle building
- Bodyweight workouts for athleticism / Gymnastics
Sometimes I train very low reps and slow down the tempo of each rep, pausing, holding and making myself work harder by reducing all momentum.
Other times I am explosive during the bodyweight workout. Mix them up and discriminate against none of them.
Bodyweight training is powerful. Period.
Now, get out there and go hunting for your own playground bodyweight workout.
Live The Code 365
--Z--
The Best Bodyweight Training Resource HERE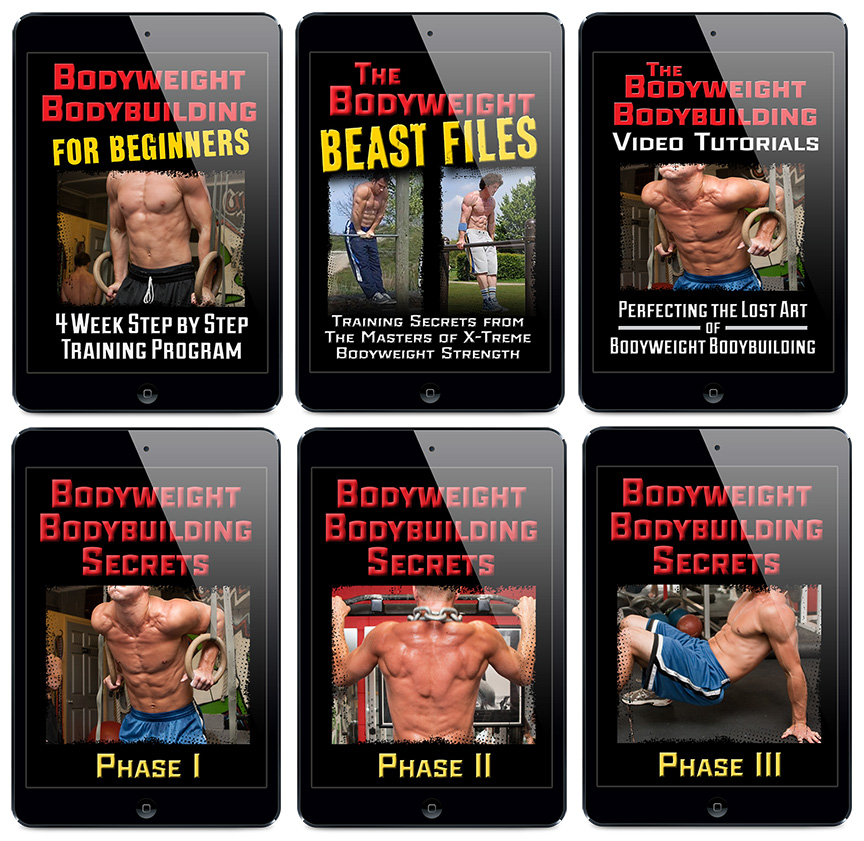 (Visited 784 times, 4 visits today)