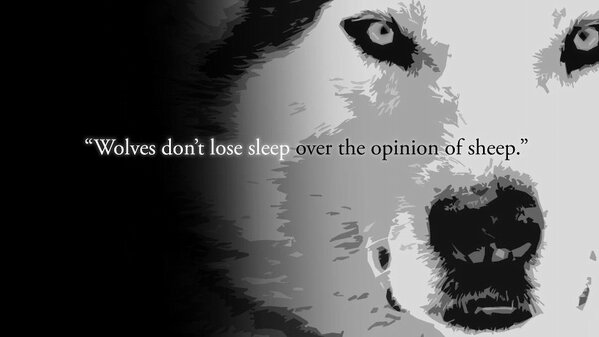 I ALMOST fell for "their" bull shyt.
I ALMOST became a Sheep, instead of a Wolf.
"They" wore polo shirts, had beautiful studio gyms, had clean shiny equipment, $10,000 cable machines and there I was....
In a garage.... a backyard.... playgrounds all around town.....
"They" laughed at me. Talked shit behind my back and gossiped like pathetic women with nothing better to do than undermine others in an effort to lift themselves up.
Be a LION, NOT a sheep. You can spot a sheep MILES away.....
"They" follow others with a gutless false sense of pride, refusing to stand up for WHO they are and WHAT they are. They take the easy route and follow.
Don't be "that guy".
"... To Be You..... Not Be Anybody Else...."
When you "grow up" and get older you can speak with pride and honesty to your Grandchildren and tell them that you stood up for yourself as an honest man, stood up for what you believed in and Lived The Code.
While others fell for anything, you stood for something.
Drop a comment if you're with me.
Live The Code
Z
Next Underground Strength Coach Cert - Details HERE