It's VERY interesting to see how inmates can look the way they do and, as seen in the video above, demonstrate the strength they do... Deadlifting 500 lbs and over.
Sure, it's the perfect place to get BIG and Strong, no job, no this, no that, etc. but come on, do we need excuses here and complain how our life is too hard to eat well, train hard and get big and strong? Excuse makers NEVER kick ass and get results.
These inmates focus on a select few things you can learn from:
- Free Weights and the Basic Powerlifting and Bodybuilding movements. Just like the days of the Golden Era, free weights WIN every time. They pack on the most size and strength and deliver results the fastest. Pretty boy bodybuilding is OUT. Squats, Deads, Benching and heavy curls.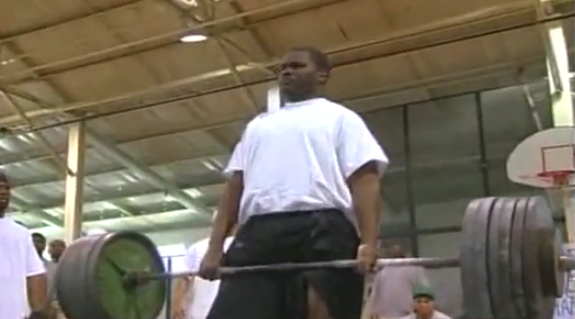 - Bodyweight Training on a regular basis. High reps for muscular endurance as well as muscular hypertrophy. Bodyweight training performed through the day in a 'Grease the Groove' fashion ala Pavel, always performing the exercise when fresh, with solid technique, never training to failure to maximize gains in size and strength while ensuring full recovery.
- Using ALL training methods to keep the mind strong and to develop confidence & mental toughness. These guys understand that training is a ritual, a place where they can clear the mind of all problems and focus on something good, take care of health, both physical AND mental.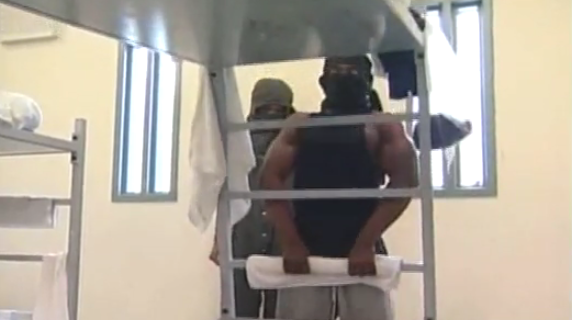 - Use of Odd Objects. Inmates are not cry babies like many of "Gurus" telling you that their way is the only way, the best way.... These men are using water filled bags and jugs, lifting their bunk beds, etc. I remember watching a video ages ago with inmates training using the picnic tables that were out in the yard. It inspired me to crank a ton of exercises during circuits I was using with my wrestlers at a school yard.
Now, before you begin complaining about the fact that inmates are being given credit or complaining, let all that go.... I am looking at their training, NOT their morals or ethics.
The Pussification of America needs to end. It's plain and simple, don't use my blog as a ground for complaining, instead, it's a place to learn, share and become inspired.
Let's get STRONG. Period.
In Strength,
--Z--
PS: This is THE place where strength and muscle building are taken to a whole new level, I'm there for you, 24-7-365. Bring it, click here for a 30 Day Trial and a slew of kick ass gifts.