The Underground Strength Coach Certification - A 2 day certification where you learn The Underground Strength System with a hands on approach, BOTH training and business, allowing you take these highly effective training & business systems and literally "plug n' play" them into your own training business.
ALL of these systems are applicable even if you do NOT own a gym to train athletes from. You can expect to learn exactly how you can utilize these training methods in ANY location. Along with the training and business knowledge you will also learn the critical aspects of the "mental game" you MUST have to achieve success in your business.

During your 2 day certification, you'll discover exactly how you can skip the mistakes and pitfalls other trainers experience, causing them to struggle emotionally and financially, losing money and / or going out of business.
The USC Certification allows you to Jump up the ladder of success with up to date, proven, real world training and business strategies that I use day in and day out at The Underground....you'll learn what REALLY works, NOT a bunch of book smart BS. This is coming from IN the trenches experience that you can use to quickly explode your success in business results.
My gym & business knowledge will be an "open book" for you and you'll finally experience the success that other motivating coaches are experiencing after attending The USC Cert. Space is limited and EVERY Cert sells out!
_______________________________________

Lost Secrets of Business with Zach & Joe DeFranco - Gain insider access during a closed door business mastermind, where Joe DeFranco and I reveal how we built our training businesses up through limited resources.
If you ever wanted to hear exactly how we began our warehouse gyms without having a gym / physical location from the get go, this is where we reveal ALL the obstacles we faced and exactly how we overcame them to achieve success.
_______________________________________
Operation Thunder: Warehouse Gym Secrets - Step inside EVERY SINGLE step taken to build The Underground Strength Gym, from More than $20,000.00 in debt, to backyards, garages and finally a 1500 sq. ft. warehouse that brings in a FULL time income, allowing me to quit my full time teaching job with a salary of $94, 300 / yr + benefits.
Discover how to grow your business with NOTHING (or Less than nothing, as I did, in debt!), going from a part time side business to a full blow business with profits coming in from BOTH gym and internet profits. Learn how to leverage your knowledge and earn an income WELL beyond the average Strength Coach.
Also included are THREE VERY unique guest speakers, each of them owning unique sports training businesses, yet earning full time incomes, living life on their own terms and NOT conforming to the norms of the strength & conditioning industry.
Normal business methods = Normal income. Operation Thunder is NOT for the Strength Coach looking to be normal, running a normal warehouse gym and earning a normal income. Hells NO. This is for those who wanna go BIG. Period.
_______________________________________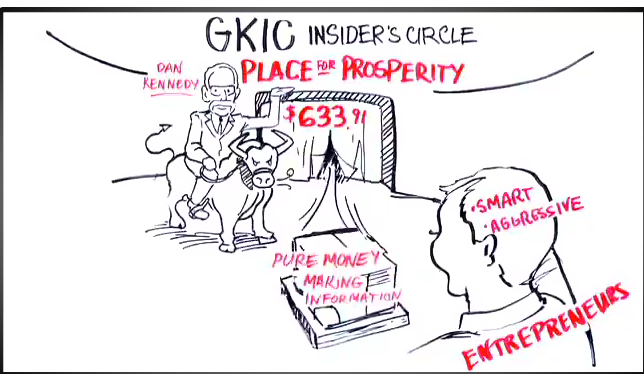 FREE Gift by Dan Kennedy ($633.91 Value)- If there is ONE man you could listen, ONE business course to invest in, THIS would be it. Learning how to run your business and live a life on your own terms, with complete autonomy is VERY powerful and VERY rare.
EVERY time I speak to Strength Coaches I tell them to learn from THIS Man. Period, End of Story.
Click HERE For The Most Powerful Business Course I've Invested In That Will Become Your "Secret Weapon"

_______________________________________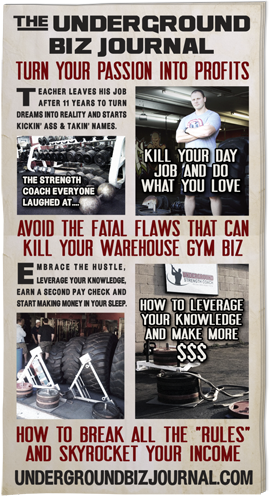 Underground Biz Journal - Click HERE to sign up for my FREE, in the trenches business tips newsletter, unlike any other business tips you've ever heard before.
This resource is for serious Strength Coaches & Fitness Trainers who are ready and willing to take action.
Don't expect a politically correct e mail with nice, warm, fuzzy e mails to make you feel good about yourself.
Instead, you'll hear stories and get REAL life lessons that I am using and working on day in and day out, from the trenches, as a Strength Coach who operates his own Warehouse Gym.
You are NOT going to get info from someone who sits behind a computer and pretends to know what REALLY goes on in the world of running a warehouse gym and being a Strength Coach. This is for REAL.
Get Your FREE Strength Coach & Warehouse Gym Marketing Tips HERE