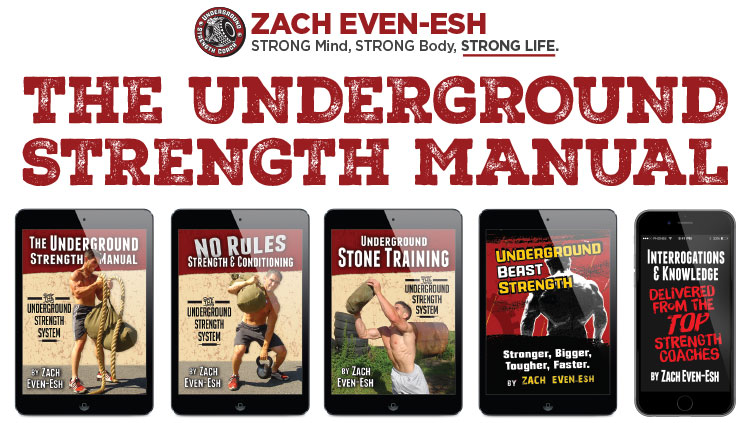 I just came across a photo on my Facebook that was 7 years old. It brought back some serious memories when I saw that photo, below!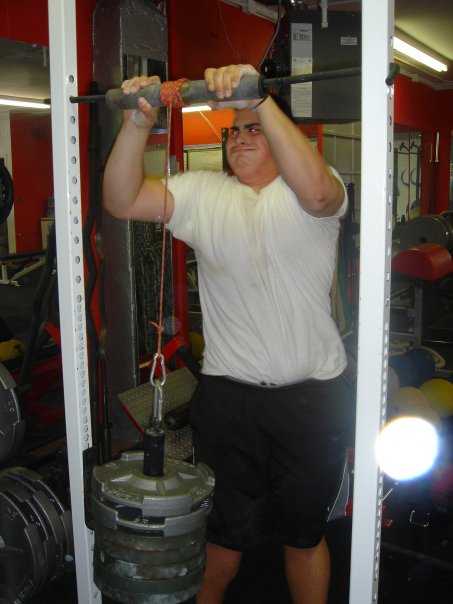 I shared this article below with the members of The Underground Strength Gym and I want to share it with you to give you some back story on The Underground Strength Gym, the struggles it took to make it happen and how every "over night success story" often has a 10 year history at the least.
The reason to share with you is so you see the WORK it takes to get to where you want to be, regardless of what that goal is.
Remember: You get what you EARN!
So, back to the story of that 7 yr old Facebook pic.......
It brought me back to a time when a slew of athletes began coming in from a local private school after they saw 2 Football players turning into animals. These 2 boys were best friends and they began a few months after I opened up the warehouse location in Edison, NJ.
So when I saw that photo, I was hit with the Fact that it is the month of May and 9 years ago on May 1st, 2007 is when the "Real Underground Strength Gym" began......
I signed the lease and it was time to get out of the garage and do this for real.
The Edison Warehouse of The Underground Strength Gym warehouse space is officially 9 years old this Month!
Before the Edison, NJ warehouse.....
I was in my parents garage for 1 year, then my own 2 car garage for 3 or 4 years where people would see kids crossing the street or walking up the street carrying 120 lb Farmer Bars, Kegs, Sandbags and Kettlebells up or across the street.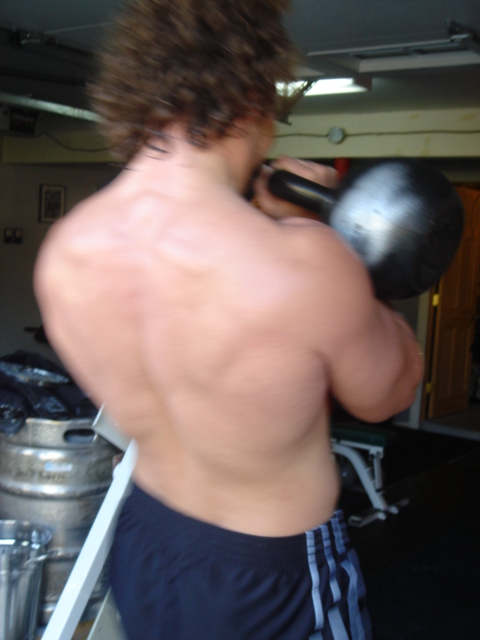 I signed the lease to our current small garage / warehouse location on May 1st, back in 2007! I was a teacher and would begin the "grind" and hustle of making it ALL work.

Before that, we made it work from a 2 car garage, my backyard and the local elementary school playground.

We used the backyard where I had tree logs, a climbing rope, wheel barrow and sledge hammers. The local playgrounds on the weekend were traveled to with a few sandbags, sleds and Kettlebells and of course, my garage was set up quite well.
The Equipment List:
I had a custom made Sorinex half rack.
A dumbbell rack with dumbbells up to 130s.
Kegs & sandbags
Reverse hyper
Various specialty barbells
large medicine balls
Kettlebells
45 Degree Monster Back Extension
Adjustable Benches
Gymnastic Rings
Farmer Walk Handles
Various Grip Tools from Iron Mind
Plus plenty more "equipment" in the backyard such as stones of various shapes and sizes, tree logs and more. Everything and Anything was our gym!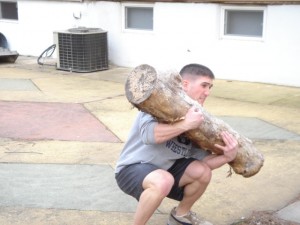 I recall doing wheel barrow walking in my backyard and the stray cats were bringing "presents" such as birds or mice or the kids were dodging Racoon s--t on the grass! We made it work and no one complained. It was a special time.
Parents were traveling from up to 1 hour each way as I was writing articles for the local NJ Wrestling Newspaper. The fact that the training was in a garage, backyard or playground didn't make the training less effective.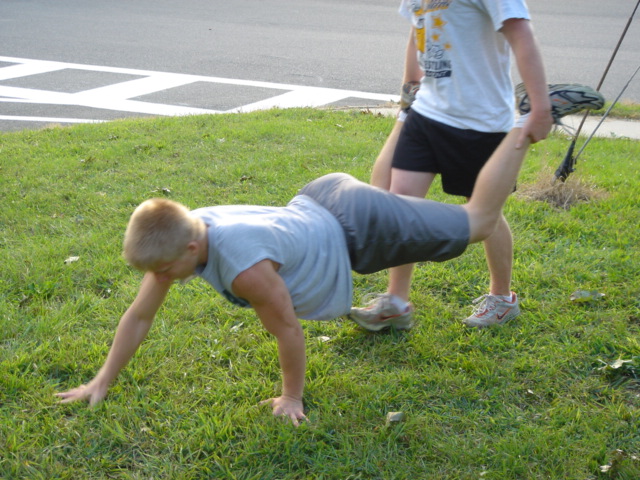 I was a teacher so I would wake up at 5 or 6 AM and work on my internet business, writing articles for other web sites such as Elite FTS (Often 1 article every week), blog posts on my old blog and more.
Every Morning I'd work until 8 AM on the computer and then head to school to teach until 3:30 PM.
On my lunch break, everyone went out to eat but I only went out on Fridays.
Monday - Thursday I was writing articles, working on the gym web site, and working to build the word about what we were doing for athletes during my lunch break.
Friday I allowed myself to go out at lunch. That was the reward for working hard.
Once a week I would speak with Louie Simmons on the phone during my "prep" period at school.
We discussed training wrestlers, fighters, Kevin Randleman, sleds, training for time, GPP, Russian Training Methods and so much more.
Doris or Louie always answered the phone and Louie would always cut me off mid sentence and say, "Don't tell me how much weight your guys are lifting, I'm not impressed. I've seen better!" ha ha
He inspired me to bring back stronger stories as I was being mentored by Louie from afar and I wanted to make him proud and to see I was NOT wasting his time one bit!
The first dragging sled I ordered was from Louie. It arrived at my parents house with a book of stamps taped to the sled with clear tape! NO box ha ha!
After school, I drove straight to the gym, ate a small meal and began training athletes until 8 PM.
Then, from 8 - 9 PM I trained myself and started recording videos. Those were the early days of what I called 'The Underground Strength Show'.
Flipping tires, sprinting sleds and cranking out bodyweight exercises in the dead of the night.
I was Easily putting in 15 hour days and I KNEW that by working Hard AND Smart, I could grow The Underground Strength Gym to change the lives of athletes.
Looking back, things are different today because business and the way you can / should run a business is different. The internet has changed dramatically from when I started well over 12 years ago.
When it was time to transition from the home garage to the "real" garage, We moved the equipment from my 2 car garage in Edison to The Underground in 1 day using a moving truck and since then over 1,000 athletes have been in / out of The Underground & Coaches have flown in from all around The USA, Australia, Europe, The UK & The Islands to experience The USC Certification.
It is surreal, to put it lightly.
People have slept in cars or flew in on a red eye and arrived at 9 AM the morning of The Underground Strength Coach Certification.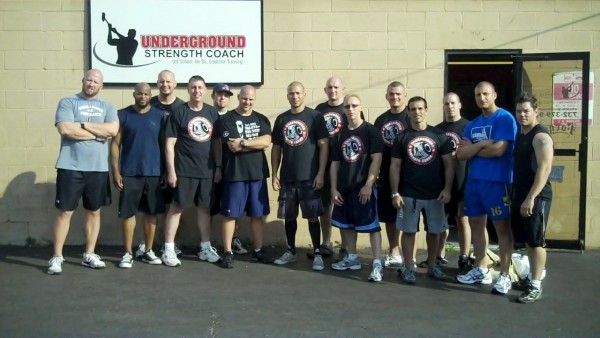 Above, 1 of the earliest Underground Strength Coach Certifications!
_____________
HOW & WHY did I finally make the move out of the garage?
My mentor, Alwyn Cosgrove & Ryan Lee were BIG reasons....
Alwyn mentored me while going through chemo during Stage IV Leukemia (Twice!)!!
Alwyn is the BIG reason we hold The Lift STRONG Fundraiser for LLS every year since opening!
Dave Tate and Jim Wendler.....
Dave would give me fatherly advice on the regular and Jim always unleashed his truth in a way only Jim Wendler can speak.
I remember Dave calling me telling me a power rack was returned to Elite FTS after the person who ordered was injured and unable to train. Dave told me he is shipping it to me and I told him "I have NO room! My ceilings are too low!"
He replied. "Dude, every time I speak to you, you're talking about training athletes. You're gonna open up a gym in less than 6 months I KNOW it. Store it in your Dad's garage."
I think it was 2 weeks later I signed the lease and the power rack was shipped directly to the gym! If you know Dave Tate then you know he has an amazing insight with coaches and the strength world in general.
And most of all, My Family!!!
I remember my wife painting the gym walls and stenciling the original logo on the wall at 9 PM at night.

The original gym walls were pink and I remember telling my wife I was gonna start training immediately! I told her nobody cares about pink walls but she refused to believe me! My wife and Uncle painted the gym walls and some of the garage athletes helped me carry the equipment.
We painted the gym walls and would be there until 10 or 11 PM at night setting up and organizing.
You CAN be a 1 Man Army but you are ALWAYS STRONGER when you have people on your side.
Hence the reason I ALWAYS say our Most Successful Athletes have Supportive Parents who encourage Hard Work, Dedication and Commitment (Especially During TOUGH Times).
If Times get tough and Mom / Dad quit on their son, it is a BIG lesson that lil' Johnny picks up on that when the going gets tough, it's OK to quit. I've learned that Obstacles are Opportunities in hiding. Keep Going!
The Obstacle Is The Way!
Nothing GREAT was ever Achieved Easily.
Don't ever forget that!
On the surface you might see my videos and think I made The Underground Strength Gym but the truth is, YOU make The Underground what it is! The athletes who train here make this gym special. The parents who drive form near and far, sleeping in their car or doing work in their car to leverage their time, THEY make this Gym special!
IRON SHARPENS IRON
I don't believe The Underground Strength Gym will ever have hundreds of members like some of the general population style gym. The work here is too intense and too much for many to handle, let alone try to handle!
For those who do NOT want to be here, THAT is actually a GOOD thing because Iron Sharpens Iron. The motivated athletes rubbing shoulders on the regular make one another better.
The more dedicated, hard working athletes are working together at The Underground, the better everyone gets, regardless of their sport.
I don't get offended when parents pull their kids out. I used to, but I learned that it's not for everyone.
Sometimes though, I DO feel Bad for the kid who gets pulled out because of his parents, because I KNOW we can transform that athlete, but, without parent support it can't happen. Sometimes the kid wants it but Mom / Dad do NOT want to support them.
I can't change everyone but I CAN give each and every day my best and that can never be taken away from me! I want YOU to take that lesson as well.
Today is another day.....

Another opportunity.....

Destroy Mediocrity.

Keep Living for The Relentless Pursuit of Excellence!
Live The Code 365,
--Z--
Become a CUSC
Certified Underground Strength Coach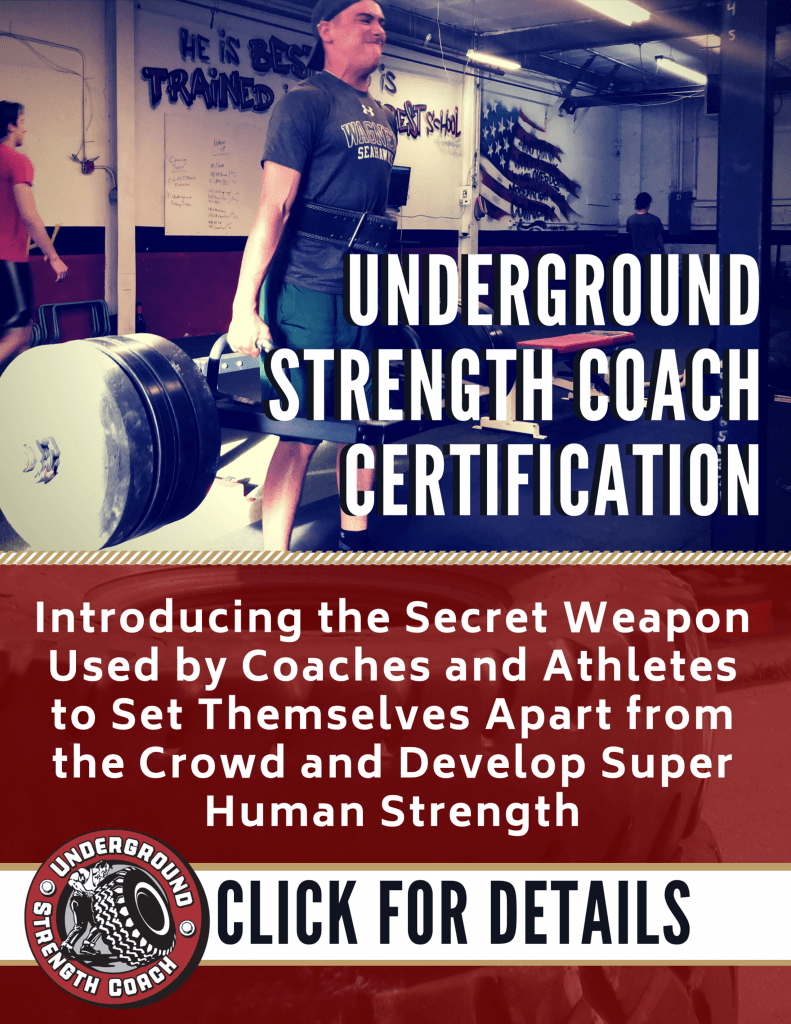 (Visited 177 times, 2 visits today)