It was my last year teaching and my stress was at an all time high.
I was repeatedly straining my lower back, particularly the QL (Quadratus Lumborum).
I was training hard but also living hard. It was taking a toll on me mentally and physically. Through my mistakes, I become a better teacher for YOU.
Years before I had randomly strained my QL, the first time it happened was a few hours after a brutal leg workout while picking up a clothing hanger.
It's been a LONG time since I've stained my QL and lower back in general and there are ways around low back strains by doing the following:
- Learn to move better
- Pay attention to mobility
- Sit Less / Stand More
- Understand what the "core" truly is
In this 2 1/2 minute video I explain and answer a question regarding more ways to strengthen your "core" and strengthen your lower back.
[youtube width="640" height="360"]http://www.youtube.com/watch?v=LlTnc0mpx9U[/youtube]
My lower back injuries were the FIRST injuries that taught me that without your health, you have nothing.
Those painful times literally depressed me. The pain taught me and forced me to learn how to move better, eat better, recover better and overall LIVE better. The pain forced me to create Bodyweight Bodybuilding
Pain is often times the best teacher.
Being STRONG is of critical importance.
Learning and truly understanding movement is key.
[youtube width="640" height="360"]https://www.youtube.com/watch?v=9pXi19UDUTk[/youtube]
[youtube width="640" height="360"]https://www.youtube.com/watch?v=rFWoej49Rwg[/youtube]
QOD: What do YOU do when you tweak your lower back? Drop a comment below and share.
Live The Code 365
--Z--
 STRONG Mind
STRONG Body
STRONG LIFE!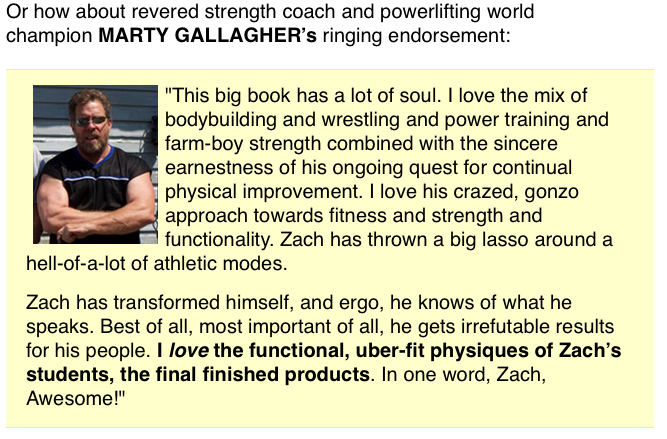 (Visited 165 times, 1 visits today)