I love the barbell and all free weights. But there is something powerful, beyond the strength benefits, about training with odd objects.
The mental toughness, the commitment to finish the struggling rep and the attitude required to fight through is unique to strongman training and odd objects.
That being said. Not everyone is ready for this style of training.
I explain below....
Tire flipping isn't for everyone.
Strongman training isn't for everyone.
A SOLID foundation MUST be built before you can dive into strongman training.
Can you perform the following key lifts with substantial weights and perfect technique:
- Deadlift
- Squat / Box Squat
- Pull Ups
- Clean & Press Variations
Those 4 exercises are key indicators of your strength, power and athleticism, especially for strongman & odd object lifting.
When I see 60 and 70 something year olds flipping tires with straight legs and rounded backs on TV it disappoints me. Heck, I see teens and even pre teens doing this as well (Thanks to the youtubes). Unfortunately, they don't know better, they are listening to the "coach".
NO Coach should use flashy exercises for better TV views or to follow the fads.
Do what is right for the person as an individual. Period. NO excuses.
There are several different techniques for tire flips, and as you'll see below, we use a sumo stance, drive up at an angle and focus on power cleaning the tire using a knee lift and running THROUGH the tire.
Running through the tire, driving at a 45 degree angle and using a knee lift gets you away from the dangerous curl position.
Check out the beasts digging into some strongman training with tire flipping.
[youtube width="640" height="360"]https://www.youtube.com/watch?v=6ZWpuKfGYy0[/youtube]
Other benefits of strongman training, specifically the tire flip:
- Hand / Grip Strength
- Leg Strength & Power
- Back Strength
- Trunk Stability / Ab Strength
- Mental Toughness
- Hip Mobility
The benefits of hand, grip and wrist strength are WAY underrated with tire flipping. Weak Hands are the sign of a weak athlete, as are weak legs.

Odd objects in general are to be used with safety and with intelligence. For real detail on program design and how we train, make sure you get The Encyclopedia of Underground Strength & Conditioning.

Next week we will begin more strongman training and strongman medleys to prepare for our summer strongman contests at The Underground Strength Gym.
These strongman competitions are super intense and VERY competitive so our workouts must prepare our athletes not just physically, but mentally as well.
How do you use strongman training in your own workouts?
What strongman training questions do you have? Ask away in the comments section.
Looking forward to your comments, please drop them below.
Live The Code 365
--Z--
The Encyclopedia of Underground Strength

[Get Your Copy HERE]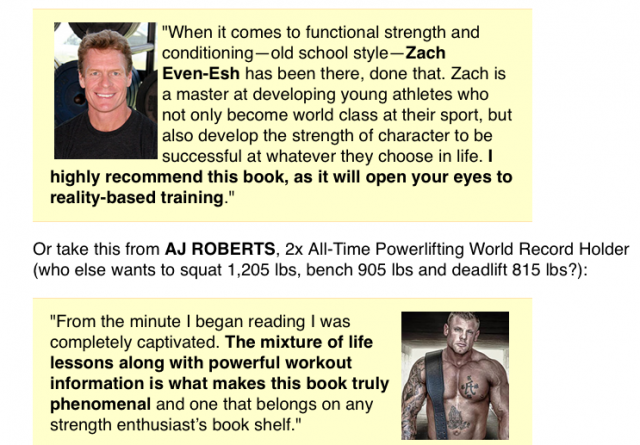 Get Your 3 FREE Underground Strength Gifts - Click HERE
(Visited 71 times, 2 visits today)