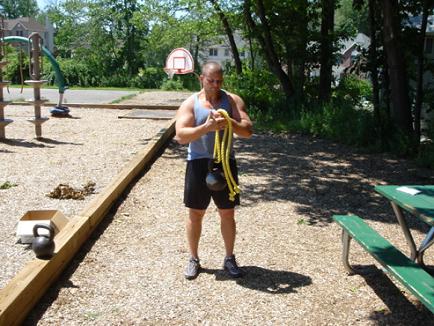 Change can be a good thing.
I am feeling a need for change. It starts from a point much deeper than my emotions, it's just a Gut feeling I have.
I find myself running home rather than driving home.
I begin removing favorites such as squats and deadlifts, and return to a lot of bodyweight training, kettlebell workouts, sandbags and sledge hammers.
Sprinting becomes more common place, as does jumping, dragging sleds and running with the prowler.
Removing breads, milk and dairy from my nutrition intake begins to take on a new beast. My body craves the change so I listen.
My training will evolve, and you must search for this art form deep within yourself....I have been training since age 13, now 32, I can feel what my body wants and needs, you will begin the same journey.
Soon, the mountain bike will be dusted off and I'll be riding the trails, stopping when I find a log for lifting, a stone for pressing or rowing or a tree branch for pull ups and leg raises.
Nature is taking its course with me, but I'll always remain an animal 🙂
In Strength,
Zach Even - Esh
PS - Come see the countless secrets you'll learn from me and Steve Maxwell at The Gladiator Seminar. We'll help you better yourself dramatically, and if you're a Coach, your newfound knowledge will blow the lid off of your current business. Go ahead, ask us anything you want related to training....or the business of training. It's another No Holds Barred Underground Seminar! What else did you expect!? Click HERE for details!
PPS - Too far away to make the Gladiator Seminar? Check out my store and see how you can start using kettlebells, logs, stones, sleds, bodyweight and more to Your advantage! Click HERE for more info!
(Visited 45 times, 1 visits today)