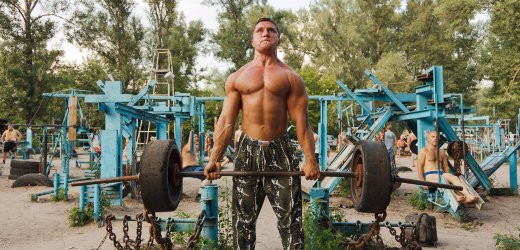 "Simplicity Is The Key To Brilliance"
- Bruce Lee
I was driving up to Diamond Gym on a cold winter night. It was just past 5 PM and I was sitting in a boat load of traffic, literally, moving nowhere. I was stressed out of my mind, up to my ears in work for Grad School, teaching, coaching wrestling and trying to manage it all.
It was the FIRST time in my life I was truly finding it difficult to find the time to train....
I was dreading the fact that I was gonna have to train at a "normal gym" and leave Diamond Gym behind.
I had been training at Diamond Gym for about 7 years and it was looking like the end of the straw for me.
Traffic wasn't moving and I inched my way across the highway as I stressed out and felt my heart beat racing. I cut off my fair share of cars, took the nearest exit, turned around and went home, defeated, stressed and depressed.
I went home and mapped out a training routine to fit my insane schedule of teaching, finishing Grad school & coaching Wrestling.
I was heavily influenced by Dorian Yates' style of HIT (High Intensity Training), aka Heavy Duty.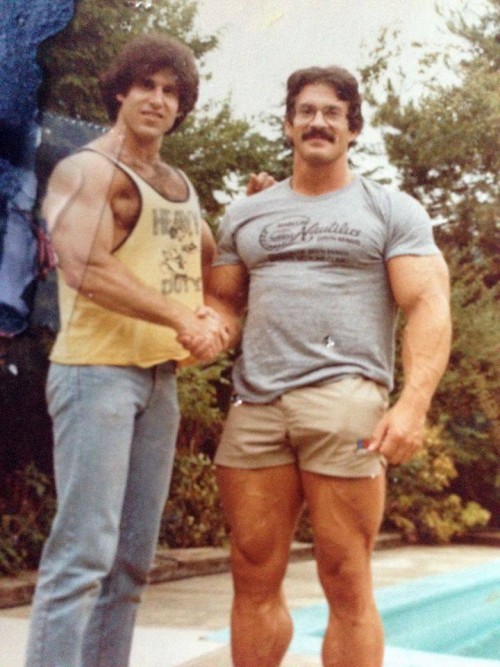 I had always responded well to training every other day while others were training 2 - 4 days in a row so I wasn't overly concerned with training less than what the magazines said you should be doing.

My routine was gonna be bare bones minimum and looked like this:
Tuesday: Legs
Sunday: Upper Body
My other days were spent working as a teacher, coaching wrestling and studying my ass off for Grad school.
This was the only way I would be able to make my training work with my busy schedule and to my shock, it worked very well.
I still got stronger, still got bigger and contrary to what many would assume, my metabolism didn't slow down.
I stayed lean and mean. It was a matter of eating clean, plain and simple.
In addition, being a Physical Education teacher I was very active throughout my day. I never had a moment to sit down.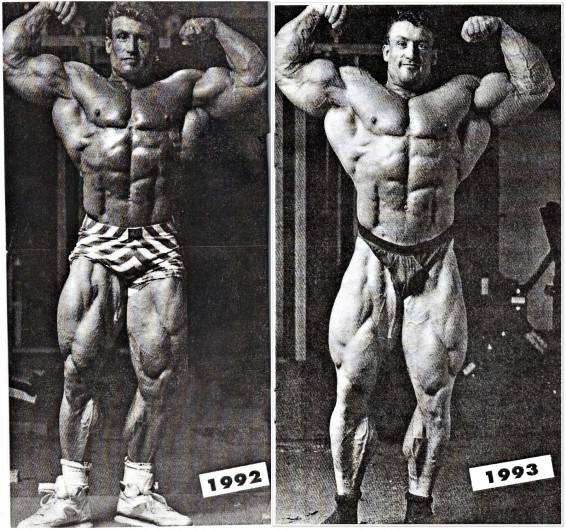 Above, The Photos of Dorian that inspired me to cut back my training volume and embrace recovery.
I am currently back to hitting minimalist training again, for a few reasons:
- I've been on a very high volume training plan for a while now, since March or April of 2012. My body will reap the rewards of the added recovery.
- Like life back in the day, I am in a very hectic, busy time. Life stress is often times tougher on the body than training stress.
- When my volume of training gets very high I tend to lose focus on balancing all my training with mobility and proper recovery. My rest days are getting this attention at home, using various methods to improve health, mobility and recovery.
As you can see, there are Many benefits to minimalist style workouts.
Here's my Top 5  Reasons Why You Should Embrace Minimalist Workouts At Least SOME of the Time:
1) Maximum Recovery - As much as I encourage you to kick ass and take names in training, not enough of you do the right things outside the training to ensure you reap the rewards of hard work. Proper nutrition, ample sleep every night, etc. are the game changers to getting you jacked and lean.

2) Laser Like Focus - When you know you're only training 2 or 3 x week you are less likely to allow that workout to slip into becoming a mediocre workout. You know you're gonna focus and treat each and every rep like your last.
3) Time Is Of The Essence - Remember when Mom did your laundry and cooked dinner every night and you took a daily nap? Yes you DO! ha ha Well, with minimalist workouts, you hit 2 - 4 exercises per workout and you KNOW it's not gonna put a dent in your day and you'll still have a life. Get in and get out.
I'll be back with Part 2 soon enough to finish Tips 4 & 5.
Till then, start implementing a minimalist training program and see how you feel.

Till the next time....
Live The Code
--Z--
Underground Strength Inner Circle Members:
Get The Minimalist Training System HERE
Non Members:
Take The $1 Trial for 30 Days HERE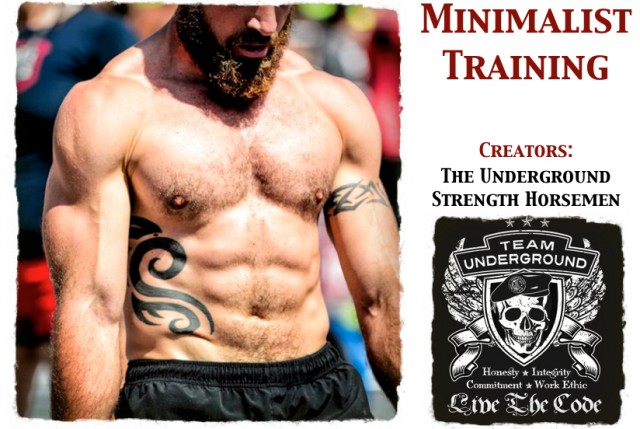 (Visited 2,442 times, 39 visits today)