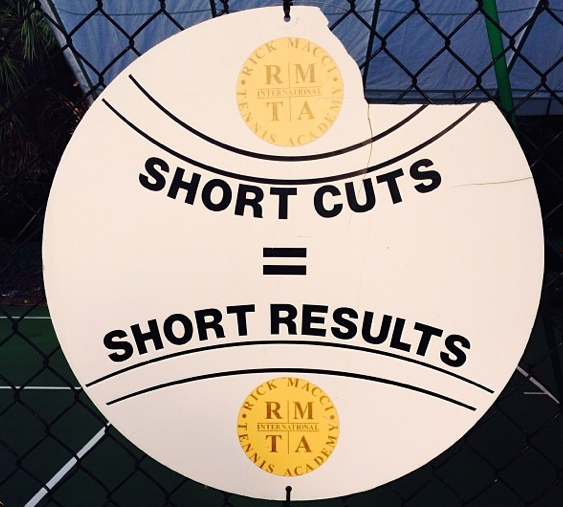 I am always intrigued to see other Coaches in action, regardless of what sport they Coach. As a Coach myself and a very Type A Coach who demands excellence from my team and from myself, I like to see how others get the job done, or perhaps, don't get the job done.
Some Coaches are horrible and some are great. Some are in the middle.
I see some Coaches who have awesome web sites and use buzz words & hypey marketing to trick people into the efficacy of their program and I also see other Coaches who shine because of the results they produce who have outdated web sites or no web site at all.
One thing I can't do is shut it off. I'm always in learning mode and paying attention mode.
For example...
A year ago I opened my new Underground Strength Gym location in Manasquan. I reached out to a TON of Coaches and I paid close attention to how they responded, if at all.
I saw how some Coaches responded immediately and took action and how others never responded. Other only replied when it was time for their fundraisers. It gave me a clear cut idea of who was in it for the kids, who was in it for the golf outing and who was in it for the extra pay check.
One thing you can't hide or hold down is a passionate Coach. These Coaches stand out like a sore thumb, even if they don't want to. Their passion shines and radiates like no other. Their success rate is likely relative to the caring and effort they put into their Coaching.
Last week I was in Florida for some business and family time as well as time to take my kids to The Rick Macci Tennis Academy.
Here are the Top 5 Lessons I learned from watching the Coaches at The Rick Macci Tennis Academy and the entire operation in action.
1) Be PASSIONATE!
WOW! These Coaches were so fired up and passionate there was NO hiding it. They were pumped and energetic from their first second presenting themselves to the kids and the parents all the way to the very last second.
You didn't see them sitting down, needing a break, checking their text messages, complaining about the heat, the sun, etc. None of them had a cup of coffee.
I loved it because as you know, I am always fired up and very passionate and I see MANY Coaches through my USC Cert and of course my Coaches at The Underground and there are times where I ask myself if I am too intense, too passionate, too hyped up, etc.
I finally got to see, as a parent from the outside looking in, what it REALLY feels like to feel good about every penny invested in the coaching I put my kids through. I trusted these Coach and didn't doubt for 1 moment my kids weren't getting everything they needed.
2 out of the 3 days my daughter took a private lesson which was big bucks BUT, because I saw the amazing passion and detail by these coaches I did NOT blink an eye when the opportunity arose for my daughter to get a private.
The lesson here: You're never too passionate as a Coach. NEVER.
2) Attention to Detail
I read about this a ton from all the Navy SEAL books I have read and I've emphasized it like a madman with my coaches to a point where I feel like I am over the top.
I am constantly telling my coaches at my gym and through the cert that ALL details on technique count.
It takes a LOT of energy to be attentive to detail and I've been to many gyms where people squat half way, round their backs on exercises, do half push ups with elbows out and head down, etc and the coaches don't say a word.
It takes a LOT of energy to keep pushing the technique.
When I watched the Tennis Coaches at Rick Macci Academy they never stopped pushing the technique, even for the youngest kids there.
They never got tired of doing it either. I don't think you can teach a Coach to care about this stuff. The Coach either has it in their heart to pay attention to detail and give others their best or they're just straight up lazy.
I believe in paying attention to detail. No 2 ways about it. Technique is one of the big difference makers in getting results.
3) Smile & Shake Hands
From the get go all the Coaches on staff smiled and shook hands. They were super friendly Coaches and even though I don't anything about Tennis technique, they gave me a few tips that they wanted me to keep hammering home for my daughter.
Some of the Coaches were full time and some were part time but you could tell they were all truly honored to be a part of that team as a Coach.
It's always great to be around happy, high energy coaches who create a positive environment.
The Coaches were there for the kids. Period. You could sense it a mile away. No egos, just total commitment to the kids.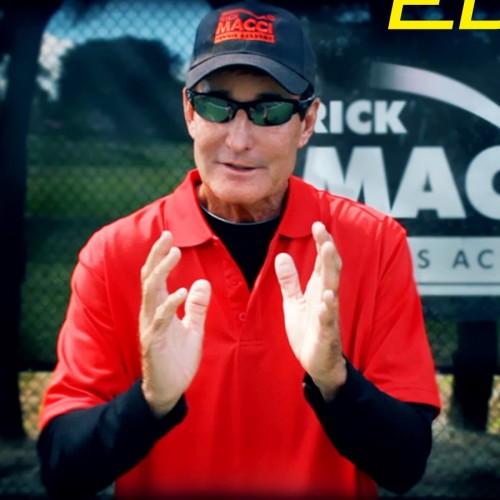 4) Positive Learning Environment
At The Rick Macci Tennis Academy you see athletes starting young and training for years and years, progressing to higher levels. Many of them travel from out of state like we did, some rent homes and others move to the area.
I've learned well over a decade ago that training is a year round process. As the athlete evolves the training must evolve as well. I watched kids train with various Coaches to work on different techniques and although the techniques were different, the positive learning environment was consistent.
NO negativity.
On the flip side, and this brings me to lesson 4, the training was intense.
4) Work Hard & Raise The Bar
Regardless of the age of the kids, they were ALL pushed. They had conditioning sessions which were tough and the skill work was also very tough and pushed at a fast pace.
This was the standard. Work hard. Period.
The first thing that happened when we got to the academy was one of the coaches introduced my family and I to Rick Macci.
He shook all our hands and greeted us with a smile and great energy and said, "Welcome! Let's get ready to work!"
You would think this is too hard for these kids but they loved it. Sure, you saw some kids who were crushed and didn't enjoy it fully, but, MANY of them loved it and I heard them verbalize how they loved the training.
The tennis skills were high intensity as well as what I mentioned before, constantly pushing technique. I hadn't seen this pace of Tennis instruction ever. It reminded me of wrestling practice and drilling my ass off.
2 x Olympic Gold Medalist Wrestler, John Smith told me the best form of conditioning is to drill at high intensity. As you can see, the Coaches at the top KNOW this.
I'm a BIG believer in hard work and it was awesome seeing Coaches pushing this across the board. It was THE way at Rick Macci's Academy. There was no other way.
If you're a Coach, make sure your philosophy and standard of training is pushed across the board.
5) Pursue Excellence
Coach Glassman inspired me BIG time with his speech on the pursuit of excellence.
Again, the entire Coaching Staff here I could see were pushing for excellence on ALL levels. They left no detail unattended to, even simple things such as cleaning up after each training session.
They were not too good for the smaller details or walked around with a "that's not in my job duty" attitude.
I many times feel like a man alone on an island as I push those I work with or come in contact with to pay attention to detail.
My wife told me people like me are very tough to work with or for because our standards are so high that the smallest things bother us. This is true, I agree with her.
But, I am careful NOT to lower my standards as a Coach. I believe in upgrading your education on the regular and always being a white belt, always be willing and open to learning.
In a nut shell, even though I described an amazing Tennis Academy, the lessons learned here and the standards they hold can be applied to any environment and even your own life.
Raise the bar and Raise the standard.
Pursue Excellence. Never settle for anything less.
Please drop your comments or questions below.
If you enjoyed this article please share it with friends or colleagues that you feel can benefit from this article. Thanks!
Live The Code,
--Z--

(Visited 1,287 times, 2 visits today)