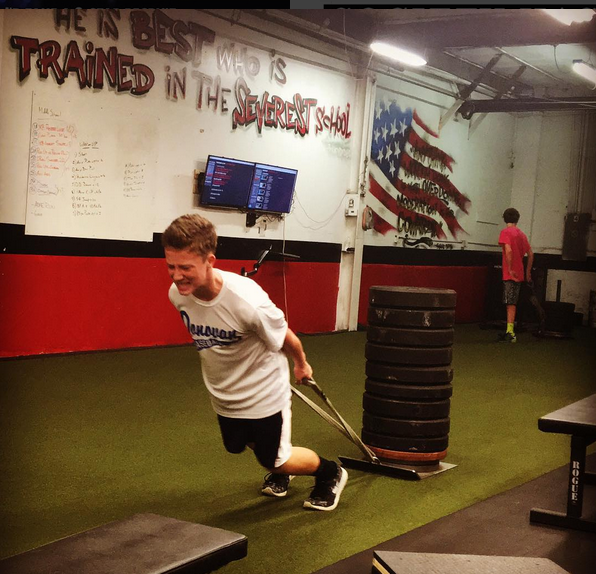 This is the No Frills QnA for Episode 68 of The STRONG Life Podcast.
As always, the content is top notch and I pull no punches answering your training, life and business questions.
Here are ALL of the questions I answered in this episode:
What do you do to maintain a positive mindset at all times?
I train bjj 4-5 times a wk, how many times a wk should i strength train, 3 top exercises for grapplers ?
Top three books for each category:
Strength training, life improvement, leadership
How do you come back after being out of the gym for awhile?
Can you recommend the best resources for a nutrition plan?
How can i motivate my apprentice to step up to the plate. He spends too much time checking his hair and worrying what he's doing on the weekend
How do you convince family members and spouses that it's a good idea to start your own business?
Thanks for doing this

@zevenesh

!

Had this question for a while now: I'm training adults, most are half or full marathon runners, non of whom can air squat without hinging all the way forward at the hips and can't get to parallel. Any mobility drills you've found helpful with these athletes? We hit the hips and ankles before every class with a banded ankle mob and couch stretch. Thanks again!
Yo Z! Since my last question I've adopted your advice (squatting after partial meniscus arthroscopy) and begun squatting ? It's going good and my knee is VERY happy thanks. However my hips are acting a fool. They do not go DOWN abut rather BACKWARDS. My dorsiflexion is pretty ace so any ideas how to squat DOWN - I'm high bar squatting for now. Thank you for efforts Z, you've already really helped my comeback

Mass Gain Diet.... Your guys are always putting on so much size and increasing strength but what are your lifters eating.
Zach, interested to know how you go about putting together conjugate lifting with bodyweight assistance work, and how you could vary this from in season to off season? Love all the information you put out, your work has made me a better athlete so thanks for all you do!
Zach, thank you for all the inspiring and detailed information you provide. I have gained so much from your book, emails and online content. Your honesty of effort is always 100%. For the last 2 years I have delivered fitness and conditioning out on the training ground to field athletes sometimes as large as 35 in a group. I have seen some footage of you putting a large group through a session out on the athletics track and football field. Do you have any particular system, structure or favorite way of organising your sessions when it comes to training large groups of athletes this way? Thanks again, David, Ireland.
What reasons are there to pick closed kinetic chain exercises versus open kinetic chain exercises or vice versa? Besides gaining specific strength in a movement? Thanks Zach!
Hey Zach! Love your podcasts. Any advice on where to find myself some tractor tires to flip? My backyard needs one. Thanks for keeping our next generation of athletes un-pussified!!
Do you ever deal with digestive problems
Hello zach, I was wondering what should an athlete, in particular a pole vaulter, be doing in season or the week of a competition, should you be lifting light or quick explosive stuff also how should I be setting up the lifting should I be doing sets of 10 and quick or sets of 5 and heavy lifting. Thank you
Update on your wim hof training?
Have you coached mid/distance track or cross country athletes? If so, in regards to program design, how do you suggest one would incorporate strength training into grand scheme of things?
How do we build mental toughness in kids
Listen on iTunes HERE
Listen on Stitcher Radio HERE
Resources Mentioned in This Episode:
My FREE Workouts & Daily Newsletter
Underground Strength Inner Circle
Dan Kennedy NO BS Time Management
Dan Kennedy NO BS Wealth Attraction
David Ellis Judo & BJJ Training Videos
Make sure you follow me on Instagram and Twitter to ask your questions or use the comments section below for the fastest response from me.
I LOVE helping so don't hesitate to ask your questions!
Live The Code 365,
--Z--
Get Access To My Training Seminars On Film, Workouts on Video, Behind The Scenes Footage from The Underground Strength Gym And Over 11 Years Worth of Never Shared Before Content HERE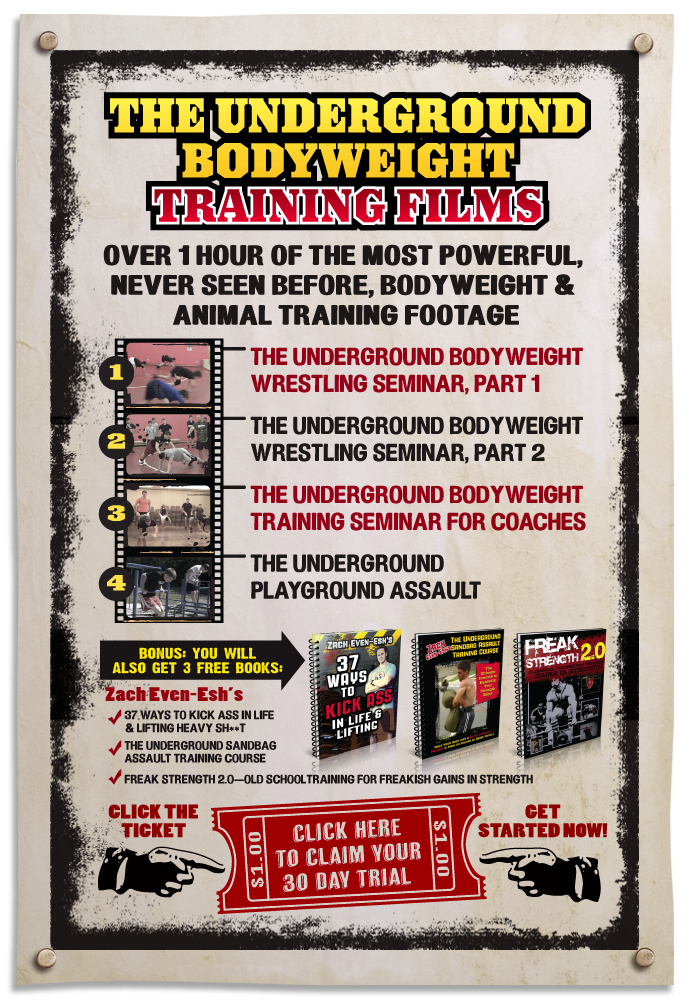 (Visited 88 times, 1 visits today)