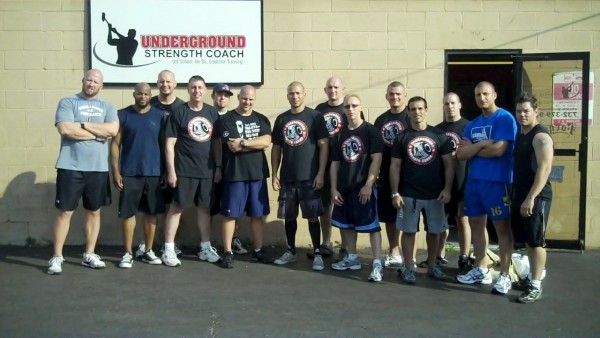 Holy S**t! The Underground Strength Coach Inspiration Contest BLEW ME AWAY!
And by reading ALL the comments, I can see YOU were also inspired!

I am beyond amazed and inspired by the videos that were made.
I compiled the votes that came through my e mail (which was A LOT!), the Blog comments and the 4 people I had judging and man it was a SERIOUS fight for 1st place between BIG Dan Gibson and Chris the BEAST.
There was also some SERIOUS love for the Virginia Beach Beast, Matty Wichlinski. Matt contributed and is already a Expert Panelist at http://UndergroundStrengthCoach.com as did Dominik Feischl from Austria, who is also on the Underground Expert Panel.
These two Beasts already have lifetime membership to Underground and did not need the "awards" to inspire them. They are Strength addicts, as we all are, and is what inspired them to take action. Hells Yea!
So, we decided to make a top 3.
This was calculated by the e mails, Blog comments and the 4 friends I had voting as well.
The fight for 1st place was CLOSE but one man edged out another!
Here are the Top 3 Winners and their videos are below.
1st: Chris "The Beast from the East"
2nd: BIG Dan Gibson
3rd: Matty "The Virginia Beach Beast" Wichlinski
Chris AND Dan are BOTH getting a FREE ride to come to a future Underground Strength Coach Mentorship held at The Underground Strength Gym in NJ.
Chris will receive ALL the products listed on The Underground Store Page, BOTH physical and downloadable programs.
More info to come from Matt Wichlinski shortly...... 🙂
I want to say, before posting the videos, that I am honored and humbled to see the awesome people that have taken part in this event.
Everyone showed awesome inspiration AND a humble demeanor.
Too many people in the fitness industry act like assholes and have a holier than tho attitude and it is refreshing to see awesome guys like these Coaches.
From here on out and every day forward we gotta continue to pay it forward!
Let's take another look at The 3 Baddest Mother F**ers......
[vimeo width="640" height="360"]https://vimeo.com/8627612[/vimeo]
[youtube width="640" height="360"]https://www.youtube.com/watch?v=cHx_Xmt9bRc[/youtube]
[youtube width="640" height="360"]https://www.youtube.com/watch?v=m0ZcsgQghko[/youtube]
For The Top 3 Inspiration BEASTS, can you Gentlemen please e mail me so we can arrange your prizes? Thank YOU!

More to come shortly...
Lead from the Front!
--Z--
 Get Certified

HERE
Underground Strength Coach Cert
(Visited 71 times, 1 visits today)