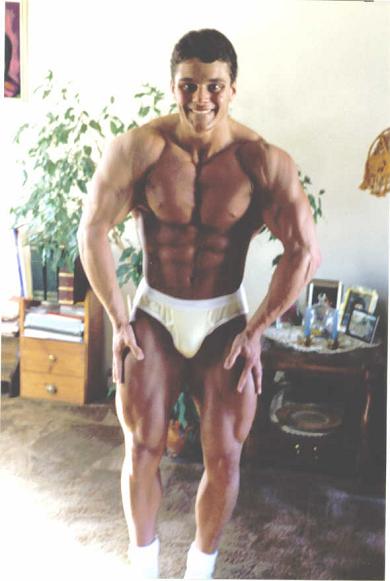 I have been getting back to my roots lately, even with my time crunched workouts, I'm hitting the underground bodybuilding methods and it's paying off big time.
It's amazing how quickly you can add muscle and strength when you're putting together the right formula.
Most of the time, as you know, my workouts are rockin' at warp speed.
I've been finding ways to mix bodybuilding, powerlifting, strongman and gymnastics type movements into one pot.
I guess you always go back to your roots 🙂
I was looking at my current strength on certain lifts, such as squats and benching and saw that my numbers were VERY big back when I was bodybuilding.
 I squatted 455 for sets of 6 - 10, squatted 315 for 20 - 25 reps, squatted 225 for 45 - 50 reps. My bench was at 275 for sets of 6 - 8. But, now I am deadlifting 550 lbs, farmer walks with 200 lbs per hand, dragging sleds that weigh almost 400 lbs and much more.
Now the brutal combination of past and current knowledge is meshing together.
So, with a few tweaks I'm back on track to mixing my workouts effectively and efficiently.
In fact, just for a funny treat, later on I'll show you my 19 year old bodybuilding pics, and yes, I was natural, and competed in a natural show, and one week later banged heads against those on the "secret sauce".
I knew that my super intense workouts would put me above and beyond what those were doing with chemical assistance and lackluster workouts.
Time to get jacked and strong (er) 🙂
In Strength,
--Z--
PS - One of my favorite methods for developing strength, rugged muscle and improvement in performance is here: http://tinyurl.com/5nky6p
(Visited 86 times, 2 visits today)