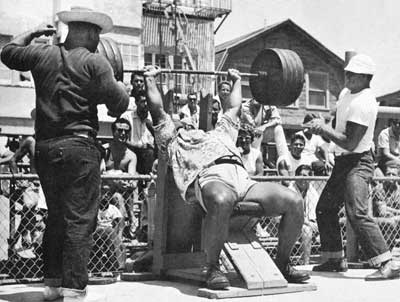 There are some men who REALLY have my respect, a very rare few.
Jim Wendler is one of those guys, and, every time we chat I am reminded why.
We're both very simple men. We chase strength and train because we understand that man is supposed to be strong and if you're a Dad, then you need to be even stronger, inside and out.
You train your body to prepare your mind for life and any craziness that might be thrown your way. When other men crumble under the pressure and stress, you thrive and emerge the victor.
It sounds arrogant but it's not, it's the truth. A strong man can handle life's curve balls and never back down. A weak man allows life's circumstances dictate the outcome. F**k that.
A Man's training isn't for aesthetics or looking good in a bathing suit, it's for the honor of being a man. When you don't want to lift you remind yourself that you are lucky to have arms and legs to be able to "lift", so it's time to Man the F**K UP!
[youtube]http://www.youtube.com/watch?v=GvDp1NaBO7w[/youtube]
I call this REPRESENTING. You gotta REP for your family and for man kind, to set the standard. Men are walking around nowadays with an all time low of strength and testosterone. It's as if no one wants to be STRONG anymore. I remember when fitness magazines hit the stands in the mid 90s. I NEVER saw anything like it, and I saw hard core gyms shut down and the rise of garage gyms began.
My garage gym is on it's way. I've already got a climbing rope and rings, the rack and barbell are a comin'! You can't argue with a garage gym, equipped with nothing but basics, you are forced to man up and go head to head with heavy barbells and bodyweight basics. Life is GOOD when this is happening. Jim talks the same, with a new garage gym on the way, lifting for strength and pushing your mind and body to new levels is where it's at.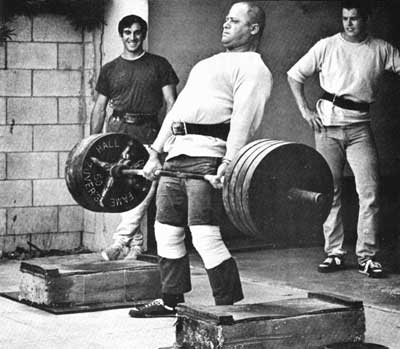 Heck, the ORIGINAL Westside Barbell ran from the garage of Bill Peanuts West, this is where strength was taken to NEW heights and men trained like men AND ate like men.
It wasn't odd for them to attack one exercise till exhaustion, then grill hamburgers or hot dogs, eat and recharge, then come back later and attack another exercise, eat again and rest and repeat the next day.
Push your limits and represent for man kind.
If you're a father, then be strong for your family.
If you're a man, take a look in the mirror and ask yourself, "Am I strong enough?"
Speaking truthfully and honestly, I have NEVER felt strong enough.
Why settle?
--Z--
1 hour audio interrogation with Dr. Jim Wendler at Underground Strength Nation - HERE

USC Cert FAST Approaching - HUNGRY Strength Coaches & Warehouse Gym Owners Only - HERE

(Visited 404 times, 6 visits today)