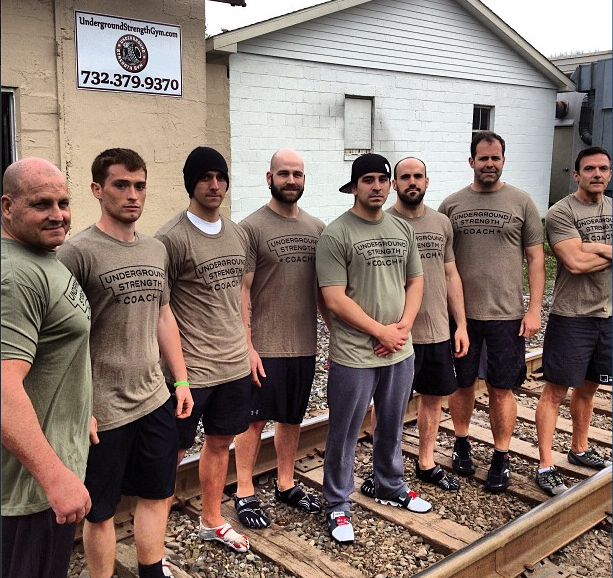 Above, The Hard Chargers. Congrats to The Newly Certified Underground Strength Coach Brothers. Welcome to The Family.
Live The Code, Sky Is The Limit!
BIG thanks for the support in yesterday's e mail and blog post. I get psyched when YOU get psyched!
Here are a 4 more power tips to kicking ass and taking names in Life AND Lifting. Enjoy!


1) Don't hang around whiners, complainers, shyt talkers and negative people.
Those people will suck the life out of you. Ditch them and surround yourself with hard chargers and go getters. Just like The Golden Era of Bodybuilding. The top guys trained together and hung out together. They elevated each other to rise above and achieve greater success than they could if they tried on their own.
2) Do some "Manly" shyt:
- Go mountain biking
- Go white water rafting
- Lift heavy weights & don't fear testing your limits with a heavy barbell.
- Don't use exercise machines. YOU are the machine. Period.
3) Don't take shyt from anyone.
- If someone adds negativity to your life or interferes with your happiness, then lay down the law and give em' the boot
- If you're a Coach, stop working with people who suck the life out of you. Life is too short.
4) Break the Rules in training
- I've mentioned this so often before. Go out to the woods with a heavy barbell like Arnold did. Take a buddy or two and hit squats, deads, clean and presses until you are completely crushed.
Then, grill steaks and burgers, kick back and talk LIFE.
Here are some Awesome resources for you to check on kicking ace and taking names:
1) Coach Megz talks about life and lifting lessons from The Underground Strength Gym.
Check this Blog Post out, it's from the heart & fist. Would love to see your comments on this Blog from Coach Megz.
2) A New Book Out, one that I REALLY dig, and honestly did not think it would be this damn good. But it is.
Great info on nutrition, training, increasing testosterone, more fat loss and more time in the bedroom.
Pretty darn impressive book. Like I said, I didn't think it would be a book up my alley, but these Dudes proved me wrong.
Underground Approved.
I picked up a few extra copies for some peeps as a gift.
Time to crush The CERT!!
Stay tuned for the next date on the USC Cert from http://UndergroundStrength.org
Live The Code
Honesty
Integrity
Commitment
Work Ethic
(Visited 119 times, 1 visits today)